One does not need a Zakir Naik to be a true believer of the faith.
|
Negative Universe
|
1-minute read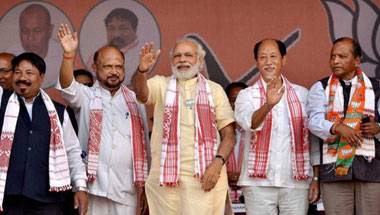 The party will face big trouble from its allies, mainly Prafull Kumar Mahanta.
|
Negative Universe
|
3-minute read
Does a cricket commentator today also need to wear his nationalism on his sleeve?
Vigilante nationalists are baying for the illegally jailed JNUSU president's blood.
The PM's gesture is a departure from his government's erstwhile 'no-engagement' stand with Pakistan.
His words, 'I am the PM for all...' comes as a blessing.
Both hate pluralism and believe in the creation of a state where the law of religion is supreme.
Who will tell the deceased's daughter that it's not cow meat that killed her father, but his religion?
Deceased RAW officer B Raman, who handled the 1993 Mumbai serial blast convict's arrest, had strongly argued against handing out death sentence to him.
The varsity's clean chit to its controversial entrance test results for medical courses reeks of foul play.