7 best Ajay Devgn movies, on Singham's 30 years in Bollywood
Ajay Devgn, the Singham of Bollywood, marks 30 years in Hindi films today. We pick 7 all-time crowd favourites of the star.
Ajay Devgn entered Bollywood balanced on two motorcycles. That was 1991, Phool Aur Kaante. The scene went on to become one of the most popular entry scenes in Hindi films, and a boy, who few had thought of as the next-generation superstar, scored his first winning goal.
Congratulations on completing30 fantastic years in our film industry.I am so glad i have had the absolute pleasure of working with you @madhoo69 & working with you AJ @ajaydevgn in more than 7 films together & now back with you in #Rudra .To many many more glorious years ! pic.twitter.com/ahWSGrLw96

— Esha Deol (@Esha_Deol) November 22, 2021
At the start of his career, he was also discredited by many for his - what people would now see as 'unconventional' - looks. But Devgn's charisma outdid the criticism. Coming in an era dominated by the three Khans, Ajay made sure he established himself differently. It paid off.
Today, Ajay Devgn is loved by his fans and is a profitable investment for his producers. As he completes 30 years in the film industry, Ajay has in these three decades donned many roles. From being a heartbroken husband in Hum Dil De Chuke Sanam (1998) to an underworld gangster in Company (2002) or an IPS officer in Gangaajal (2003) to a college dropout in Golmaal (2006), Ajay has proven his mettle time and again.
Mujhe yaad hai when as newbies, main aur tu saath saath Juhu beach pe martial arts practice karte the when your dad used to train us. Kya din the yaar @ajaydevgn, and just like that it's been 30 years to #PhoolAurKaante. Time flies, friendship stays! pic.twitter.com/adlLfMM6Gs

— Akshay Kumar (@akshaykumar) November 22, 2021
But how did Ajay Devgn become Ajay Devgn the superstar? These 7 films might have had a cruicial role to play.
1.The Legend of Bhagat Singh (2002)
The Legend of Bhagat Singh. Photo: Film poster
It's Ajay Devgn all the way in the movie. The Legend of Bhagat Singh is one of the best patriotic films Bollywood has ever made, and Ajay Devgn played the character so well that he received a National film award for it. The movie in itself won a National award.
2. Gangaajal (2003)
Gangaajal. Photo: Film still
Gangaajal showed the dark underbelly of the Indian Police force. Ajay Devgn, in the role of IPS officer Amit Kumar, was a stunner all the way. Over the years, the Prakash Jha-directed Gangaajal has become a cult classic.
3. Khaki (2004)
Khakee. Photo: Film still
Ajay Devgn played a negative character in Khaki; a risk that helped the actor further his career. Devgn did complete justice to his role. Despite playing alongside superstars like Amitabh Bachchan, Akshay Kumar and Aishwarya Rai Bachchan, Ajay ensured he was a cut above the rest. The Raj Kumar Santoshi-directed movie was one of the highest grossers of 2004.
4. Golmaal (2006)
Golmaal. Photo: Film poster
This was a new Ajay Devgn. After a number of serious roles, Devgn made a switch to comedy. He pinned his hopes on a new director, Rohit Shetty, and stepped into the shoes of a college boy. It was a funny, quirky, badass character. The experiment worked. Golmaal, in a way, launched a new Ajay Devgn; one that the audience had never seen. The movie was written so phenomenally well by the late Neeraj Vora, that it was the eighth highest grossing movie of the year.
#TeesSaalBaad AJ still smashing evil & doing #GolMaal onscreen. One of the finest friends, costars, ever. Always there for my family & me. Truly #MrNiceGuy. Wishing you only Phools & no kaantes always. @ajaydevgn #30yearsofajaydevgn #TheManWithThePerfectSplit #Dilwale forever. pic.twitter.com/6ECOnFnKLL

— Suniel Shetty (@SunielVShetty) November 22, 2021
5. Once Upon A Time in Mumbai (2010)
Once Upon a time in Mumbai. Source: Google Images
Devgn brought to life the (in)famous gangster, Haji Mastan, of Mumbai. Dressed in white from top to bottom, sporting a black moustache, Ajay had his way in the movie. In a way, Once Upon A Time in Mumbai rested on his shoulders while the other characters walked behind him. His dialogues in the movie, and the way he delivered them caught the fancy of people. For instance: "Insan ki dukhti rag, uski har taqat se badh kar hoti hai."
6. Singham (2011)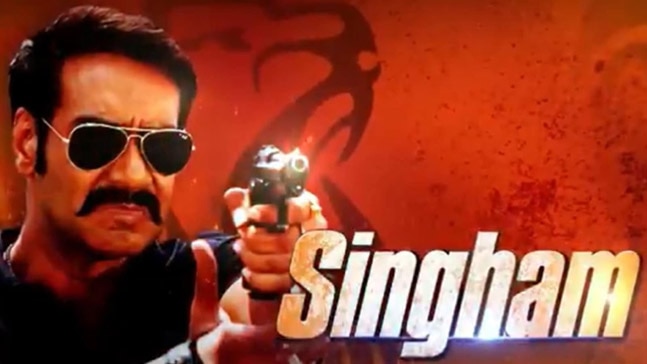 Singham. Photo: Film poster
The Rohit Shetty-Ajay Devgn combination worked again. It worked so well that Singham, the 2011 blockbuster, paved way for the sequel Singham Returns (2014), which was a story in itself. Singham soon became a franchise, and Rohit Shetty has now created his own cop universe. In Singham, Devgn plays the role of a police officer who uses his own way of bringing criminals to book. His aggression, his style, his acting, everything went so well that fans cannot think of Ajay without thinking of Singham.
7. Tanhaji: The Unsung Warrior (2020)
Tanhaji: The Unsung Warrior. Photo: Film still
To keep things short, this was the highest grossing movie of 2020. Just before the pandemic, Tanhaji was minting crores in the country and abroad. The theme of the movie also helped it get a tax waiver from a few state governments. In the movie, Ajay plays the role of Maratha warrior Tanaji Malusare, who seeks to recapture the Kondhana fortress from Mughal Empreor Aurangzeb's trusted guard Udaybhan Singh Rathore.