'Good kid' Aryan Khan, Mumbai drug bust, and a 'ghoulish epicaricacy'
NCB raids are usually to crack down on the trade: the dealers, peddlers, and people who run the narcotics rackets. Putting consumers of recreational drugs in the dock is not enough.
Bollywood superstar Shah Rukh Khan's son, Aryan Khan, was arrested in a drug raid by the Narcotics Control Bureau (NCB) on October 3. The NCB carried out raids on the Goa-bound Cordelia Empress cruise in Mumbai on October 2. On October 4, a Mumbai court granted NCB the custody of Aryan till October 7. Along with Khan, Arbaaz Merchant, Munmun Dhamecha, Nupur Satija, Ismeet Singh, Mohak Jaswal, Vikrant Chhoker and Gomit Chopra have been arrested.
As per the investigating officer and the NCB, no illegal drugs were recovered from Khan during the raid. The NCB seized 13 grams of cocaine, 5 grams of MD, 21 grams of charas, 22 pills of MDMA (ecstasy) and Rs 1.33 lakh in cash.
Aryan Khan was arrested on October 3, following an NCB raid on a cruise ship in Mumbai. Photo: Press Trust India
TIMELINE:
October 2: The NCB carries out raids on the Cordelia Cruises Empress ship, on the basis of a tip-off and detains 8 people including Aryan Khan
October 3: At 2 pm, Aryan Khan, Arbaaz Merchant and Munmun Dhamecha are placed under arrest. NCB gets custody of Aryan for a day
October 4: NCB seeks custody of Aryan till October 11. Aryan's bail plea is heard by Esplanade court in Mumbai. The court orders NCB custody for Aryan, Arbaaz Merchat and Munmun Dhamecha till October 7
ARYAN'S DEFENCE: Aryan Khan's advocate, Satish Maneshinde, argued that the star kid was a special invitee to the party. Maneshinde also argued that no drugs were found either while boarding the Empress ship or during the NCB raid, and that Aryan did not purchase any boarding passes for the cruise. He was also not in contact with any of the organisers or ship owners, claimed the Defence: "They [NCB] are levelling very serious allegations against Khan. But it has to be supported with evidence... The court can look through the chats... They do not talk about it." Maneshinde also said, "Aryan Khan doesn't need to sell drugs on a ship. He can buy the entire ship if he wants to."
NCB'S CASE: The NCB stated in court that they had found WhatsApp chats that linked Khan to an international drugs chain and that multiple code words had been used to communicate with others. The 'incriminating' chats were why the NCB sought Aryan's custody till October 11. Mumbai's Esplanade court granted the agency Aryan's custody till October 7.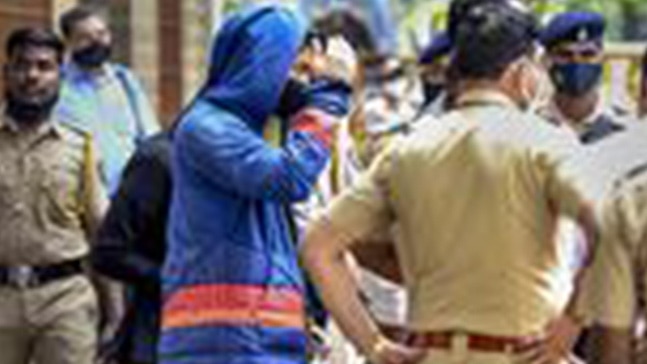 Aryan Khan in custody. Photo: Press Trust India
NATIONAL SUPPORT: Celebrities like Sunil Shetty, Hansal Mehta, Pooja Bhatt, Viveck Vaswani and Mika Singh have shown support for the Khan family, while Salman Khan visited Mannat on October 3 itself. On Instagram, Sussanne Khan called Aryan a 'good kid'. Congress leader and MP Shashi Tharoor wrote on Twitter, "I am no fan of recreational drugs & haven't ever tried any, but I am repelled by the ghoulish epicaricacy displayed by those now witch-hunting @iamsrk on his son's arrest. Have some empathy, folks. The public glare is bad enough; no need to gleefully rub a 23yr old's face in it."
THE O: Recreational drugs are a hard reality. NCB raids are usually to crack down on the trade: the dealers, peddlers, and people who run the narcotics rackets. Putting consumers of recreational drugs in the dock is merely the tip of the iceberg. The organisers of the event or the cruise were let off scot-free. The ship was allowed to set sail after the 8 were deboarded and detained. Arresting star kids and addicts is not enough to net the big fish.