The league of angry old gents of BJP
The combined age of these five veterans is 421. So that's more than 400 years of wrath.
There is a certain kind of ageing gentleman who is angry, very very angry with Prime Minister Narendra Modi and his advisers. He is outspoken, has a smart turn of phrase, and is usually ignored by the establishment. That doesn't stop him from airing his views, either on social media or on television or in print. They are also rather fond of writing letters, a dying art.
No, I don't mean Justice (retired) Markandey Katju. Or the ailing Jaswant Singh who raised the flag of rebellion last year, saying there was a need to distinguish between the fake and real BJP. I mean the BJP's Extraordinary League of Angry Old Gentlemen, whose latest member is former Himachal Pradesh chief minister Shanta Kumar, who has been at odds with Prime Minister Modi since his days as pracharak.
By the way the combined age of these five gents is 421. So that's more than 400 years of wrath.
#1. Shanta Kumar, 80
His weapon: Open letter.
He wrote an open letter to Amit Shah which he shared on his Facebook page (yes old people are good with technology too) in which he made some damaging claims. "We came to power with a lot of pride and formed the government at the Centre. One year of the government was an year of outstanding achievements. (But) while we were celebrating our achievements… came an eclipse."
"From Rajasthan to Maharashtra, people started pointing fingers at us. Reports about Madhya Pradesh's Vyapam scam made all of us bow our heads in shame… It is very natural for the people to feel highly disappointed and frustrated. The BJP workers are unable to face it."
#2. Ram Jethmalani, 91
His weapon: Open anger.
The veteran lawyer is angry with the government for its attempt to "tinker with judicial independence" through the NJAC, on the black money issue, and on the overweening influence of a certain minister. Listen to him rage against the PM, party president and finance minister for making "empty promises, platitudes to the electorate." The secret of his unflagging energy to question the party that suspended him: one hour of badminton every day. Try and keep up with that.
#3. Yashwant Sinha, 82
His weapon: Open sarcasm.
His son was given the Hazaribagh Lok Sabha seat and a position in the Union ministry. But father dear is clearly not happy. He has a lot of fight left in him. And he uses humour to aid him. "All those who are above the age of 75 were declared brain-dead on May 26, 2014. I have been brain-dead for the last one year." Even being given the Officer of the Legion of Honour by the French government has not soothed him.
#4. LK Advani, 87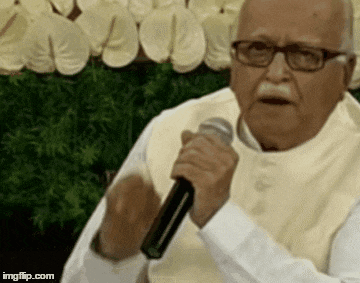 His weapon: Open hand-wringing.
Elevated as margdarshak, the former deputy prime minister has no marg and no darshan. He has taken to giving occasional interviews, which make news before he lapses into silence again. His silence is met with even stonier silence, that of Prime Minister Narendra Modi's. He didn't respond even when Advani said: "At the present point of time, the forces that can crush democracy, notwithstanding the constitutional and legal safeguards, are stronger… I don't think anything has been done that gives me the assurance that civil liberties will not be suspended or destroyed again. Not at all."
#5. Murli Manohar Joshi, 81
His weapon: Open defiance.
The former HRD minister is sidelined and has to occasionally lash out at Prime Minister Narendra Modi's promise of cleaning the Ganga. "Cleaning the Ganga would be a far-fetched dream till there was an uninterrupted flow of water in the river. The river cannot be cleaned even in next 50 years, the way river was being cleaned by dividing it into small parts, converting it into small ponds." While he was at it, he also laughed at Nitin Gadkari's inland waterways project of running cruises and large ships in the Ganga for transportation of heavy goods. "How will you run large ships when big boats are unable to move on the river (Ganga mein jahaaz chalana to door, badi naav bhi nahi chal paayengi, iss yojana ko lagu karne se pehle Ganga ki maujooda sthiti ki jaanch karalein)." That's what the BJP gets for making an Allahabad man change his constituency to Kanpur.
The views and opinions expressed in this article are those of the authors and do not necessarily reflect the official policy or position of DailyO.in or the India Today Group. The writers are solely responsible for any claims arising out of the contents of this article.