DailyOh! BJP sweeps Gujarat civic polls, to the sounds coming from Mars
In Narendra Modi's Gujarat, the BJP stormed to power in Rajkot, Jamnagar, Bhavnagar and Vadodara.
Two wives, two countries, two investigating agencies. A wife in Kolkata was questioned by investigating agencies and a wife in Virginia was arrested by agencies. In Kolkata, you know, it was TMC leader Abhishek Banerjee's wife Ruchira who answered questions posed by CBI in an alleged coal mining scam. But in Virginia, Emma Coronel Aispuro, wife of Mexican drug cartel boss Joaquin 'El Chapo' Guzman, was arrested. What's her crime? Helping her husband carry out his crimes. What are the husband's crimes?
Emma Coronel Aispuro was arrested in the US for helping El Chapo in his drug business. (Photo: Reuters)
All your questions about El Chapo can be answered by El Chapo, not the man, but the Netflix series. To cut the long story short, El Chapo the man, not the series, is the most powerful drug trafficker in the world, who gave several prisons several slips before slipping into the grasp of US agencies.
Agencies in Mumbai are fining people for not wearing masks. They are also fining people not wearing the mask right. An expert panel has said that active cases are likely to drop to tens of thousands by March-end. All the drop in numbers can be pulled up if the mask is pulled down to the chin.
But who reached up-up-up in the sky to Mars? NASA's Perseverance rover. What have we got down below? An audio — a faint crackling sound of a gust of wind. There are pictures and videos too. Perseverance landed on February 18 and is there to look for signs of life. We, on Earth, will get to look at what the rover finds, because the rover is equipped with 19 cameras, plus four more on other parts of the entry, descent and landing hardware. That's more than what any Mars mission has had so far.
You might have seen photos from Mars, but have you seen high-speed video????? We captured our @NASAPersevere rover's final minutes of descent and landing in a way never seen before. Take a look: https://t.co/CQQtlWAzNF pic.twitter.com/uR3dtocwLF

— NASA (@NASA) February 23, 2021
You know when Apollo 11 landed on Moon in 1969, thousands of hours of audio communications between the astronauts, mission control and backroom support staff were recorded. What people got to hear was just a fraction of it, like Neil Armstrong's famous words: "That's one small step for man. One giant leap for mankind." But years later, in the 2000s, it was felt to decode all the conversation that happened then because it wasn't just Armstrong who landed. This was a big team effort. And the recordings were thought to be crucial to see if this teamwork had any lessons for future teamwork. Also, sometimes you just go looking, thinking jaane kya mil jaaye.
The first step in digitising the audio was to find the audio. When the mission ended, the audiotapes were sent to the National Archives and Records Administration building in College Park, Maryland in the US.
The building had a huge ocean of data from which a drop had to be found. But if NASA can go to Moon and Mars to check for life, it sure can dig into archives on Earth. Now came the second problem.
The tapes could be played only on a machine called SoundScriber. NASA had two machines. The first was, however, dismantled for parts to make the second. The tapes couldn't be run over and over because they were about 50 years old now. An undergraduate student ran the machine five days a week for months to capture all the audio from the tapes. He didn't just have tapes from Apollo 11, but also tapes from Apollo 13, Apollo 1 and the earlier Gemini 8. The digitised data ran into 19,000 hours. Now, it had to be analysed. You see, this audio data had long periods of no audio. We mean total silence. Radio silence, some would say. You still had to listen, because you didn't know when someone would speak up. Speakers had to be identified. The engineers and scientists used words that were absent from human dictionaries. The accuracy range for the transcript is 60 to 97 per cent, which is not good enough for a true historical record.
An illustration of how NASA's Perseverance rover will look after it lands on Mars. (Photo: Reuters)
So, what did all this effort achieve? Data to analyse sentiments, understand engagement, and how the team solved problems.
All this perseverance to digitise and analyse the audio must have prepared NASA to handle the data being sent by Perseverance rover — or all rovers, for that matter — better. Ever wondered why a rover is called a rover?
Rover, the Word Of The Day, comes from the word rove. The word was first used in the early 16th century. It was used in the sense of a 'wanderer' towards the end of that century. In that sense rover is a person who likes to travel rather than stay put. But the use of rover to refer to a space vehicle dates back to the 1960s. Rover is a wanderer, but in the study of extraterrestrial bodies, a rover is a vehicle that explores surfaces.
Since we are talking space, do you know who flew over Indian skies today? Pakistan Prime Minister Imran Khan. Khan's Pakistan denied permission to Indian PM Narendra Modi in 2019 to fly to the US and Saudi Arabia. Modi had to travel longer. Khan's air travel to Sri Lanka was shorter because India said you can take this route.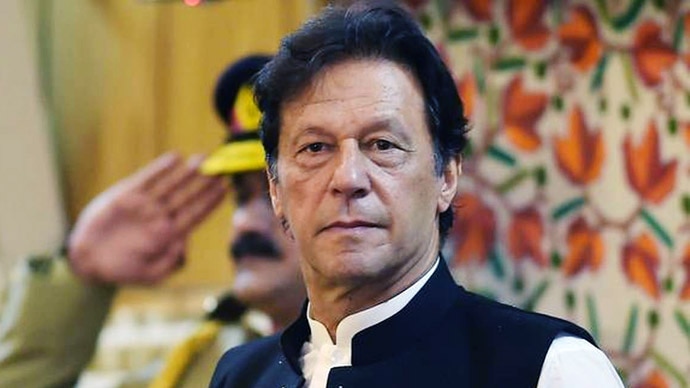 Imran Khan has been given permission to fly over India to reach Sri Lanka. (Photo: Reuters)
In Modi's Gujarat, the BJP has won all six municipal corporations. In Rajkot, Jamnagar, Bhavnagar, Vadodara, the party, which roots for clean India, has made a clean sweep.
From space and skies, let's get you to the ocean. The ocean in which Titanic drowned and out came a movie in 1997. The ocean was Atlantic and you know how the movie ended. And you also know how the movie could have ended. You can watch the movie all over again and then watch the alternative ending again only to say it ended well where it ended.
The alternate ending to Titanic is hilarious. This would have absolutely ruined the film for me pic.twitter.com/L3vSrSb72e

— Pat Brennan (@patbrennan88) February 16, 2021
You can do that today because tomorrow the third match of the four-match Test series will begin and you may not want to miss it.
The 136 missing in Uttarakhand's Chamoli will be declared 'presumed dead' so that affected families can get due compensation.
What toolkit case accused Disha Ravi got is bail. She has been asked to deposit Rs 1 lakh as bail bond. The family has said it doesn't have Rs 1 lakh to pay.
On that note, we will take your leave for the day.
See you tomorrow.
Now get the all-new DailyOh in your mailbox. Click here to subscribe.
Also Read: Why the Centre needs to review Kashmir beyond the rosy picture
The views and opinions expressed in this article are those of the authors and do not necessarily reflect the official policy or position of DailyO.in or the India Today Group. The writers are solely responsible for any claims arising out of the contents of this article.