DailyOh! No oxygen in Delhi, to why Irrfan did not become a cricketer
Ace actor Irrfan was selected to play in the CK Nayudu Trophy, the launching pad to first-class cricket, in the under-23 category.
A brand new day, that (unfortunately) brought brand new records with it. With 3.8 lakh Covid cases and 3,645 deaths in the 24 hours ending Thursday morning, India saw its biggest single-day spike.
While a video of a man crying and begging the cops not to take away oxygen cylinders from a hospital in Agra has surfaced, a woman fell at the feet of the Chief Medical Officer in Noida, begging for Remdesivir, to save her 24-year-old Covid positive son. The Agra man's mother was admitted to the hospital in critical condition and the Noida woman's son has passed away while she was falling at the CMO Dipak Ohri's feet.
Begging for lives: The man in Agra (L) was seen falling at the feet of cops for oxygen cylinder for his mother and the woman in Noida (R) begging the CMO for Remdesivir for her son. (Photo: Screengrabs)
#WATCH Noida | Families of #COVID19 patients touch the feet of Chief Medical Officer (CMO) Deepak Ohri, requesting him that they be provided with Remdesivir.(27.04.2021) pic.twitter.com/zX4ne027Mr

— ANI UP (@ANINewsUP) April 28, 2021
Incidents like these expose the crumbling healthcare system and make us wonder at whose mercy are we on? The authorities, the doctors, the government, the virus itself, God or something beyond?
Speaking of Gods and governments, the Uttarakhand government has suspended the Char Dham yatra pilgrimage this year due to rising Covid cases, CM Rawat announced, adding that only the priests of the four temples will perform rituals and puja.
No pilgrimage for now: Uttarakhand CM Tirath Singh Rawat has suspended the Char Dham yatra pilgrimage this year due to rising Covid cases. (Photo: PTI)
Just days ago, Union Minister Gajendra Singh Shekhawat landed in a controversy after he told a Covid patient's family in Rajasthan, "You offer coconut to Balaji, everything will be alright." The women were crying over the uncertainty of their fates after Covid.
Staying with Rajasthan, Chief Minister Ashok Gehlot has tested positive for Covid-19 this morning.
कोविड टेस्ट करवाने पर आज मेरी रिपोर्ट भी पॉजिटिव आई है। मुझे किसी तरह के लक्षण नहीं हैं और मैं ठीक महसूस कर रहा हूं। कोविड प्रोटोकॉल का पालन करते हुए मैं आइसोलेशन में रहकर ही कार्य जारी रखूंगा।

— Ashok Gehlot (@ashokgehlot51) April 29, 2021
Thankfully he is asymptomatic and has assured that he will continue working while staying in isolation.
While contracting the infection is unpredictable, what was predictable was the economic slowdown. It has been evident since the lockdown last year and is still continuing. You can read all about how the second Covid wave will impact India's economy here.
From infections, economy, vaccinations, availability and the prices thereof, Serum Institute of India's (SII) CEO Adar Poonawalla announced its Covid vaccine Covishield's price slash as a "philanthropic gesture" yesterday. Hours later, the Ministry of Home Affairs issued orders to provide him with 'Y' category security on an all-India basis.
SII's Adar Poonawalla to get Y category security across India. (Photo: Reuters)
This comes after Prakash Kumar Singh, Director of Government and Regulatory Affairs at SII had written to Home Minister Amit Shah on April 16 requesting security for the CEO. Need for increased security? The vaccine supply. In what seems to be an emerging form of goondaism, Singh reportedly wrote that Poonawalla has been getting threats from various groups regarding the Covishield's supplies.
Serum Institute of India's Covishield is one of vaccines for Covid-19 in India. (Photo: Reuters)
That brings us to our Word Of The Day — security. The dictionary defines security as 'the state of being free from danger or threat.' The word comes from 'secure' that is derived from the Latin word 'securus'. It literally translates to 'free from care'.
While Poonawalla has been accorded additional CRPF security, remember that your own security from the deadly virus is staying at home and wearing double masks besides social distancing in case you absolutely must step out.
The Centre's vaccine drive, meanwhile, will start on May 1 (hopefully). We are keeping our fingers crossed because states are now coming forward to say that there may be a delay in the inoculation drive because of the lack of doses.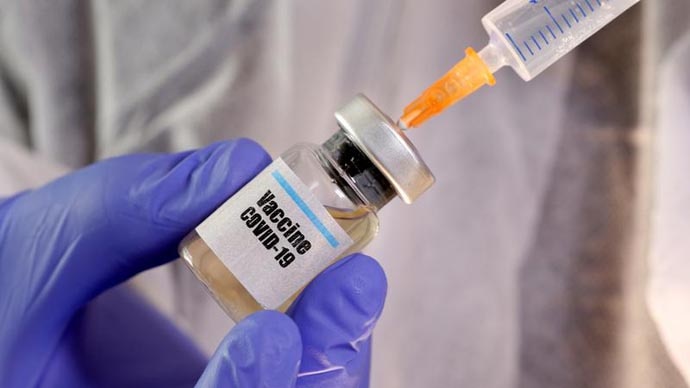 There may be a delay in Phase 3 of the inoculation drive because of a lack of doses. (Photo: Reuters)
First, it was Maharashtra that said that SII and Bharat Biotech are yet to respond on the supply of doses. Now, the Delhi government has also said that the date for the third phase of vaccination in the capital is not fixed for the same reason. These are among the worst-hit states in terms of Covid cases in India. While Maharashtra recorded the highest-ever load of Covid cases at 66,358 infected people, Delhi logged a record 381 Covid deaths on Tuesday.
The supply of medical oxygen in Delhi is the primary cause of Covid deaths. We had hoped that the situation would be eased by the arrival of Oxygen Express, the hospitals are still overflowing with patients who are distressed (respiratory and otherwise). Delhi government has alleged that all other states have been supplied with more oxygen than what was asked for, but not Delhi. This was at the hearing in the High Court today. The HC has asked the Centre to explain if the charges are true. In a counter-allegation, BJP has accused the Delhi government of fudging the state Covid data.
Delhi HC has been dealing with government squabbles while trying to ensure oxygen for Covid patients. (Photo of the HC building: Reuters)
Meanwhile, the HC has also issued notices to all suppliers of medical oxygen, asking them to appear before it tomorrow. They cannot come empty-handed, as the court has asked them to furnish details of oxygen supplied to various hospitals in Delhi. The court has also added that it may have to reduce the oxygen quota of hospitals to fulfil the need of Covid patients who are in need of oxygen at home.
Patients battle Covid and governments battle allegations in courts. Meanwhile, who will win the Assembly elections battle?
While the results will be announced on May 2, you can watch India Today-Axis My India exit poll of Bengal, Kerala, Tamil Nadu, Assam and Puducherry here from 7 pm today.
A man who bravely battled neuroendocrine tumour was actor Irrfan. Today is his first death anniversary and the world mourns along with his family.
View this post on Instagram
The actor, who passed on at the age of 53, was among the finest in Indian cinema and is known for a variety of roles that he essayed with élan. However, that remarkable career in acting almost didn't happen. Did you know that left to him, he would have never become an actor? According to an interview he gave to PTI in 2017, he said, "'I was not cut out to be an actor. I was the last person who could become an actor. If I told people I wanted to be an actor, they would have killed me. I couldn't even share it."
An actor par excellence: Irrfan. (Photo: Bandeep Singh, India Today)
So, what would he have been instead? A cricketer. He was so good at the game, in fact, he was selected to play in the CK Nayudu Trophy in the under-23 category. This tournament is the launching pad to first-class cricket in India. So why did he forgo this opportunity that most would kill for? Because he could not afford the travel expenses of Rs 600.
Cricket's loss and acting's gain: Irrfan. (Photo: Facebook/ @irrfanofficial)
A full-of-life fighter till the last minute, he was playing on the sets of Angrezi Medium — released shortly before his death on March 13, 2020.
Photo: Instagram
We will leave you with those heart-warming visuals as we bid you adieu for the day.
We will be back tomorrow.
Stay safe.
Now get the all-new DailyOh in your mailbox. Click here to subscribe.
Also Read: Why the death of Irrfan is a personal loss for an entire country
The views and opinions expressed in this article are those of the authors and do not necessarily reflect the official policy or position of DailyO.in or the India Today Group. The writers are solely responsible for any claims arising out of the contents of this article.