Covid-19 Third Wave in India: 2.6 lakh new cases, Makar Sankranti rush and 8 updates
Covid-19 cases are rising steeply in India. Despite rising cases, curfews in various states and dire warnings, the virus has not been able to dampen the festive mood for many.
India logged in 2,64,202 new Covid-19 infections in the last 24 hours, 6.7% higher than January 13. There were 315 new Covid-related deaths in the country. Currently, active cases stand at 12,72,073.
#Unite2FightCorona#LargestVaccineDrive#OmicronVariant ????? ?????https://t.co/U7Q4OUtaCb pic.twitter.com/Ogi04dUO7M

— Ministry of Health (@MoHFW_INDIA) January 14, 2022
The government also released a consolidated list of all the states and the Covid-19 curbs imposed.
Here is what you need to know about curfews and restrictions in various states across the country. Follow every precautionary measure to prevent the spread of Coronavirus. Stay Safe! #IndiaFightsCorona #Unite2FightCorona https://t.co/t8yHLhZAdi pic.twitter.com/RalxSFBeCg

— MyGovIndia (@mygovindia) January 13, 2022
Here are 8 updates on Covid-19 in India and elsewhere:
1. OMICRON CASES RISE IN INDIA
India reported an increase of 4.83% in Omicron variant cases compared to January 13. Currently, the total cases stand at 5,753.
2. PM REITERATES THE NEED FOR VACCINATION
PM @narendramodi's closing remarks at interaction with Chief Ministers on #COVID19 situation.#We4Vaccine #IndiaFightsCorona@PMOIndia @MoHFW_INDIA @mansukhmandviya @ianuragthakur @Murugan_MoS @ICMRDELHI @AmitShah @SetuAarogya @PIB_India @DDNewslive https://t.co/j86w6ygfzJ

— #IndiaFightsCorona (@COVIDNewsByMIB) January 13, 2022
Prime Minister Narendra Modi reiterated the need and benefits of Covid-19 vaccination after his meeting with the Chief Ministers of states and UTs over the Covid-19 situation. He said that people shouldn't pay heed to narratives that despite vaccination, there are reinfections. He said that vaccinations are a sure-shot way to get out of the pandemic.
He also said that the focus was on local containment rather than any big decision that would impact livelihoods and employment.
3. DELHI'S SINGLE-DAY SURGE SURPASSES SECOND WAVE PEAK
Delhi reported 28,867 COVID cases yesterday. Today, the national capital is expected to record less than 25,000 cases. 75% of the COVID patients who died in the recent past were unvaccinated. More than 13000 beds (88%) are available: Delhi Health Minister Satyendar Jain pic.twitter.com/IQfj5JDLKD

— ANI (@ANI) January 14, 2022
Delhi reported 28,867 new Covid-19 cases on Thursday, January 13, the highest single-day spike since the pandemic began in 2020. The number of cases also surpassed the second wave single-day peak that stood at 28,395 on April 20, 2021.
The number of containment zones in the national capital has also gone up from less than 1,000 to nearly 24,000 in the last two weeks in Delhi.
4. CONGRESS CANCELS PADAYATRA IN KARNATAKA
Karnataka Congress which was adamantly carrying out a padayatra over Mekedatu dam project has 'temporarily' called it off due to rising Covid-19 cases in the state. The padayatra began on January 9 in Kanakapura and was supposed to end on January 19 in Bengaluru.
The announcement came as 5 Congress leaders including Veerappa Moily and Mallikarjun Kharge who were leading the padayatra tested positive for Covid-19.
Karnataka Congress leaders had ignored weekend curfews and other Covid-19 curbs in the state to carry out the padayatra. DK Shivakumar had even claimed that there were no Covid-19 cases in the state and that the numbers were fudged by the ruling BJP government.
5. HOLY SITES SEE MAKAR SANKRANTI RUSH DESPITE COVID-19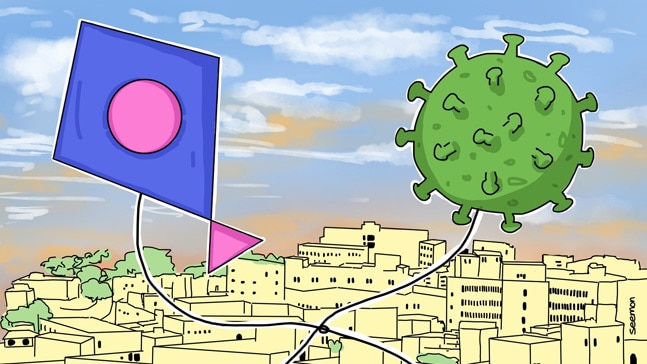 People rush to holy sites for Makar Sankranti despite rising Covid-19 cases. Illustration: Seemon/DailyO
India is celebrating Makar Sankranti on January 14, 2022, and a host of harvest festivals across the country. While some holy places witnessed a deserted look on the occasion, some reported the usual rush despite rising Covid-19 cases.
A large number of people gathered at Gangasagar in West Bengal to take a holy dip on Friday. The state government has arranged air ambulance services and other facilities to ensure immediate medical access in cases of emergencies.
West Bengal | People take holy dip at Ganga Sagar on Makar Sankranti pic.twitter.com/8AV6Pcatyv

— ANI (@ANI) January 14, 2022
In Uttar Pradesh's Prayagraj, devotees are trooping to Magh Mela for the festival. On January 13, Chief Minister Yogi Adityanath refused to stay the pilgrimage. So far, 70 people from the gathering site have tested positive for Covid-19. The festivities will end on January 15.
Uttar Pradesh: Devotees take a holy dip in Triveni Sangam on the festival of Makar Sankranti in PrayagrajKeeping the Covid situation in mind, police forces have been deployed near the ghats to ensure Covid appropriate behaviour is followed: Rajeev Narain Mishra, SP Mela pic.twitter.com/jU8IIah86s

— ANI UP/Uttarakhand (@ANINewsUP) January 14, 2022
6. UN WARNS OF SECOND WAVE-LIKE SITUATION IN INDIA
A report by the United Nations has warned India of a second wave-like situation in the near future due to Omicron and rising Covid-19 cases. The report said 'similar episodes' like that of the deadly wave of Covid-19 brought on by the Delta variant that stole 2,40,000 lives in India between April and June 2021 could take place in the near term.
Updates from the rest of the world:
7. OMICRON WAVE IN AFRICA PLATEAUS
The World Health Organization reported that the fourth wave of Covid-19 brought on primarily by Omicron variant in Africa is flattening after a 6-week surge. South Africa witnessed a 14% decline in infections over the past week.
East and Central African regions also reported a drop in cases. But cases have been rising in North and West Africa.
8. US SUPREME COURT BLOCKS VACCINE MANDATE
The United States Supreme Court halted the Biden administration's vaccine mandate for big businesses in a significant judgment. The court ruled that the administration over-stepped its authority by imposing the mandate. However, it has allowed a vaccine mandate for US healthcare workers.
The Biden administration had made it mandatory for big businesses to have their employees vaccinated against Covid-19 or undergo testing every week and wear mask on job. The US has had a huge anti-vaccination problem.
The views and opinions expressed in this article are those of the authors and do not necessarily reflect the official policy or position of DailyO.in or the India Today Group. The writers are solely responsible for any claims arising out of the contents of this article.