DailyOh! Farmers protest that inspired theatre in Bengal, to Deepika and Sara's trip
Farmers will be holding an all-India protest tomorrow.
The Comptroller and Auditor General (CAG) has launched a critical assault on Dassault for not fulfilling its side of the promise in the Rs 60,000 crore deal. As per the promise made in 2015, Dassault Aviation was supposed to transfer high-end technology to the Defence Research and Development Organisation (DRDO) for building Kaveri jet in India. India is supposed to buy 36 Rafale jets under the deal from Dassault.
India is supposed to buy 36 Rafale jets under the deal from Dassault. (Photo: Twitter)
The CAG's assault report also fired a few missiles at the Ministry of Defence over its offset policy, which is nothing but a policy to counteract (something) by having an equal and opposite force or effect. Like you pay someone to buy some food and at the same price take the recipe too. Next time you don't need to pay them.
For not keeping its promise on the deal, CAG lashed out at Dassualt and Defence Ministry, while the Congress lashed out at the Narendra Modi government. The other front on which Congress is lashing out at the Modi government is the farm front. Protests over the Farm Bills are growing. They are supposed to be fully grown by tomorrow when the protest will become all-India.
The Farm Bills have opened the opportunity for farmers to sell their produce to whoever they want. Farmers are saying we want a minimum support price (MSP) to produce crops. The government is saying the MSP is there. The farmers are saying then give it to us in writing. Why is the government not writing down the guarantee in the Bills? Because, the government says, it has never been written. It is just given. The government is also saying farmers are being misled by the opposition. Farmers' protest is occasional; the protest of parties against each other is perennial.
Ignore the protest of parties. Let us talk about the protest of farmers. One that happened in pre-independent India – Nil Bidroh (Indigo Revolt). The bidroh (or vidroh) was a peasant movement and led to an uprising of indigo farmers against the indigo planters that arose in Bengal's Nadia, in 1859. The uprising started when Britishers began forcing Bengal's farmers to grow indigo instead of crops because indigo was more profitable. Profitable, of course, for Britishers. The Indian peasant hardly earned on the indigo crop and since he wasn't growing food crops, there was no food either. An offset deal more badly drafted than the Dassault deal. Only, farmers were not given the choice to enter or leave the deal.
Dinabandhu Mitra somewhere in 1858-1859 wrote a play on Nil Bidroh called Nil Darpan. The play achieved two purposes. First, it helped spread the message about the farmers' plight. Second, it helped in the development of theatre in Bengal. The play influenced Girish Chandra Ghosh, who in 1872 established the National Theatre in Calcutta. The first play ever commercially staged at the National Theatre was Nil Darpan.
Tomorrow, farmers will be protesting live in many parts of the country but protests are likely to be the loudest in Punjab and Haryana. Today, two women, who are not farmers, are meanwhile being tracked from Goa to Mumbai. One of them, Sara Ali Khan, has landed landed in Mumbai, but it turns out Deepika Padukone is still in Goa. Padukone will be questioned tomorrow. Sara Ali Khan on September 26.
Sara Ali Khan at the Mumbai airport today. (Photo: Yogen Shah)
Rakul Preet Singh, who was supposed to meet NCB sleuths today, said she never got the summons for the grilling. Then the NCB reissued the summons, which Rakul finally accepted that she had accpeted. The NCB grilled Simone Khambatta today. The use of the word grilling is important. It is not questioning. It is not interrogation. Grilling is akin to the Buddhist middle path. Are NCB sleuths followers of Lord Buddha? Legend has it that NCB only has political bosses who it follows.
Let's get back to the middle path. So, questioning is mild and used before arrest. Interrogation happens under arrest. Officially, it is done with words. Unofficially, use of canes, slaps and waterboarding are regular. When an investigative agency hasn't arrested a person but wants to question them to the point of breaking them into submission, the weapon of choice is grilling. Oxford dictionary defines grilling, the Word Of The Day, as "a period of being questioned closely about your ideas, actions, etc." Don't mistake the meaning to be what real grilling is like. Real grilling is like 'the real' grilling, which is the process of exposing food to heat from charcoal or electricity. The food is cooked slowly but surely. The question is will NCB sleuths actually be able to grill the actors they have been seeing on screen and could be fans of? The NCB is a professional organisation, we are told.
Amid the questions, grilling and more questions, Kangana Ranaut's "heart is healed". She also has some khushi ke aansoo. And that is because the Bombay High Court has told BMC, Ranaut's demolished house can't be left demolished and that BMC can't be given 'more time' because BMC took no time in carrying out the demolition drive.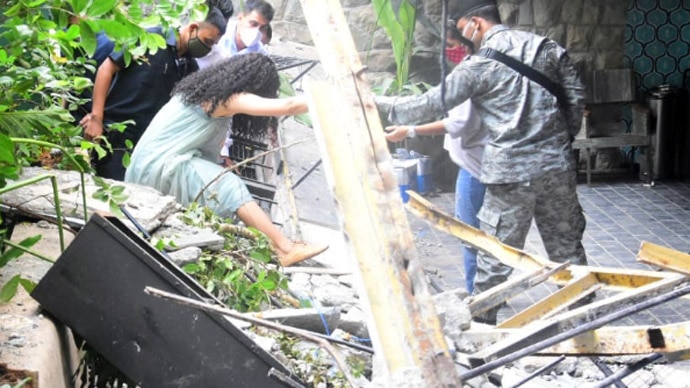 Kangana Ranaut at her demolished Mumbai office. (Photo: Yogen Shah)
Honourable Justice HC, this brought tears to my eyes, in the lashing rains of Mumbai my house is indeed falling apart, you thought about my broken house with so much compassion and concern means a lot to me,my heart is healed thank you for giving me back all that I had lost 🙏 https://t.co/zB9auZwzjX

— Kangana Ranaut (@KanganaTeam) September 24, 2020
BMC may be ordered to compensate Ranaut, which should be fine with BMC, because it is ultimately the taxpayer (honest, dishonest, compelled) who will be compensating the actor on BMC's behalf.
Ranaut's heart is healed, but the hearts of millions of cricket fans broke after hearing that former Australia cricketer Dean Jones passed away due to a heart attack today. He was 59 and in India for IPL commentary. Jones entertained people as much playing cricket as commentating while others played the game. He will be missed. Jones's body will reportedly be flown back to Australia.
If you are set to fly domestic flights, weigh your luggage before you head to the airport. The Ministry of Civil Aviation has handed over the right to decide the luggage weight limits to air carriers. When domestic flights resumed after lockdown, the weight limit for luggage was raised to 20 kgs. Most airlines allow 15. So we could be back to 15 kgs in no time.
If you want to cut down on your body weight, idlis could help. Add a little spice to it to keep the taste buds in good humour. Functioning taste buds are also a corona test of sorts, which neither completely confirm, nor deny the presence of the virus in a body. All you need to do is follow the recipe and ensure you have leftover idlis.
Talking of corona test, Vicky Donor Actor Bhupesh Pandya, who had tested positive for the virus has died. In Delhi, chief minister Arvind Kejriwal has told people not to worry too much because apparently the second wave is now peaking out. Can't there be a third? Why not?
Don't worry, but don't put your guard down. Your guard is your mask.
Stay safe.
We will be back tomorrow when farmers hit the streets and Deepika Padukone hits NCB office.
Now get the all-new DailyOh in your mailbox. Click here to subscribe.
Also Read: Why Bollywood's men are missing from NCB chat leaks
The views and opinions expressed in this article are those of the authors and do not necessarily reflect the official policy or position of DailyO.in or the India Today Group. The writers are solely responsible for any claims arising out of the contents of this article.