DailyOh! Trump and Greta got no chill, but what Joe Biden and Ronald Reagan have in common
Greta Thunberg has given back to Donald Trump what she got from him about 11 months ago.
Over 12,39,000 people have died due to Covid-19. Over 1,70,00,000 minks will have to die to save people from Covid-19. That will happen because Denmark has found a mutation of the coronavirus in its mink population, which is spreading back to humans.
Denmark plans to kill all its minks to stop a mutated version of the coronavirus from spreading. (Photo: Reuters)
So, Denmark has decided to kill every single mink in the country and save the world. The virus strain that was found to jump to humans from minks has a lower sensitivity against antibodies. So future vaccines may not help people who get the virus from the mink. And what happens in one country can spread to all other countries in no time, as we all are aware thanks to 2020.
Denmark, which has a population of about, 58,10,000 humans, has more minks than people in the country. It is estimated that the Nordic country has about 1,70,00,000-1,80,00,000 minks. Now, minks have a gestation period of only 35 to 72 days, while humans have a gestation period of about 270 days. Minks give birth to a litter of one to eight babies. Humans, on the hand, have a litter of usually one.
While Denmark tries to control minks, Twitter is busy trying to control US President Donald Trump's tweets. The more Trump tweets, the more Twitter cleans up. Trump has been claiming election fraud in the face of an imminent defeat. And guess who thought this was the right time to settle scores? Swedish environment activist Greta Thunberg. Thunberg has given back to Trump what Trump once gave to her.
In 2019, Trump said Thunberg must work on her anger management after Time magazine named her 'Person of The Year'. So after Trump tweeted 'STOP THE COUNT', Greta asked Trump to work on managing his anger. Both advised each other to just chill, chill, just chill. Both, the child and the senile, ain't got no chill though.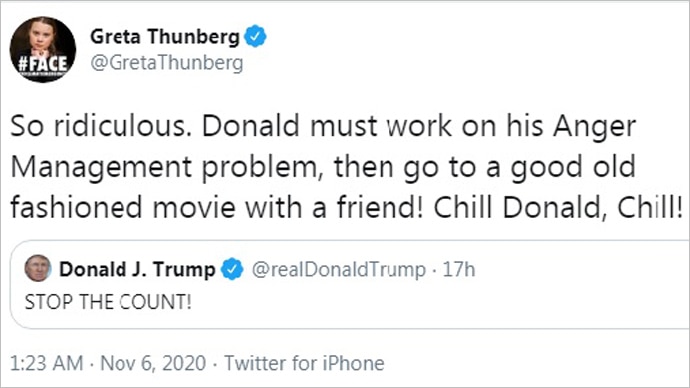 But together, the two got us thinking about the word chill, which originates from German word cele or ciele, meaning cold or coldness. But chill, the Word Of The Day, over a period of time acquired a whole new meaning in the sense of being cool and not cold. You are chill when you are calm, relaxed and easygoing. You are chill when you lose an election, or a match, or whatever it is and you say 'ok no problem'. You are chill when you can laugh off what Trump says without bothering to prove a point to him because that is the most pointless thing to do.
And chill is not just a noun but a verb too. A whole experience. When you chill with friends, you are just sitting and drinking or maybe just watching a movie. When you 'Netflix and chill' with someone though, you aren't just watching Netflix but getting into sexual activity. This maybe either a romantic partnership, or casual sex, or a groupie invitation. So just chill is not just chill it has a whole world of activities going on as part of the chilling process. For baby boomers though, the chill is setting in because temperatures are falling. One chill, many meanings, and many experiences.
Trump and Greta are not chilling, but what about Joe Biden? Biden is set to be the oldest US President when he takes office. Biden turns 77 on November 20. If he is elected President, which is what looks like will happen, Joe's initiation would happen on January 20, 2021. Ronald Reagan, however, was 78 when he left office. So, so far, Reagan was the oldest. Reagan was in office from 1981 to 1989. He was diagnosed with Alzheimer's disease in 1994, five years after demitting office.
Ronald Reagan with wife Nancy. (Photo: Reuters)
But it was later found that he was suffering with memory lapses and bouts of confusion even as he was in office. CBS News reporter Lesley Stahl met Reagan in 1986. In her memoir, Reporting Live, Stahl writes that when she met Reagan, she found him catatonic. "Reagan didn't seem to know who I was," she wrote. A few minutes into the meeting, Reagan snapped out of whatever it was and was fine. Reagan's son Ron in his book, My Father at 100: A Memoir, wrote that three years into office, it had begun to appear that something was afflicting him and people were concerned.
Even if Joe stays in office for one term, he would be 81 by the time the term ends.
If you are still struggling to make sense of the US elections, we recommend House of Cards. The show has completed six seasons, so if you haven't seen any, you got too many to watch.
Talking about what you can watch, Laxmii, which has dropped the Bomb from its name, has dropped a new video on social media. With three days for the movie to release on Disney+Hotstar, actor Akshay Kumar shared a new video of the film.
Watch Laxmii, but burst no Laxmi Bombs this Diwali. Karnataka has joined Delhi in banning crackers during Diwali with the Covid-19 situation in mind. Delhi, of course, also has the pollution situation on its mind. The Supreme Court has told Delhi government to ensure there is no smog after Diwali. The court has now entered its Diwali break, which ends on November 16. That's like our mums telling us: "I will be back and when I am back, I want this cleaned up." States can't clean if people continue to pollute. Don't be those polluting people. Don't burst crackers.
That would also save you money. Which reminds us that money can now be transferred and received on WhatsApp as WhatsApp Pay has gone live. The Facebook-owned messaging app began WhatsApp Pay with over 1 million users in 2018.
So transfer money via WhatsApp but don't spend it on crackers. This Diwali, just chill, chill, just chill.
We will be back on Monday.
Stay safe, stay sane.
Now get the all-new DailyOh in your mailbox. Click here to subscribe.
Also Read: How Covid may reorder the world we know
The views and opinions expressed in this article are those of the authors and do not necessarily reflect the official policy or position of DailyO.in or the India Today Group. The writers are solely responsible for any claims arising out of the contents of this article.