More than 20 crushed to death in Mumbai stampede disaster which everyone knew was coming
The government needs to provide real facilities than just leaving everything to the 'great spirit of Mumbaikars'.
Twenty-two lives is a big price to pay for official apathy.
A stampede is waiting to happen at Mumbai's suburban railway stations every day. That it does not is a tribute to the survival skills of this city, with no help from the official machinery.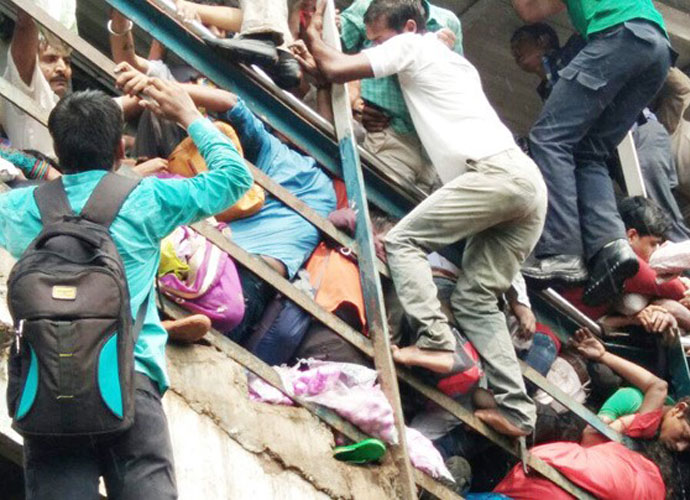 According to early reports, rain led to the stampede on the Elphinstone Road station bridge. (Credit: India Today photo)
Mumbai is the financial capital of the country, and the state's chief minister wants to make it an international financial hub. Yet, 22 people died here during their daily commute, because they were using a network that everyone knows is overburdened, creaky and likely to give way at any moment.
Crowds on the Mumbai suburban railway are of mythical proportions. Prohibitive house rents mean most people stay far from their workplaces - concentrated in south and central Mumbai - and trains are the only practical means of transport for them. Every day on an average, during the peak hours, 5,300 people travel in a train meant for 3,504 passengers. At least nine people die on the local train network every day.
The Elphinstone Road station is located in central Mumbai, which has metamorphosed into a pulsating commercial district in the past 30 years. While commuters to and from this area have grown exponentially, the railway infrastructure has not bothered to keep up.
For years, commuters have demanded more foot-over bridges at this Western Railway station, which connects to the Central Railway via one narrow bridge. Recently, complaints had been growing about the very bridge that was the site of Friday's tragedy. But the biggest change made to the station in the recent years is renaming it to Prabhadevi, in keeping with "Indian culture".
A city u cant breathe, u cant find a place to live, you risk ur life traveling to work. City of Dreams or City of Nightmares? #elphinstone

— Shekhar Kapur (@shekharkapur) September 29, 2017
This image was tweeted by @CKSquare to @sureshpprabhu on 22july 2016. Ex of how small negligence can cause this big #elphinstone targedy!! pic.twitter.com/ZCaDvKZBWX

— ????? ?? (@anbu2089) September 29, 2017
Sir had it been cows instead of humans at #elphinstone .. you perhaps would have done smthg. Btw when will u blame Nehru for this tragedy ? https://t.co/bqgjj6APy6

— Tehseen Poonawalla (@tehseenp) September 29, 2017
Weak infra + Overcrowded bridges/Places = Ticking Time Bombs.. Wake up!! This is not the price to pay to learn a lesson #Elphinstone

— Riteish Deshmukh (@Riteishd) September 29, 2017
Commuters have been coping with this for years! Ministers dont commute else theyd know. Shame on @Dev_Fadnavis @RailMinIndia #elphinstone https://t.co/z0Se1g2gRp

— Gayatri Jayaraman (@Gayatri__J) September 29, 2017
After the accident, MoS railways Manoj Sinha claimed that lives were lost because of the stampede, and no question had been raised on the structural strength of the bridge. However, that the bridge is narrow and overcrowded, and hence a safety hazard, is no secret.
I don't think any question has been raised on structural strength of bridge; the incident happened due to stampede: MoS Railways Manoj Sinha pic.twitter.com/dcVbUZ6Atn

— ANI (@ANI) September 29, 2017
Anyone living in Mumbai for some time gets used to the fact that everyday commute is life-and-death business. The Mumbai local commuters are a special kind - stoic, squeezed within an inch of their lives, hanging off footboards, thundering over creaky footbridges as they rush from platform to platform. The local train has become a symbol of the "Maximum City", of the famed "spirit of Mumbai".
The Mumbai local commuter is a special kind of stoic, squeezed inside trains, hanging off footboards.
This romanticisation has become an easy cover for what is nothing more than abject administrative failure.
The government has taken some steps to ease the pressure on the local train network. The Metro and monorail networks were meant to provide alternatives to the suburban railway. However, while the expensive and much-delayed monorail moves largely empty in areas that are by no means the most-crowded, the Metro rail - a huge, ambitious network mired in legal and administrative hurdles - is years away from completion.
Successive governments have gone for big-ticket, time-taking, fancy solutions to problems that are crying out for first aid - wide, robust foot-over bridges, making sure passengers don't travel on train footboards, and increasing the height of platforms.
This attitude in Mumbai is not limited to the railways alone. A "state-of-art" international finance hub is coming up at the Bandra-Kurla complex. Yet, traffic in the area remains bottlenecked. The government body running Mumbai's buses - the Brihanmumbai Electricity and Transport Undertaking (BEST) is bleeding financially, but yet can't find enough riders. The city's municipality - the Brihanmumbai Municipal Corporation - is the richest in the country, but can't seem to find a solution to the waterlogging the city experiences every monsoon.
For a city that has ambitions of becoming a global financial hub, Mumbai is terrible at solving its very local, very basic problems. Its roads are notoriously pot-holed, its trains are bursting at the seams, its drainage system is in a mess, its vehicular traffic sees hours-long jams every day. Yet, it is running, seemingly on auto-pilot.
Mumbaikars deserve better. It can only be hoped that Friday's tragedy wakes up its authorities, and more is done to serve the city than leaving everything to the "great spirit of Mumbai".
Also read: India's train tragedies are derailing lives, economics and common sense
The views and opinions expressed in this article are those of the authors and do not necessarily reflect the official policy or position of DailyO.in or the India Today Group. The writers are solely responsible for any claims arising out of the contents of this article.