DailyOh! FIR in farmer protest toolkit case, to why Twitter deleted Kangana Ranaut's tweets
The Delhi Police have taken cognisance of the 'Toolkit Document' tweeted by Greta Thunberg.
One tweet from Rihanna started a storm that today blew away two of Kangana Ranaut's tweets because Twitter belongs to Twitter and so Twitter decides where its nose begins and your freedom of expression ends – jiska platform uski nose. The deletion of Ranaut's tweets was followed by the trending of a trend that the Indian government has taken objection to – '#ModiPlanningFarmersGenocide'. Twitter's response (that never came): It ain't government of India's platform so it can take its nose elsewhere. The hashtag stays on Twitter.
On Twitter, environmental activist Greta Thunberg mistakenly shared a toolkit to fan protests over farmers' protest. The Delhi Police have taken cognisance of the 'Toolkit Document' tweeted by Greta. Yes, it's all happening on Twitter because Tooter proved no good.
Delhi Police have taken cognisance of the toolkit tweeted by Greta Thunberg. (Photo: Reuters)
The toolkit had details of how Adani-Ambani enterprises should be targeted, how protesters should gather outside Indian embassies world over, how certain hashtags should be made to trend and who all should be tagged to help the hashtags trend. The toolkit said nothing about the demerits of the farm laws, or the merits of it. Caught red-handed, Greta got to proving that she wasn't caught at all. So, she shared an updated list saying the deleted list was outdated. The updated list removed names of Twitter handles to be tagged and also corporate houses to be targeted.
People who have always alleged there was a wider conspiracy behind the protests, said the toolkit was proof that not only is there a conspiracy, but it's an international one. We can't comment on the conspiracy because one must "ascertain facts before commenting". As per facts, the word conspiracy comes from the word conspire, which comes from Latin word conspirare.
Conspirare is actually formed of two words: con meaning together, and spirare meaning breathe. The first records of the word conspirare are seen in the 1300s where the word meant to act in harmony. Now, mostly when you are conspiring, you are planning and plotting to disturb someone else's harmony. Conspiracy, the Word Of The Day, is defined by Oxford dictionary as 'a secret plan by a group of people to do something harmful or illegal'.
Conspiracies are taken note of because they harm someone by the coming together of some people, but Priyanka Gandhi's car-cleaning act was taken note of for no other reason than that she was doing it herself. Priyanka Gandhi got into the cleaning act while she was being driven to Rampur in Uttar Pradesh to meet the family of Navreet Singh, the farmer who died during the tractor rally on January 26. Due to the fog on the way, two cars in the Congress leader's convoy collided and so the windshield needed cleaning.
Priyanka Gandhi cleaning her car. (Photo: PTI)
But coming back to Greta, who stands accused of being part of a global conspiracy to foment the farmers' protest, do you know that the 18-year-old has given a boost to flygskam in her own country Sweden? What is flygskam? It is basically flight-shame and encourages people to take trains instead of planes because the carbon footprint of flights is higher when they are in the sky. Not just Sweden, people all over Europe also are increasingly opting for trains and cars over flights. Many call it the 'Greta effect'. Still others say that it would be talking away credit from other activists who have been working in the area. We will not get into that because the environmental cause is bigger than the credit cause. But in 2019, Greta travelled to New York City from Plymouth in the United Kingdom, in the course of a two-week-long journey on a racing sailboat to attend the United Nations Climate Action Summit.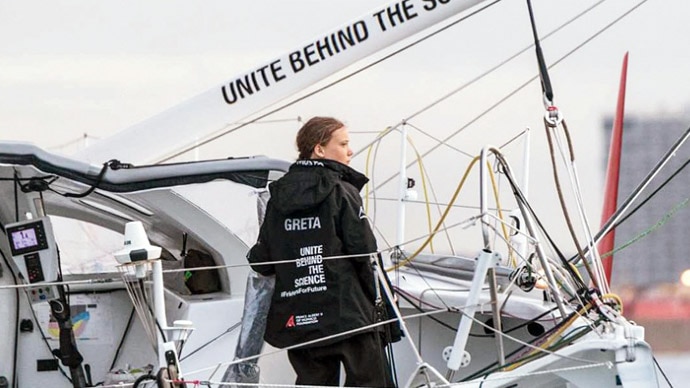 Greta Thunberg travelled across the Atlantic Ocean to New York City by boat. (Photo: Twitter/Jen Edney/Team Malizia via Boris Herrmann)
What is more difficult than that? Telling your boss you need a two-week-long leave to be on a ship and an additional 10-15 days to soak in the beauty of the place you are shipping yourself to. So forget it.
But we want to remind you that today is World Cancer Day. A World Health Organization study says one in every 10 Indians will have cancer and one in every 15 will die of it. How can you save yourself? There is no sure-shot remedy but awareness may help. For a start, you can pick up Healed. Who wrote it? Actor Manisha Koirala who fought cancer.
Farmer leaders who are fighting against the farm laws say they fear they could be attacked since their office on Singhu border is easily accessible. They are planning to move to an inaccessible office instead. Many farmer leaders have been named in FIRs and sent notices from the police.
The Opposition, meanwhile, told the government in Rajya Sabha to stop the monologue and start a dialogue with farmers. The 'monologue' the opposition was apparently referring to, came from Prime Minister Narendra Modi as he inaugurated the centenary anniversary events in memory of the Chauri Chaura incident in Uttar Pradesh. Modi said farmers are the backbone of the country and that they also contributed during the Chauri Chaura incident.
Remember what was the incident? Let us take you down the lane, the memory lane. The incident took place on February 4, 1922, at Chauri Chaura in the Gorakhpur district of the United Provinces (modern-day Uttar Pradesh). It so happened that a large group of protesters participating in the Non-cooperation Movement clashed with the police. Twenty-two police officials died in the incident and Mahatma Gandhi called off the Non-cooperation Movement.
Farmer leader Rakesh Tikait has refused to take back the farmers' protest in 2021, and not start a dialogue till those in jail over the Republic-Day violence are released. Why does Tikait care about them? Because Tikait says they aren't the real culprits.
We can't say who the real culprits are because that is the job of the police and Indian courts and why do someone else's job when you've got enough on your plate?
Do your job.
Stay safe. Stay away from conspiracies.
Now get the all-new DailyOh in your mailbox. Click here to subscribe.
Also Read: The need for a strong leadership, vision, unity and resolve
The views and opinions expressed in this article are those of the authors and do not necessarily reflect the official policy or position of DailyO.in or the India Today Group. The writers are solely responsible for any claims arising out of the contents of this article.