No longer Hindi-medium – why 20 per cent UP board Class 10 students flunking Hindi is worrying
Vanishing marks are linked to the greater disappearance of literary Hindi, and its beautiful cultural treasures, from everyday life.
Uttar Pradesh, the cradle of the Hindi language, is today in the news over it – and it's not good news. For the fourth consecutive year, Class 10 students of state board schools have performed dismally in the subject. This year, 20 per cent of the examinees have actually failed in Hindi; this figure has only been growing steadily.
Once, students would fear English. Now, Hindi seems to be going the same way.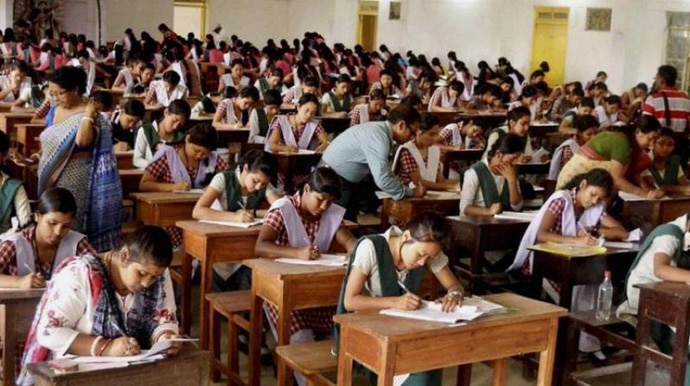 Hindi has always been a compulsory subject for students in UP. However, it's become a burden only now. Photo for representation: PTI
Consistently poor performance by students in any subject raises questions on the education system and the challenges that are seemingly not being addressed. However, the bigger question is, why are students struggling with a language that is their own, in a state where, over the years, it has flourished in various forms, from Awadhi to Khadi Boli?
If we look closer, several important trends emerge, such as changes in the education system to the changing atmosphere in schools and even the larger transformations our society is witnessing.
What the figures say
The discomfort with Hindi is not limited to a few students, or some pockets of the state. According to figures given by the Uttar Pradesh Madhyamik Shiksha Parishad, this is a growing problem across UP. In 2018, 11,19,994 Class 10 students failed in Hindi, up from 5.23 lakh. For Class 12, the number this year was 7,81,276.
Fundamental changes in society
Hindi has always been a compulsory subject for students in UP. However, it's become a burden only now. Till about 10-15 years ago, no one could imagine 20 per cent of UP board students failing in Hindi. These disappearing marks are linked to the larger disappearance of literary Hindi from everyday life.
Earlier, reading, learning, re-telling stories and poems were part of everyday life. Students picked up several nuances of speaking and writing, spelling, vocabulary, without even having to consciously try for this. Teachers would dictate the spelling of difficult words. Writing was actively encouraged. Hence, whatever hard work students were left with ahead of exams was just practising grammar.
English-medium schools now flooding even small towns and districts. Photo for representation: Reuters
However, with English-medium schools now flooding even small towns and districts, the daily culture of speaking and writing hindi is getting eroded.
Breaking up of joint families, migration
Just like in the rest of the country, the institution of the joint family is on its last legs in Uttar Pradesh too. Common kitchens and backyards have shrunk to four-walled rooms. The shared life of a village has turned into solitary existences in far-off Gujarat, Mumbai, Delhi, or even in the state's own towns of Agra, Meerut, Lucknow, Banaras and Aligarh.
With this, what is lost is the children's link to their mother tongue. The dohe and chaupai of Kabir-Tulsidas, which would be on the tip of children's tongues because they had heard their grandparents recite them, have now become challenging "questions" to prepare for. Bedtime stories that enriched children's language even as they entertained them, proverbs and sayings that were part of everyday life, have now gone missing.
Another reason is that Hindi is no longer treated as an "important" subject. Students know they are not going to need the subject after Class 12, and hence see no point labouring over it. This tendency is especially pronounced in students opting for courses like engineering and medicine.
Weak foundation
A more specific reason for the students' poor performance, of course, is the dismal state of primary education in Uttar Pradesh. Those employed on the posts of shiksha mitr or prerak stare at an uncertain future. While they are appointed under one government, under the other, their jobs and salaries come under threat. This is naturally impacting the quality of education imparted from Class 1 to Class 5, and hence, the very foundation of learning is weak.
Also, today's teachers too possibly treat Hindi as just another subject – the passion the teachers from an earlier era felt for the language and for its literature, which they then communicated to their students, is missing.
Today's children have no one to narrate moral science tales to them. Hindi, which was the medium of learning so much, from short tales on Buddha and Krishna's lives, excerpts from the Mahabharata and the like, has been reduced to a lesson in itself. Neither the teachers, nor the students ever internalise the language. Thus, it turns into a minefield for them. Spellings and accents, singular and plural forms, all trip students up.
There was a time when elders of the family asked children to read newspapers aloud and write essays on the main topics of the day. As these practices disappear, so does proficiency in the language.
Why this is dangerous
The great Hindi poet Bharatendu Harishchandra wrote:
Nij bhasha unnati ahe, sab unnati ko mool,
Bin nij bhasha gyan ke, mitat na hiya ko sool
This means that the progress of your language contributes to your overall growth – and all growth is meaningless if your mother tongue languishes neglected.
Mahatma Gandhi too had said that a person can truly learn only if they are taught in their mother tongue.
But, in today's UP, students are struggling to learn their mother tongue itself. And if this is the situation in towns and villages, what hope can one have from more anglicised big cities and metros?
Interestingly, the government in power today is avowedly committed to the promotion of Hindi. Yet, the rot is setting in from as early as primary school. If students distance themselves from Hindi because it is not a "high-scoring subject", not only will the language be left poorer, young people will lose out on the vast literary and cultural treasure trove it is the key to.
Also read: Full heat: Why entire Opposition showed up at Karnataka CM's swearing-in
The views and opinions expressed in this article are those of the authors and do not necessarily reflect the official policy or position of DailyO.in or the India Today Group. The writers are solely responsible for any claims arising out of the contents of this article.