DailyOh! How 2+2=5 for Kangana Ranaut, to BJP connection in Rajiv Gandhi's name
Kangana is not making guesses. She is declaring things with a degree of finality than one can reach only in her mind space.
Prashant Bhushan has said what he had to say in his defence. What he however won't say is 'sorry' because the advocate believes if he hadn't tweeted the tweets, he would have failed in his duty. What is a sorry if it is not meant anyway? An insincere sorry. "It would be insincere and contemptuous on my part to offer an apology for the tweets that expressed what was and continues to be my bonafide belief," Bhushan said.
So if tweeting his mind is Bhushan's duty, the Supreme Court believes punishing people, who tweet their minds going against the SC, is its duty. Compelled by a sense of duty towards itself, the SC has given Bhushan two days to "reconsider". The court is likely to take up the matter again on Monday. So, Bhushan will 'rethink' on Friday and Saturday. What about Sunday? The court hasn't clarified, probably because telling people what to do on Sunday could amount to overreach.
Bhushan and SC are driven by duty. What is driving Kangana Ranaut is nobody's guess. Kangana is also not making guesses. She is declaring things with a degree of finality that one can reach only in her mind space. The latest declaration from Kangana has come about Sara Ali Khan. She has accused Sara of having an affair with Sushant Singh Rajput and sharing a room with him. Having an affair with anyone is no crime, so what is the allegation you may ask? The allegation is Sara 'dumped' Sushant. Breaking up with someone is again no crime. So what is the allegation? The allegation is that Sara's 'dumping' of Sushant led Sushant to fall for a 'vulture'. Who is the 'vulture'. Apparently, Rhea Chakraborty. Okay, two plus two is five. End of discussion.
Kangana Ranaut has made some wild allegations against Sara Ali Khan. (Photo: Facebook)
News of SSR and Sara affair was all over the media, apparently they were even sharing a room during their outdoor, why these fancy Nepotism kids show dreams to vulnerable outsiders and then publicly dump them?No wonder he fell for a vulture post that. https://t.co/A4er01wZ6p

— Kangana Ranaut (@KanganaTeam) August 20, 2020
One end of a discussion leads us to the beginning of another discussion for no particular reason. So the other discussion we want to have today is over why Rajiv Gandhi was named Rajiv. You do know today happens to be the birth anniversary of the former Indian Prime Minister. Had he been alive, Rajiv would have been 76, but he was assassinated in 1991 at the age of 47.
His name is however alive not only because there are many other people named Rajiv, Rajeev or Rajeeb, but because there are airports, roads and hospitals named after Rajiv Gandhi. So who was Rajiv named after? His naani and Jawaharlal Nehru's wife Kamala Nehru. Kamala is another name for goddess Laxmi. Lotus is said to be Goddess Laxmi's favourite flower. What is the connection between lotus and Rajiv?
Today happens to be Rajiv Gandhi's birth annoversary. (Photo: Getty Images)
Rajiv means lotus or kamal. Kamal, as you know, is BJP's party symbol, a party Rajiv opposed and a party his wife, son, and daughter continue to oppose.
In the US, Kamala Harris is opposing Donald Trump. With a shout-out to her chithis, she has once again reminded that the elections are being held in the US, but there is an Indian connection to it.
Last week, Democratic presidential candidate Joe Biden picked Senator Kamala Harris as his running mate. Just because Biden picked her doesn't mean she becomes the running mate. She has to accept being picked. Consent is crucial. When you give your consent to being picked as the running mate, you got to give a speech. So did Kamala. In her speech, she mentioned her Indian mother Shyamala Gopalan and then went on to talk about her family. "Family is my uncles, my aunts and my chithis," said Kamala Harris.
Desis couldn't have asked for more. Actually you can always ask for more. What we mean is desis were happy that she meant chithi, but videshis didn't know whether to be happy or sad because they didn't know who chithi is.
Chithi, the Word Of The Day, is a Tamil word and is used for aunts; not all aunts, though. In India, aunts are not just clubbed together as aunts. You have chachi, mami, tai, in Hindi. In Tamil, chachis and maasis are chithis, while chachas and mamas are chithappa.
In Hindi, however, chitthi means letter. Guess who got a letter from whom? Former international cricketer MS Dhoni got one from current Prime Minister Narendra Modi. Modi's chitthi for Dhoni has a message for his wife Sakshi and 'cute daughter' Ziva.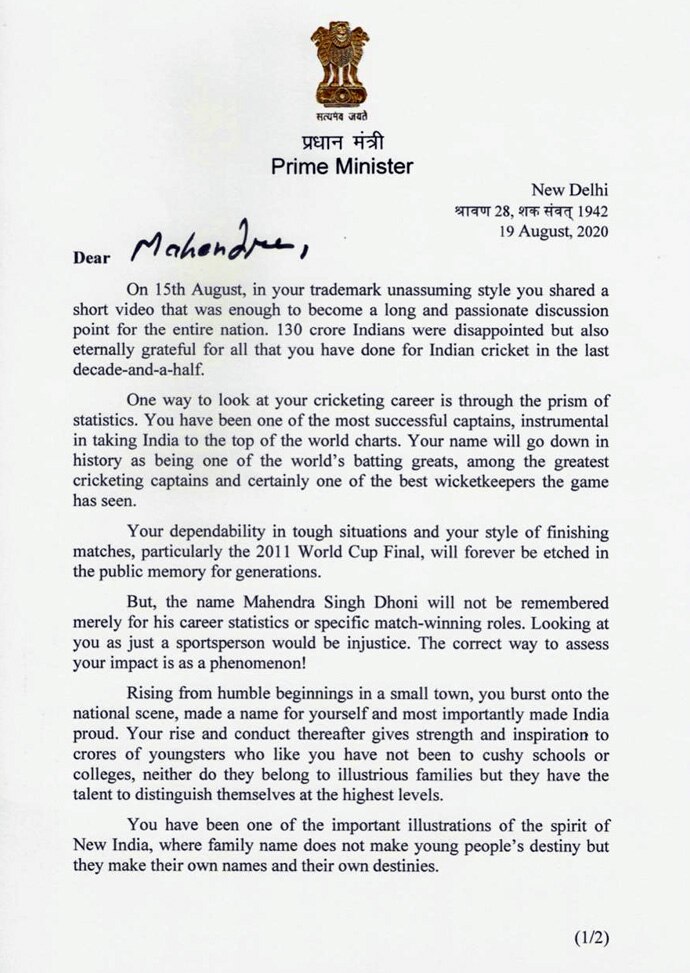 The letter PM Narendra Modi has written to cricketer MS Dhoni.
Did Modi send a letter because Gmail is down? No, Modi sent a letter because Modi wanted to send a letter. The letter is dated August 19. Gmail was down for some on August 20. It was also on August 20 that Dhoni shared the letter on Twitter, the account he last updated on February 14.
An Artist,Soldier and Sportsperson what they crave for is appreciation, that their hard work and sacrifice is getting noticed and appreciated by everyone.thanks PM @narendramodi for your appreciation and good wishes. pic.twitter.com/T0naCT7mO7

— Mahendra Singh Dhoni (@msdhoni) August 20, 2020
Modi's letter to Dhoni is public and so is the news that Modi's Cabinet minister Gajendra Singh Shekhawat has tested positive for coronavirus. He is in hospital, but many in Delhi have got the antibodies without getting to know they have the antigen; that is, the virus. In Delhi, the sero survey says over 29 per cent have been found to have antibodies. In Pune, a study says the number stands at about 50 per cent.
The Centre for Cellular and Molecular Biology (CCMB) in Hyderabad has found that humans while excreting excreta, may also be excreting the virus. The study covered about 80 per cent sewage treatment plants in Hyderabad and found traces of virus in human feces. Who thought after attempting to reach Mars in 2019, we would be looking for virus in our poop!
When life gives you lemons, make lemonade. When it comes to virus-laden poop, give up the pressure to make something out of everything.
In news that can take further pressure off you, Delhi government has allowed hotels and restaurants to serve liquor. Bars will still remain closed though.
Say cheers to that or raise a toast; your celebration, your choice.
From us, that will be all for today.
See you tomorrow.
Also Read | Satyamev Jayate: The politics behind Parth Pawar's cryptic tweet
The views and opinions expressed in this article are those of the authors and do not necessarily reflect the official policy or position of DailyO.in or the India Today Group. The writers are solely responsible for any claims arising out of the contents of this article.