Puneeth Rajkumar's death sends shockwaves, brings metabolism in spotlight
Power Star Puneeth Rajkumar was more than just a superstar. He was a Kannadiga icon.
Have you ever waited for a superstar outside his home hoping to get a momentary glimpse? Maybe.
But what if the superstar's security guards gave you an appointment, you get a meet-and-greet photo session with the star, and then you are treated to a typical South Indian feast of Uppitu, Idli, Kesari Bath, Tea and Coffee? Nice, isn't it?
Unlike Shah Rukh Khan who waves to his followers from his balcony, you would not find a crazy crowd outside Puneeth Rajkumar's home. Why?
Because anybody who was waiting outside his house will be asked to wait inside his house. That is how neatly and clinically managed the process was.
(Well, if you were a fan of Puneeth Rajkumar, you likely knew and saw this yourself.)
Puneeth was a child actor, and had won the National Film Award for the best child artist too.
Born into the first family of Kannada superstars, Puneeth Rajkumar was a child prodigy. His dad, Dr Rajkumar, was an immensely popular Kannada actor and a Dadasaheb Phalke awardee. Puneeth was the youngest of the five siblings (3 brothers and 2 sisters) and was a child artist in most of his dad's movies.
Puneeth's popularity came from the fact that he was a complete gifted package. Unlike many actors, he was an accomplished singer and would sing for his own movies and for others as well. He was a fantastic dancer who would fight on screen without any body double.
Why was he called Power Star?
Dr Rajkumar was a cultural icon and Puneeth followed him to become a simple, humble, and down-to-earth star. His humility and generosity were well known by all, and his demeanour touched every heart he met. (He was known to get tea for his spotboys himself if their tea did not arrive on the set within 10 minutes of their order.) Award-winning Director Pavan Wadeyar called him a 'Director's Actor' and a wonderful human being. With a 90% success rate, Puneeth was a very reliable, blockbuster man.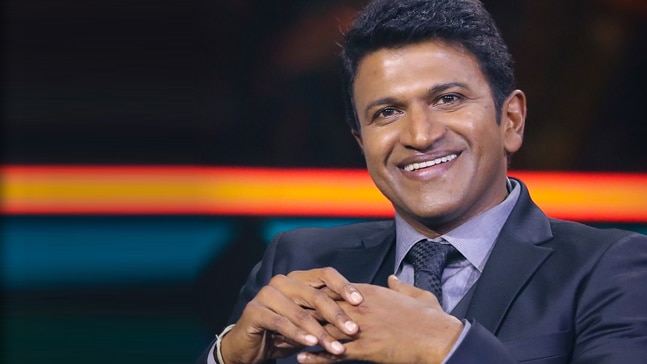 Puneeth Rajkumar
What made him interesting?
Puneeth never shied away from trying new things, and always enjoyed food. His close friends knew that his poor metabolism made him a very conscious eater. As a fitness freak, he worked out at his home gym. He was also a regular marathon runner and would take part in one every year as he was the ''face of the event'' for TCS from 2012 to 2019. Puneeth had a special affinity for cars. He owned a Land Rover Defender and then upgraded to a Range Rover Evoke and BMW 5.
Puneeth at the TCS Marathon in Bangalore. Image: PTI
Strong virtues made them a high-profile family
Puneeth resonated very well with the Kannada language and its culture. He always stood up as a leader for the traditions of his land, and issues that mattered to Kannadigas. The entire family was also known to be very conscious about endorsing brands. The family never believed in endorsing products that could harm the public. Thus, they made an effort to stay away from promoting them, especially liquor. His family also started 'Dr Raj Kumar IAS Academy', an IAS coaching centre for the underprivileged.
Puneeth enjoyed a massive fan following
Where work was worship
Here is a timeline of his Top 10 movies:
Puneeth did not complete his education. He dropped out to pursue acting in and producing films. He would not produce his movies; but would do it for others. He won the National Award for Best Child Artist in Bettada Hoovu (Mountain Flower). He also won the Karnataka State Best Child Artist award for Chalisuva Modagalu and Yeradu Nakshatragalu. His first lead role was in 2002, in and as Appu, which initiated the name "Appu". His roles in movies like Bhagyavanta and Vasantha Geetha won him tremendous appreciation. He was a blockbuster movie star because out of 29 movies, 23 of them ended up being screened for more than 100 days. He had appeared on the India Today eConclave 2020 and spoken about how he was managing the quarantine life.
A close-knit family
Everyone in the family shared a great rapport, and the brothers often worked together. Shivarajkumar, Puneeth's eldest brother, has acted in more than 100 movies while Raghavendra (his second brother), is into film production. Puneeth and Shivarajkumar acted in movies under their own banner, Vajreshwari Combines, and under other banners too. Puneeth got married at the age of 24 and has two daughters. The family was celebrating the release of their most awaited movie – Bhajarangi 2 – on the ill-fated day.
An untimely death
On October 29, Puneeth spent two hours in the gym and then visited his family doctor complaining of chest pain and discomfort. The doctor said he was having a heart attack. He was rushed to Vikram Hospital, but by then, he was unresponsive. He was declared dead at 2.30 pm on account of cardiac arrest. Thousands of fans gathered at the hospital as news of his hospitalisation and subsequent death were made public. Grieving fans flocked Bengaluru's Kanteerava stadium all through the day to pay their final respects. Puneeth's last rites were performed with full state honours on October 31.
Award winning filmmaker-actor Pannaga Bharana tells DailyO, "Appu sir, as we fondly call him, was a man with a golden heart... Always encouraging and ever-smiling... He was the man with a vision for the Kannada film industry. He wanted Kannada content to reach the digital space and he created PRK Productions, which gave way to new-age films and talent. I directed his production venture French Biryani. He gave me all the freedom a filmmaker needs. He knew how to get the best out of them. The best man I have ever met in my life... he is irreplaceable to the industry... one man who loved everyone equally. We cannot express [what he was like] in words.''
Shocking and Heart breaking to know that Puneeth is no more. It is a huge loss for the film fraternity. My deepest condolences to Puneeth's family and loved ones.RIP #PuneethRajkumar pic.twitter.com/Rx8smL9NtW

— Mammootty (@mammukka) October 29, 2021
View this post on Instagram
#PuneethRajkumar… It's too.. too difficult to still believe my dear .. we will miss you Appu ..Thank you for all the good vibes you shared n inspired. " ತಂದೆಗೆ ತಕ್ಕ ಮಗ "??????#RIP pic.twitter.com/PsI1qqUEeI

— Prakash Raj (@prakashraaj) October 31, 2021
The demise of my dear younger brother Puneeth Rajkumar was most unexpected.We were mutually very fond of each other. My deepest sympathy to his family and his fans in Karnataka.(1/2)#PuneethRajkumar

— Kamal Haasan (@ikamalhaasan) October 29, 2021
Many dignitaries, along with PM Narendra Modi, expressed shock on this unfortunate loss
A cruel twist of fate has snatched away from us a prolific and talented actor, Puneeth Rajkumar. This was no age to go. The coming generations will remember him fondly for his works and wonderful personality. Condolences to his family and admirers. Om Shanti. pic.twitter.com/ofcNpnMmW3
— Narendra Modi (@narendramodi) October 29, 2021
ಕನ್ನಡದ ಖ್ಯಾತನಟ ಶ್ರೀ ಪುನೀತ್ ರಾಜ್ ಕುಮಾರ್ ಅವರು ಹೃದಯಾಘಾತದಿಂದ ನಿಧನರಾಗಿದ್ದು ನಾನು ತೀವ್ರ ಆಘಾತಕ್ಕೆ ಒಳಗಾಗಿದ್ದೇನೆ. ಕನ್ನಡಿಗರ ಮೆಚ್ಚಿನ ನಟ ಅಪ್ಪು ನಿಧನದಿಂದ ಕನ್ನಡ ಹಾಗೂ ಕರ್ನಾಟಕಕ್ಕೆ ಅಪಾರ ನಷ್ಟ ವಾಗಿದ್ದು, ದೇವರು ಅವರ ಆತ್ಮಕ್ಕೆ ಶಾಂತಿ ಕರುಣಿಸಿ, ಅಭಿಮಾನಿಗಳಿಗೆ ಈ ನೋವನ್ನು ಸಹಿಸುವ ಶಕ್ತಿ ನೀಡಲಿಯೆಂದು ಪ್ರಾರ್ಥಿಸುತ್ತೇನೆ. pic.twitter.com/OF0aLhrqPm

— Basavaraj S Bommai (@BSBommai) October 29, 2021
Puneeth had an unblemished and a solid reputation, and his demise is a loss for the world. As emotions run high, Bengaluru marked a day of mourning in honour of their beloved Power Star.