DailyOh! A Patel problem in Lakshadweep, an airplane Belarus brought down
Belarus touched the sky, literally, to curb dissent. Back home in India, Lakshadweep is not too happy with the man in charge.

DailyBite
In a cult film that gave birth to the cult of Dudeism, The Big Lebowski, Jeff Lebowski, played by Jeff Bridges, drinks White Russian, a vodka-based cocktail (read till the end for Jeff Lebowski's recipe of White Russian). Belarus literally means the White Russia. How white can one get? But Belarus is in news for all kinds of darkness brought to the world by its president Alexander Lukashenko. Lukashenko literally means son of Lucas, the one who brings light. Oh the irony!
So this is what happened. The Belarussian government came to know that a flight going to Vilnius from Athens had Roman Protasevich, a blogger the regime isn't really fond of. Roman ran Telegram channels that organised protests against President Lukashenko, demanding his ouster. Lukashenko is a dictator and not really loved by the people since he has overstayed his time. He has been the President of Belarus since the country became independent from Soviet Russia. That was 30 years ago. People want change, Lukashenko wants to stay put, and rules the country with an iron hand.
So when the Ryan Air flight from Greek capital Athens to Lithuanian capital Vilnius was flying over Lukashenko's country, Belarussian air traffic informed the pilot about a bomb threat, that too from Hamas, and asked them to divert to Minsk, the Belarussian capital. To make sure the orders were followed, it sent fighter jets to escort the plane. Roman Protasevich knew he was the reason behind this move. All the passengers were asked to get off the plane. Roman was arrested and the rest were allowed to resume their journey.
Roman is a dissident journalist in great danger for dissent. Before Belarus exacts the price of dissent from Roman, let us tell you the meaning of our Word Of The Day, dissent. Dissent derives its meaning from Latin dissentire, which means 'differ in sentiment'. The word means the same essentially even today. You differ in sentiment from what the majority thinks right, you are in dissent. Dissent is also what drives a democracy but we'll come to that later.
Roman Protasevich. Photo: Reuters
The world needs to tell Lukashenko that he cannot go on suppressing dissent and the opposition, oppressing the Belarussians, and carry on because he enjoys the patronage of a certain Putin. But you take a look at the former Soviet countries and all you will see is the hands of the great dictators. Democracy could never take root in the countries that had gotten used to the Communist dictators. But the problem with Belarus is it's part of EU, which loves and upholds democracy.
Talking about democracy, Twitter has a problem at hand. Being the primary carrier of political opinion, it's disproportionately important that it remains free. But then it has its own politics and it sometimes clashes with democratic principles. Twitter India called a document posted by Bharatiya Janata Party's Sambit Patra manipulated media. But it did not give any details about how it arrived at the conclusion. So the ruling BJP is up in arms against the microblogging platform. In a political battle between the BJP and the Congress, Twitter seems to have chosen a side because it's only BJP leaders' media that it has marked as manipulated. It can be a coincidence but the BJP doesn't think so.
Delhi Police at the Twitter office. Photo: PTI
Amid all this, there is a police complaint and trust the Delhi Police to make a matinee show of it, especially when it's not needed. Our External Affairs Minister is on an official trip to the US when the Delhi Police made a trip to Twitter's offices in Delhi and Gurgaon with news cameras in tow. That's not great optics. Then the police said they were there only to serve a notice. As far as optics go, this was worse. The police of the national capital sent its special cell officers to stick a notice on the premises of a company that has had its offices shut for months owing to the coronavirus pandemic. What next? Police sending coppers in a chopper to fly above the clouds to inspect the cloud where Twitter stores its data?
Forget cloud computing and compute the cost that India is likely to incur because another cyclone is on its way to ravage its eastern coast this time. Like Covid alone wasn't doing enough already (you can see the latest numbers here). Anyway. So Cyclone Yaas will make landfall somewhere in Odisha on Wednesday afternoon and will pound Odisha, West Bengal and Jharkhand. This is close on the heels of Tauktae that killed 150 people and destroyed homes and businesses across the West Coast, from Kerala to Gujarat. The increasing number and ferocity of cyclones are being blamed on Climate Change and the warming of the sea. And there is something we can do. Emission control tops that list. The more we consume, the more nature will consume us. The equation is simple. More disasters, more pandemics, more floods, more droughts and more Kangana Ranauts. Consume wisely.
Cyclone Yaas is expected to make landfall on May 26. Photo: PTI
Our Olympian Sushil Kumar did not. He had the choice of focussing on his game, wrestling, and win himself more laurels. But the hardy from Haryana chose to use his muscle in beating up a boy who idolised him. Over a petty property dispute. His reputation lies in tatters, he is been suspended from all positions that landed in his lap owing to his prowess on the mat. If the charges against him are proven in the court of law, he will be hustling in prison for the rest of his life. This was not a spur of the moment fight, this seems like a planned attack resulting in murder. Sushil literally means well-behaved. He seems to be everything but. No if, no but, only let it be.
Talking about ifs and buts, if you send a vegetarian from groundnutty Gujarat to coconutty Lakshadweep, what can you expect but chaos. You see people on the hundred thousand islands survive on islandish things like fish, meat and coconuts which any Patel worth his surname would find outlandish. So Lt Gov Patel has been on an overdrive to change things on the islands since he took over as the administrator. Instead of adopting the lifestyle of the Lakshadweep, the old man wants the islands to adjust to his. His zeal for reforms is meeting the waves of local disapproval and the Centre can't keep buried its head in the sand for long because life is a beach and the tide takes care of it.
Far away from Lakshadweep, Mehul Choksi has vanished from Antigua's beaches into thin air. The man who was about to be extradited to India for ripping off Punjab National Bank of thousands of crores of rupees. Now he has fled to Cuba, a country we don't have an extradition treaty with. Choksi literally means alertness but we have been caught napping, just like PNB was when Choksi and his nephew kept draining their reserves.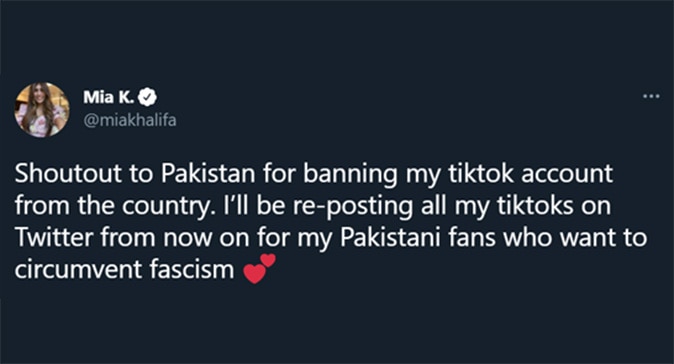 How Mia Khalifa is skirting the TikTok ban in Pakistan
Mia Khalifa is loved across the subcontinent because she is brown and looks like the geeky girl next door. Her Tik Tok account was banned in Pakistan. Her content has been deemed unethical and immoral, without specifying what was immoral or unethical because she does not post any pornographic content on her social accounts and she has anyway bid goodbye to the profession that she made her name in. Mia Khalifa is not from Pakistan, but Lebanon. Pakistanis love her privately and denounce her publicly for having the word Khalifa in her name. Khalifa is an honourable word in the Islamic faith. Mia, a common Western name, is often misunderstood and always pronounced as miyan in Pakistan. Miyan also is an honorific in Pakistan, like Nawaz Sharif is known as Miyan Nawaz Sharif.
Leave the Sharifs and Mias and make your way to the bar because that's where you find the vodka to make White Russian. In a glass full of ice cubes, pour 30 ml vodka and 30 ml Kahlúa. Top it with cream or milk. Give it a stir and you have White Russian.
If you prefer your drink like they do in Gujarat, our recco of the day is a glass of Falooda.
On that sweet note, we say goodbye. Stay home. Stay safe.
See you tomorrow.
Now get the all-new DailyOh in your mailbox. Click here to subscribe.
ALSO READ: The extraordinary sewa of Jatinder Singh Shunty