DailyOh! Modi's message for Bengal, to the setback for Congress in Puducherry
PM Narendra Modi said when BJP comes to power in West Bengal, everyone will be free to practice their culture but no appeasement will be allowed.
When Monday began, the V Narayanasamy-led Congress government in Puducherry saw its end. But the beginning of this end began in mid-January when Health and Family Welfare Minister Malladi Krishna Rao resigned as minister. Rao was the same man who accompanied Narayanasamy to meet President Ram Nath Kovind earlier demanding that the term of Kiran Bedi as Lt-Governor be brought to an end. Bedi was removed as L-G by the BJP government and Rao removed himself from the Congress government.
V Narayanasamy has submitted his resignation to Lieutenant-Governor Tamilisai Soundararajan.
The Union Territory is anyway headed for an election so the Congress may not care. But the Congress cares. Why? The important thing is under whom the election will take place. New Lt-Governor Tamilisai Soundararajan has the option of asking Narayanasamy to continue as caretaker CM. This option she is unlikely to exercise because decisions of lieutenant governors and governors are governed by who appoints them to office. Who appointed Soundararajan? The BJP-led Centre. Also, Narayanasamy has resigned. Soundararajan has two more options - impose President's Rule or invite the Opposition led by Rangasamy to form the government.
In Maharashtra, Chief Minister Uddhav Thackeray has given people only one option. Follow Covid norms or Maharashtra will be put under locks after eight days. The locking process has, however, already begun in parts because Thackeray doesn't want to go in for a full lockdown suddenly. He seems to have chosen a full lockdown gradually. Cases of coronavirus are rising in some other parts too. But cases of parvovirus are for now mostly being reported from West Bengal.
In Bishnupur, about 250 dogs, mostly pups, have been found dead because of the parvovirus. Parvovirus affects canines and veterinarians believe that the rise of this virus has a connection with the rise of that virus. The theory is pet owners avoided vaccinations of their pets because of coronavirus, and parvovirus found the ground to spread. Parvovirus can become pervasive in no time because it is highly contagious. Dogs can get it by coming in contact with other infected dogs. They can also get parvovirus by coming in contact with faeces of an infected dog. So all dogs, including sadda kutta and tuada Tommy, are at risk and need dog distancing.
(Photo: Reuters)
Do you know where parvovirus draws its name from? From its own size. All viruses are small. They wouldn't be able to spread like they do if they weren't small to the point of invisibility. Parvovirus, the Word Of The Day, comes from Latin word parvum, which means small or tiny. Virus too comes from Latin, the word we mean. It means 'slimy liquid, poison'. In the earlier medical sense, virus was 'a substance produced in the body as the result of disease, especially one capable of infecting others'.
So coronavirus gave us Covid and our dogs parvovirus, in a semi-direct manner though. Wipro founder and philanthropist Azim Premji has a way of getting everyone the coronavirus vaccine. Premji says involving the private sector can help vaccinate 50 crore people in just 60 days. You see, while the vaccine has been made in record time, it is taking a long time to reach people.
Prime Minister Narendra Modi today reached Assam and then reached West Bengal and promised to keep reaching all poll-bound states with new schemes till election dates are announced. Once election dates are announced, you can't announce new schemes till elections are over. When are the dates to be announced? First week of March.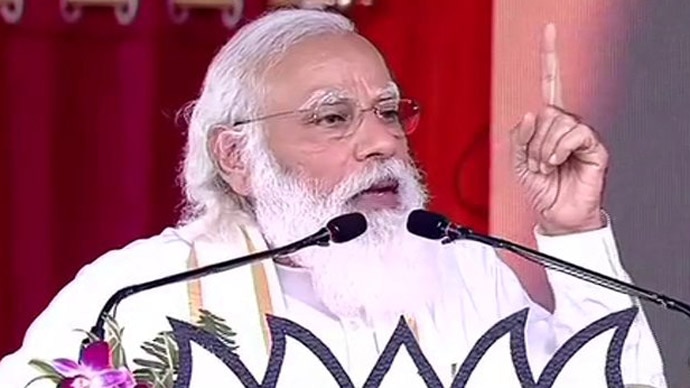 Prime Minister Narendra Modi during a rally in Bengal's Hooghly. (Photo: ANI)
Addressing a rally in Bengal's Hooghly, Modi said the people of Bengal will not forgive the Mamata Banerjee government for stopping them from praying to Maa Durga. BJP, he said, will build a Bengal that will ensure development for all, but appeasement of none.
Modi accused the previous government of 'sautela' treatment in Assam and accused the current West Bengal government of offering no treatment to the state's problems. That is usual for poll season and polls in India are common to all seasons. What changes from poll to poll are political slogans. Have you heard BJP's slogan for West Bengal this poll season? Tomar Naam, Amar Naam, Jai Shri Ram, Jai Shri Ram (your name, my name [is], Jai Shri Ram, Jai Shri Ram). Does it remind you of anything apart from a fuming Mamata Banerjee? Shakespeare is the wrong answer.
Well, the slogan reminds people in Bengal and people in Vietnam of Tomar Naam, Amar Naam, Vietnam, Vietnam. This is the slogan from which BJP has drawn its current slogan. This slogan goes back to the 1960s when the US invaded Vietnam. People in Bengal declared solidarity with Vietnam. Everyone taking one name reminds us that Call Me By Your Name (2017) is a beautiful movie and you must watch it if you haven't already. This was a necessary digression but we must come back to where we were. We were in Bengal and Vietnam of the 1960s. West Bengal had a Communist government and the Communist government of Vietnam, under Ho Chi Minh, was under attack. So comrades said in one voice: 'Tomar Naam, Amar Naam, Vietnam, Vietnam.'
US soldiers in Vietnam in November 1967. (Source: Reuters)
Actually, the support for Vietnam in India went beyond the comrades. Vietnam at that point had neighbours who were ready to help the US use their territory against Vietnam. Kolkata, then Calcutta, emerged as Vietnam's gateway to the world, which was largely centered in the Soviet Union, a solid backer of Vietnam's war for liberation.
In those days, long-haul flights were not common. Flights took off from Hanoi and landed in Calcutta and from there they flew to Moscow. This was the only route available for Vietnamese leadership and people who wanted to travel abroad. That must have been hard.
If you want to know how people who have had it hard have healed read The Choice by Edith Eger. It is the story of a Hungarian Jew who survived the Auschwitz Concentration Camp in 1944 as a 16-year-old.
But coming back to West Bengal, Didi's bhaipo Abhishek Banerjee's bahu Rujira Banerjee and her sister Maneka Gambhir are being examined by the CBI in a coal mining case. Will that help BJP mine votes? We will know when the votes are counted.
Votes cannot be counted before elections are held. And elections will be held as per the schedule that will be announced when the Election Commission's own schedule allows it to make such an announcement.
We will leave you with that this Monday. Before that, a bit of news some would consider good: Bollywood actors Kareena Kapoor Khan and Saif Ali Khan welcomed their second child together, giving, as social media went into a frenzy speculating, some solid competition to their Kid No. 1 Taimur. But that's for a few days later.
For now, we will say goodbye. We'll be back tomorrow and you must remember that Covid is trying to get back too. Not that it ever went away but you know what we mean. So take care and stay safe.
Now get the all-new DailyOh in your mailbox. Click here to subscribe.
Also Read: Why a pair of denims is my best friend
The views and opinions expressed in this article are those of the authors and do not necessarily reflect the official policy or position of DailyO.in or the India Today Group. The writers are solely responsible for any claims arising out of the contents of this article.