Remembering Soli Sorabjee and his role as an ombudsman
The eminent jurist was also an impartial ombudsman for a TV news channel. Defending freedom of the press and censorship for decades, he was the ideal man for the job.
After welcoming my junior colleague Sheena Iype and me, and ordering tea and biscuits from his kitchen staff, he settles down behind his desk on the first-floor chamber of his bungalow in Niti Bagh and asks what we have for him. "Just twelve complaints this month," we reply. "Oh! That's nice. That is almost nothing for a large news channel. Let us begin. What is the first complaint?"
We begin.
Complaint 1: "Your news channel covers mainly North India, I was counting the total no. of news among the whole day and even especially Headlines, I found your channel only focus on north India".
He is momentarily taken aback but recovers immediately. "Really?" he asks. "I never had that impression."
"We will need to check with the Editorial team, Sir. But it does not appear to be true. Ours is a pan Indian channel and we try to cover every part of the country which is in the news," we respond.
"Okay, please check and get back so that I can prepare the reply accordingly. Next", he continues.
Complaint 2: "In certain programs, there are images that mask the speakers. For example, in the programme 'xyz', an image of a microphone frequently keeps floating across the TV screen. It blocks the view. Similarly, about one-third of the screen is covered with advertisements or unnecessary information. As an analogy, will a person in a cinema be happy if his view is blocked frequently when the film is being screened? It would be extremely irritating if there are advertisements at the bottom of the cinema screen. If the viewers' satisfaction is really important, the channel should stop this annoying practice."
"Well, if it's true, I empathise with him. I will watch the next episode myself. But also give me CDs of two or three episodes. Let me see them so that I can respond", he replies.
Complaint 3: "I am wondering why the channel has hardly given any coverage to the terrorist event which has recently taken place in Kenya killing over 147 people."
And so, it continues. Questions ranging from bizarre to lack of the channel at a particular place, to issues of balanced coverage (or lack of it), to the conduct of debates (a particular person/party not getting equal time), to the conduct of some panellist (offensive language), and so on.
We come to the final complaint. "With all due respect, do you really think you are making any difference? Or are you just lending your credibility to the foul journalism of the channel? It'll only lower your dignity."
We are embarrassed at the question and tell him so. "We are sorry, Sir, for this question. But every complaint received needs to be shared with you. That is the whole purpose of the initiative."
He bursts out in loud laughter. "Now this is a question where I will NOT need your inputs. I will draft a response right now. Please take it down."
He dictates: "This is not a complaint with requisite particulars but a reflection on me as an Ombudsman which does not deserve any reply."
Questions over, he chats with us — a friendly banter here, a joke there. His sense of humour, wit, intellect, grasp and knowledge is on full display. There is the ever-present twinkle in his eyes, smile on his lips, and softness in his voice. He does not betray his advanced age, either by way of his physical stamina or in his sharp incisive mind.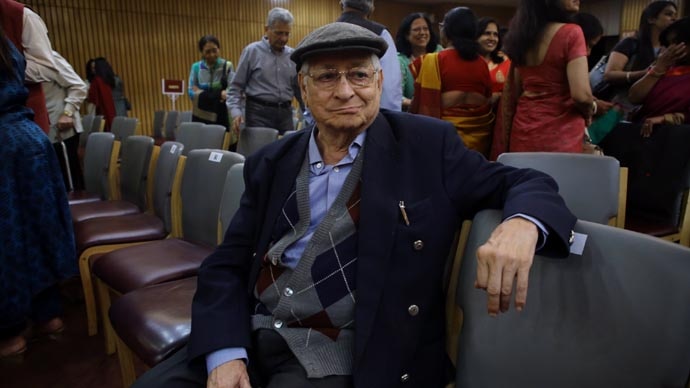 Soli Sorabjee: The ideal ombudsman. (Photo: Getty Images)
"Thank you, Sir. We will see you next week with all the inputs you have desired," we promise him, as we leave. "And thanks for your hospitality."
And these meetings would continue over several years. He would draft the responses after ascertaining all the facts, after which, these would be sent to the persons concerned.
In September 2013, NDTV requested Soli Sorabjee, the former Attorney-General of India and eminent jurist, to become an ombudsman who would provide an independent perspective on its coverage and investigate any viewers' complaints regarding its channels.
This was the first time in Indian television that an ombudsman had been appointed by any channel. Sorabjee was to work in his honorary position and would be entirely independent of the broadcaster. With his unchallenged integrity, he would provide much-needed insight and advice regarding challenges relating to journalistic boundaries. With years of experience in handling issues relating to freedom of expression and freedom of the press and censorship, he would be the ideal ombudsman for the broadcaster.
And so he was. His responses would come after a thorough review of inputs provided by the editorial team, and many a time he would himself review the offending program or the coverage. In some responses, he would not agree with the viewer and give reasons for it, to the extent that the viewer would be satisfied and not raise any further query. Sometimes he would agree and ask that corrective action be taken. In almost all cases, his advice would be implemented. Sometimes, when the editorial team had a different perspective on the matter, we would bring it to his notice. If he found merit, he would accept, otherwise, his original advice would stay, and the broadcaster would accept it without demur.
The complaints came down over the years, and his contribution by way of his astute and sensitive guidance was also responsible for it. His fairness and balanced approach came out in the role that he played for the broadcaster.
Rest in peace, Sir. The values that you exhibited all throughout your distinguished career will continue to guide the broadcasters who believe in fair and independent news.
Also read: India must stop funding traitors like Umar and Kanhaiya's studies
The views and opinions expressed in this article are those of the authors and do not necessarily reflect the official policy or position of DailyO.in or the India Today Group. The writers are solely responsible for any claims arising out of the contents of this article.