DailyOh! Why CBI sleuths wear uniform, to who got justice in Sushant Singh Rajput's case
Did FBI inspire CBI uniform?
"When truth meets sunshine, justice will not prevail on the living alone but after Life's fitful fever, now the departed will also sleep well. Satyameva Jayate," on a day there was no sunshine, only rain in Delhi, where the Supreme Court passes orders from, Justice Hrishikesh Roy quoted the quote while transferring Sushant Singh Rajput's death probe to CBI. Any parallel FIR that will now be filed in the case or case related to the case will also be probed by the CBI.
The Supreme Court has transferred the Sushant Singh Rajput death probe to CBI. (Photo: Facebook)
Some called the SC verdict a win for Sushant's family, Sushant's family called it "the first step towards the truth". And then Kangana Ranaut called it a win for humanity. Is her reference linked to today being World Humanitarian Day? Prima facie there is no evidence of it.
Thank you God! You have answered our prayers!! But it is just the beginning... the first step towards the truth! Full faith on CBI!! #Victoryoffaith #GlobalPrayersForSSR #Wearefamily #CBITakesOver

— shweta singh kirti (@shwetasinghkirt) August 19, 2020
There is not enough evidence of CBI reaching breakthroughs in many high-profile or low-profile cases too but many are celebrating a breakthrough for justice in Sushant's case. The SC in its 35-page verdict has said that the outcome of the probe would be a measure of justice for Sushant's father, who lost his only son. The onus to come out with a just outcome is now on the CBI. The onus of Jiah Khan's death investigation was also on CBI and a look at how CBI handled that case could dampen today's celebratory mood. If your quest is about justice and not good mood, read this.
As CBI keeps a close eye on what led to what happened on June 14, we got to keep a close eye on how CBI moves ahead with the probe. An eye is also needed on Maharashtra government so that it doesn't start putting CBI sleuths, who land in Mumbai, in quarantine. But how do you identify a CBI sleuth? They are mostly dressed in plainclothes. Before 2012, CBI officials not wearing uniforms led to a situation where conmen posed as CBI officers to extort money and commit crimes they wanted to commit.
When the complaints mounted, then CBI director AP Singh reportedly decided that it was time to declare CBI sleuths as CBI sleuths so that no one else could pose as a CBI sleuth. A uniform was the easiest way to do this. The question now was what the uniform should look like. CBI now looked to FBI and found the jacket good enough to adopt. They adopted blue jackets with CBI written over it in white.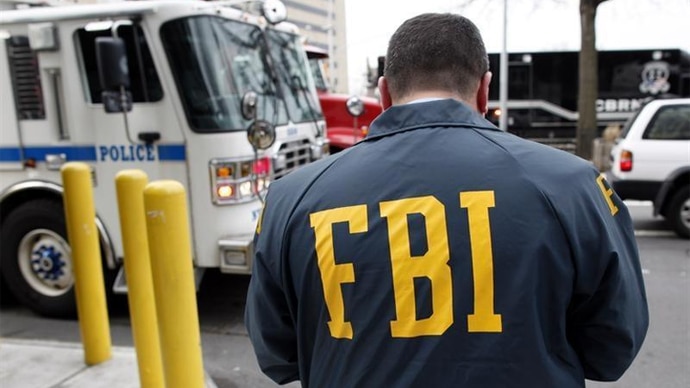 The CBI and FBI jackets look similar. (Photos: PTI/Reuters)
The jackets were reportedly designed in 2011 by the Mumbai branch of the agency without the assistance of any designer being sought. Later, it was CBI's training department at its Ghaziabad academy that took over and ordered the jackets for the staff all over the country.
The question is not the jacket, the question is justice. Can CBI do justice to the investigation? That answer will come from the court where CBI will file its chargesheet. We will track that. For now let's track justice – the word.
Justice, the Word Of The Day, comes from Old French word jostise, which meant 'uprightness, equity, vindication of right, administration of law' or someone 'amenable to justice'. That is why judges are called Justices.
The French word jostise comes from Latin word justitia meaning the same.
Justice in Sushant's case means different things to different people. For some it is justice that the case has slipped out of Mumbai Police's hands and landed with the CBI. For some, Sushant's father naming Rhea Chakraborty was justice. Some however couldn't have cared less about the case – justice or no justice. No matter what one makes of justice, with the SC now handling over the case to CBI it is time to move on to other issues. Issues like jobs.
According to the Centre for Monitoring Indian Economy (CMIE), 50 lakh salaried jobs were lost in the month of July in India. This takes the total of salaried jobs lost since April to 1,80,00,000.
About 21 per cent of all employment in India is in the form of salaried employment. More people work in the informal sector than the formal sector but the contribution of those working in the formal sector towards the GDP is more. So when formal sector is hit the informal sector is also hit - indirectly. Finance Minister Nirmala Sitharaman, meanwhile, is busy hitting out at the Congress because the Rajiv Gandhi Foundation wasn't audited by the Comptroller and Auditor General (CAG) of India but Congress wants PM Cares Fund should be.
Talk about priorities. Actually, let's not talk about priorities but talk about iPhone 12. Now before you hit out at us for talking about iPhone when the Indian economy is so badly hit, let us tell you Apple supplier, Wistron, has started the hiring processes for the production of iPhone 12 components in India. The company is supposed to hire 10,000 people reportedly.
Priyanka Gandhi has however ruled out the job. Not the Apple job but the job of the Congress president. She said that during an interview for India Tomorrow: Conversations with the Next Generation of Political Leaders, authored by Pradeep Chibber and Harsh Shah. Priyanka has said that Rahul Gandhi is her leader. In agreement with her leader, she has said she is ready to accept any non-Gandhi as her leader.
Congress leaders, who would not accept a non-Gandhi as Congress leader, are however not in agreement. Congress spokesperson Randeep Surjewala has tweeted that the interview is over a year old. Between then and now, Priyanka could have changed her stand.
But what we do 'then' can come to haunt us 'now'. The latest to get haunted by something he did 'then' is Bill Gates. Gates who was once haunted because of his affair with White House intern Monica Lewinsky between 1995 and 1997 is now being haunted because for a photo which shows him receiving a massage from alleged Jeffrey Epstein victim, Chauntae Davies.
Chauntae Davies gives Bill Clinton a massage. (Photo: Daily Mail)
Bill Clinton, toxic working environmenthttps://t.co/6zXpaXikAU

— Mark R. Levin (@marklevinshow) August 19, 2020
The photo came out in the public domain just hours before Clinton was to endorse Joe Biden as the US Presidential candidate. Whoever timed it, timed it well.
Davies, on her part, has said the photo may look awkward but is not. Nothing is as it appears to be. Clinton went on to endorse Biden and Davies endorsed Clinton. All is well that ends well.
We will end all for today. With a new beginning, we will be back tomorrow.
Also read: Who killed Lal Bahadur Shastri?
The views and opinions expressed in this article are those of the authors and do not necessarily reflect the official policy or position of DailyO.in or the India Today Group. The writers are solely responsible for any claims arising out of the contents of this article.