Twinkle Twinkle, privileged star: Why open defecation tweet hit the fan
Humiliation, instead of education, seems to be the driving force in the campaign for cleanliness.
Twinkle Khanna is many things: a former Bollywood actress, a bestselling author, a "humorous" columnist and an elitist with zero awareness of her privilege. Khanna, who happens to be the spouse of actor and unofficial government poster-boy Akshay Kumar, displayed copious amounts of urban elitism on Friday, August 18, when she tweeted a photo of a man defecating on a beach.
She casually captioned this photo with, "Good morning and I guess here is the first scene of Toilet Ek Prem Katha part 2 #WhenYourWalkGoesDownTheToilet".
Good morning and I guess here is the first scene of Toilet Ek Prem Katha part 2 #WhenYourWalkGoesDownTheToilet pic.twitter.com/tfyTQs8BFM

— Twinkle Khanna (@mrsfunnybones) August 19, 2017
Her tweet received a few laughs and thankfully a lot of criticism. Some criticised her for misandry, claiming that she would never have tweeted an inappropriate photo like this had the person been a woman (that's not misandry at all) and most criticised her for using a poor man's plight as humour that essentially proves that she is blind to her privilege, as a wealthy, upper caste, upper class, urban woman in India, with access to sanitation and education on sanitation.
Sadly, however, Indians love their false dichotomies. People criticising Khanna's privilege were suddenly accused of supporting open defecation.
Oh please. There are enough and more sulabh shauchalays around. The only reality here is people have no civic sense.

— IceCreamMan (@Ktens) August 21, 2017
Pointing out something wrong is not class privilege. Sad to see so many educated people on twitter defending open defecation.

— Abhilash Sharma (@DeanOPA) August 20, 2017
Why do you seem to be justifying open defecation? #trollkeliyesaalakuchbhikarega

— Bloggerani (@AdeteD) August 21, 2017
Hahahaha seriously The level of Modi hate wl one day make Kavita poop in open and shout "it's my right"😂😂!

— Purple (@Dafruity) August 21, 2017
OMG stupidity Prime , justifying open defecation https://t.co/fP0nvLMzEo

— OfficeOfPK (@piyushkaul) August 21, 2017
It's a wonderful way to reduce liberal arguments to nothing more than seemingly empty rhetoric. Let's just break this down and see for ourselves why Khanna is wrong, why calling her privilege out is right, and why equating that criticism to supporting open defecation is just plain stupid.
Ignorance, privilege, or intentional?
India is a country that struggles with open defecation among myriad forms of unsanitary conditions. People who defecate out in the open, don't do it because it's breezier or just a better experience. They do it because 1) they don't know that you are not supposed to excrete out in the open and the kind of problems it leads to. 2) they don't have anywhere else where they can defecate.
Granted, the problem of open defecation is one that is majorly a rural issue, anyone who believes that this is not an urban problem, is clearly delusional.
In cramped cities with way more people than public washrooms (let us, for a moment, forget that so many of these public loos are dirtier than garbage dumps), it is not at all unbelievable that a man or a woman may be forced to clear their bowels in a public area. According to a report, as many as 85 million people in urban India lack adequate sanitation facilities, and about 1.9 million toilets in urban areas are still under construction. Khanna with all her humour and education and privilege fails to see that.
Or perhaps, she chooses not to. After all, a photo like this goes well with the promotion of her spouse's latest government ad campaign film, Toilet, Ek Prem Katha.
Despite the fact that the film manages to evoke little laughter, with a script that looks like it was written by the ministry of information and broadcasting, it is a movie that deals with the problem of open defecation in villages and Akshay Kumar's valiant efforts towards changing this attitude.
It is a movie that is aligned, at a spiritual level, with Prime Minister Narendra Modi's Swachh Bharat Abhiyan.
Photo: Screengrab
Ergo, any criticism on Khanna, especially about open defecation, equals criticism of Akshay Kumar and his film, equals criticism of Modi and his vision for a clean India. A horde of privileged, nationalist, ignorant people have been tweeting about how "liberals" have nothing better to do that calling out "good" people like Khanna and Kumar and Modi ji, and that they would go to any lengths to satisfy their hatred of the prime minister – even supporting open defecation!
Of course, logic like that should also be classified as open defecation, but that's the way we roll.
How Swachh is Bharat?
A 2.5-year report card by IndiaSpend examines the Swachh Bharat Abhiyan closely. Of the 1,93,081 Indian villages, supposed to be Open Defecation Free (ODF); 53.9 per cent of have not been verified as yet.
Additionally, despite a construction spree – between May 1 and May 21, 2017, 4,89,710 individual household latrines were constructed across the country – 51.6 per cent of households across the country did not use an improved sanitation facility.
Why? Because the people do not know better. The guidelines of Swachh Bharat Abhiyan require 8 per cent of the funds allocated to be used for information, education and communication (IEC) activities.
From 2016 to 2017, only one per cent of the total expenditure had been made towards IEC. In contrast, 98 per cent of the funds had been spent on construction of toilets in individual households.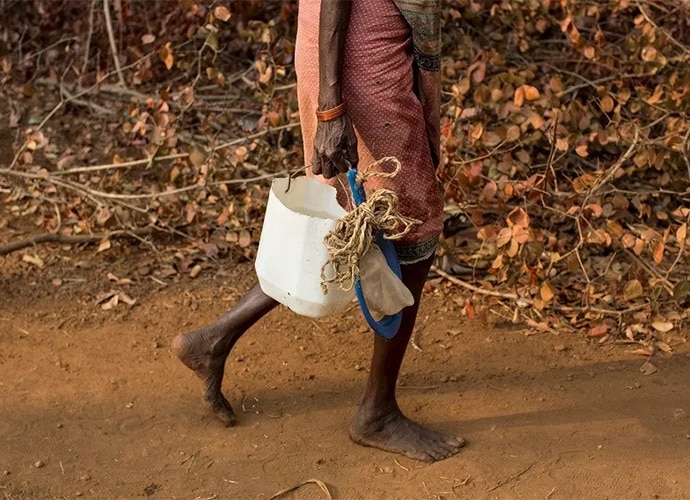 Photo: Reuters
According to an article in The Economist, a 2014 survey by the Research Institute for Compassionate Economics found that among the two-fifths of households with a working latrine, at least one family member preferred to defecate outside. Toilets, often the only concrete structure in the house, are sometimes used to store firewood, grass, chickens, cow-dung cakes and food grains.
In an interview with Caravan magazine, researchers Diane Coffey and Dean Spears – the authors of Where India Goes: Abandoned Toilets, Stunted Development and the Costs of Caste – revealed similar findings. They too said, that "There is not lot of attention to this issue in terms of information, education and communication."
According to them, caste has a big role to play in this, apart from the lack of information. Accroding to Coffey, indoor latrines are not accepted by people in the villages "because the pits of those latrines have to be emptied by hand. People link that to manual scavenging, which is associated with Dalit labour and with the social exclusion it comes with, and the caste system, and untouchability."
And how does the government tackle this? Through humiliation. The Economist reported that In Sangola, a town in the state of Maharashtra, people defecating in the open found their photographs flashed on digital displays. A few others were escorted home in loud, demeaning processions. Some states have made it compulsory to have a toilet to be eligible to contest an election.
Others have produced ads that mock people who do not use loos.
A common theme
Twinkle Khanna in her tweet, Akshay Kumar in his film, and the government in its approach have displayed a common theme. Humiliation, instead of education, seems to be the driving force in the campaign for cleanliness. Humiliation is a kind of coercive force and this government is a little more than notorious when it comes to coercing the economically weak and the socially marginalised; for instance, when it had made Aadhaar compulsory for social benefits – which would leave large numbers of Indians with no access to welfare schemes.
It is then, perhaps, shortsighted to assume that the government would not use similar devices to build a perception and project how it has succeeded in "eradicating" open defecation, just like it successfully "eradicated" black money.
People like Twinkle Khanna and Akshay Kumar will continue to thrive in the good books of the government, and anyone daring to criticise their abject blindness towards ground realities will continue to be labelled with false binaries.
We are nothing if not consistent.
Also read: Why India still waits for manual scavengers to clean up its shit
The views and opinions expressed in this article are those of the authors and do not necessarily reflect the official policy or position of DailyO.in or the India Today Group. The writers are solely responsible for any claims arising out of the contents of this article.