Can a 'happiness curriculum' help heal the wounds of children in flood-hit Kerala?
While youngsters across the country are plagued by issues of parental pressure, stress and fear of failure, those in Kerala are burdened with new concerns.
In July this year, the Delhi government introduced the 'happiness curriculum' for an estimated 10 lakh students in government schools from KG to Class 8. In a public circular, the Directorate of Education stated: "The primary purpose of education has to be to create happy, confident and fulfilled human beings who will play a meaningful role in society."
At a time when the suicide crisis in India's schools and colleges is increasing due to academic stress or failure, the government's launch of the 'happiness curriculum', inaugurated by the Dalai Lama, was welcomed by all.
A happy picture: Delhi Deputy CM Manish Sisodia (left), the Dalai Lama (second from left) and Delhi CM Arvind Kejriwal at the launch of 'happiness curriculum' in New Delhi. (Credit: Twitter/@Amitjanhits)
Children are instructed for forty-five minutes every day on various themes that focus upon mindfulness, coping mechanisms and moral education. Teachers have been trained to undertake story-telling sessions and activities to enable children to become creative individuals and inculcate values in them such as honesty, patience and democracy, among others. While it is too early to comment on the pros and cons of this exercise, the introduction of the happiness curriculum into the government school system in India marks a new direction in debating children's welfare beyond that of Delhi.
The state of Kerala has been severely affected by floods in the past weeks, and the challenges ahead are humungous. Under the aegis of the present government and its Chief Minister Pinarayi Vijayan, the state is making all attempts to "rebuild Kerala". Their major priorities, at present, is to help people return to their homes, restore transportation networks, and re-open schools. Another task, however, though not on the same war-footing is the mental well-being of children affected by the catastrophe and the ways in which their school lives can be restored to normalcy.
While schoolchildren across the country are plagued by issues of parental pressure, stress and fear of failure, those in Kerala are now burdened with new concerns. Many schools and their infrastructure, including libraries and laboratories have been irreparably damaged. Those standing have turned into relief material collection centres and temporary shelters. Schools were shut down as flood waters began to rise and rehabilitation is slowly picking up. But the question of what next looms large.
Future uncertain: Flood-affected people, mostly children, sit together to have a meal at a relief camp set up inside a school in Kochi. (Credit: AP Photo)
Can something like the 'happiness curriculum' benefit the children struck by natural disasters and devastation? While the Delhi programme aims at long-term goals of helping children remain positive and tackle emotional crises, a similar course in Kerala schools at the moment in a modified version is worth consideration. "It can definitely be applied to non-Delhi schools," comments Murari Jha, mentor-teacher at a Delhi government school, who believes in encouraging children to express their thoughts freely.
"Don't be fooled by the name, happiness curriculum," he warns and says this as a positive development in government schools.
Currently, Kerala is gearing up to provide psychological counselling and awareness to those affected by the floods. Government agencies, health organisations, and NGOs have come together to mobilise professionals and volunteers towards this cause. Undoubtedly, the well-being of children will be an important task. However, this should not remain an ad-hoc measure.
As Manish Jain, assistant professor at the School of Educational Studies at Ambedkar University notes, governments often operate on "therapy" mode during crises. This has severe limitations because policy analysts, politicians and the society at large take children's internal stress and emotional anxieties and despair seriously only when faced with certain calamities. Schools cannot be completely free of any discussion on pain and trauma, asserts Jain, as he makes a case for consistent meaningful interactions among children, teachers and local communities on these issues. In the context of Kerala, the challenge is both for professionally trained psychologists and school teachers.
Teachers, many of them who have suffered losses in the floods, are now expected to shoulder the task of helping their students cope in these changed circumstances. The issues are multiple. There are children, especially from poorer, working-class households, who have lost everything in the floods. Many have entirely lost their textbooks, certificates, toys, uniforms, memorabilia, as well as houses. These children require extra care and attention as their school-home life balance has been adversely disrupted.
Campus care: Doctors monitor the health of flood victims inside a school converted into a temporary relief camp, in Alappuzha. (Credit: PTI photo)
Their futures remain uncertain as staying in school itself is a priority for their families. There are also those who have suffered partial losses, but experience similar post-trauma stress like their counterparts. Some are unable to return to their damaged homes, and continue to remain in the relief camps. Parents, who otherwise, may be invested in their children's daily school routine, are also suffering from emotional fatigue and anxiety.
A well-founded mental health intervention programme can go a long way in remedying the situation involving an open dialogue with children. The ad-hoc nature in which such initiatives are often conducted needs to be abandoned.
Historically, children across the world in conflict zones have expressed their innermost thoughts through prose, poetry, music, and art.
Confronting the harsh truths of reality rather than hiding away from it may help in strengthening their resolve to overcome them. Discussions about pain, as much as happiness, has to find a place in school-classrooms. More than the loss of their belongings, these flood-affected children will also be faced with the task of becoming emotional anchors for adults, and at a young age, that can be herculean. Classroom-learning also cannot go back to merely what it was earlier such as a round-the-clock preparation for examinations. School counsellors will require all the help they can get from school managements and official authorities to interact with children on various topics, especially on trauma and suffering.
Classroom relationships, traditionally marked by the vision of fear-inducing and hostile teachers will have to undergo a tremendous change. The foundations of a 'happiness curriculum' for young victims of natural calamities have to be built on friendship and trust.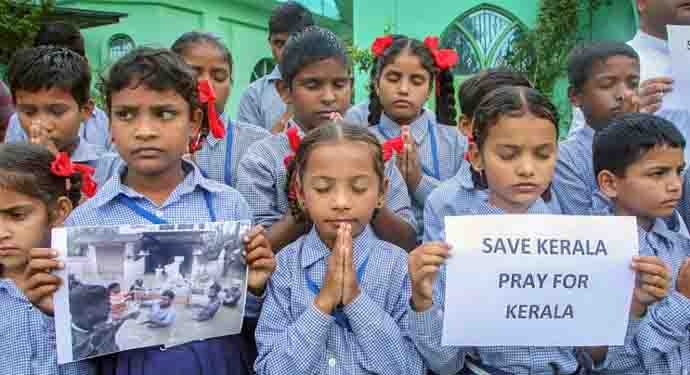 Prayers on their lips: School children in Jammu pray for Kerala flood victims | PTI
Twelve out of 14 districts in Kerala have been ravaged by the floods. Children will soon start raising bigger questions about their environment, sustainable growth. What would the system teach them to become in the future? It is often said that a crisis presents an opportunity, and this drives the need to formulate a long-term strategy to incorporate the concerns of children in policy-making and social welfare.
The Kerala government has resolved to print adequate number of textbooks at the earliest so that schools can function again. But the mood in the classroom has changed immensely, and new methods have to be sought to improve students' societal interactions. In this sombre scenario, what could a subject such as 'happiness' fundamentally entail? While Delhi Chief Minister Arvind Kejriwal and Education Minister Manish Sisodia envisage this intervention to create socially conscious and emotionally healthy individuals, Kerala will have to focus on that as well as on rebuilding communities and reinforcing collective solidarities.
Let's give them back their innocence and happiness. (Credit: Reuters photo/representational)
The inculcation of moral values and stress-relief measures towards gaining happiness cannot be an individual pursuit alone. Families, schools and government institutions will have to work in tandem to build confidence in children to tell them that they are cared for, first and foremost.
Happiness goes hand-in-hand with a sense of empathy and transcending of human barriers to help each other. Happy children need not be cocooned and kept away from facing their demons. The key will be to let them express themselves without being judged.
Also read: Happiness curriculum: What Arvind Kejriwal's smile can teach Narendra Modi
The views and opinions expressed in this article are those of the authors and do not necessarily reflect the official policy or position of DailyO.in or the India Today Group. The writers are solely responsible for any claims arising out of the contents of this article.