Why one is better than two! Why this pizza calculation ahead of the weekend is mind-boggling!
Wouldn't you have scored more in math if both life and calculation were based on pie charts?
Yes, we discovered 'zero'.
But then, there are complicated mathematical problems in life which need regular practice and minute calculations. Like, whether to order two 500 ml-bottles of soft drinks or a one-litre bottle, or whether to buy a few sachets of shampoo or one bottle (which will inevitably slip from our soapy hands).
Or, whether to buy one 18-inch pizza or two 12-inch pizzas, because '18' is '18' and 12 plus 12 is 24, right?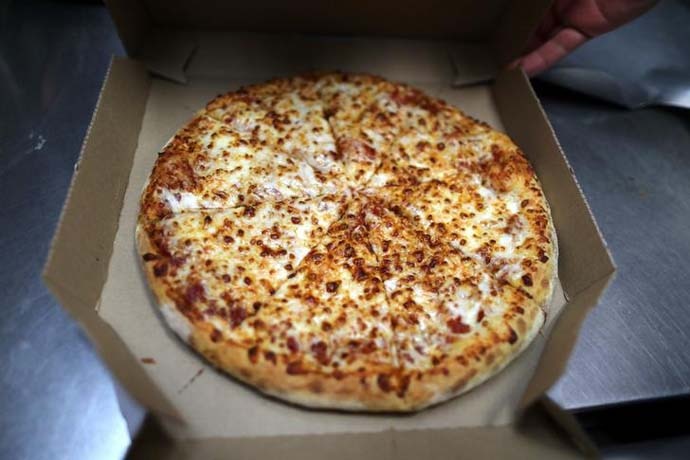 The math that looks delicious. (Photo: Reuters)
But wouldn't have you scored more in math if both life and calculation were that easy?
Here's a useful counterintuitive fact: one 18 inch pizza has more 'pizza' than two 12 inch pizzas pic.twitter.com/hePSpG0pJs

— Fermat's Library (@fermatslibrary) January 7, 2019
Since pizza is round (in case you didn't know), the size indicates the diameter and you will have to calculate the entire area. The area of an 18-inch pizza will be more than two 12-inch pizzas because two 12-inch pizzas are not the same as one 24-inch pizza.
Too many memories of playing tic-tac-toe sitting at the back bench rushing in?
Well, one large pizza has more pizza in it than two medium-sized pizzas. So, the more, the merrier? Not after you understand this diameter math.
But why do we care so much that this has been a discourse for years and pie charts have been made explaining the same?
A Michigan University study, published in the US National Library of Medicine, has solved the mystery. Examining a sample of 504 students, it has found out why we all love pizzas.
The answer is cheese.
Give me some: Why do we love to love pizzas so much? (Photo: Reuters)
Cheese contains casein, a protein found in all milk products. When we digest this protein, it releases casomorphins — which stimulate opioid receptors, which are involved in pain control, reward and addiction, says the study.
No wonder why an inch-by-inch breakdown of a pizza has been going on. But this ongoing debate has brought us to another section of people who, no matter what, will always order two medium-sized pizzas.
Why?
They are beyond the cheese-pool and its quite irresistible addiction — and are in love with the outer crust. And two pizzas mean more crust.
That also involves calculation.
Yeah, but the crust is arguably the best part and two 12 inch pizzas have 33.3% more crust than a 18 inch pizza. And now I'm hungry, thanks @fermatslibrary! pic.twitter.com/ZUfGicpcWG

— Tamás Görbe 🇭🇺🇬🇧🇪🇺 (@TamasGorbe) January 7, 2019
But then, if you love crust, why order pizzas?
You can simply order toast, bread, etc., no?
Repeat after me. More pizza is actually less pizza and more packaging. (Photo: Reuters)
Life would be easier. But then, life is anything but easier.
And those who love pizzas for the crust maybe want to bite into the crust while their teeth go deeper into the cheese. Who knows?
But we all know that we are hungry and up for pizzas.
Just check if the outlet is giving two pizzas for the price of one — because that's apparently not a good deal.
Also Read: From 'Kareena Pizza' to 'Deepika Dosa': Why our Bollywood is so delicious!
The views and opinions expressed in this article are those of the authors and do not necessarily reflect the official policy or position of DailyO.in or the India Today Group. The writers are solely responsible for any claims arising out of the contents of this article.