5 times people cross-dressed in reality to get through life.
From surviving the Taliban to raising a daughter in a patriarchal society, here are 5 times people have hidden their real identity to live a normal life.
When Egypt's famous pharaoh Hatshepsut took over and ruled Egypt in 1473-58 BC, she became the first female who ruled as a man for over 20 years. (As ruling a kingdom was solely reserved for a man, she portrayed herself in statues and paintings with a male body and beard).
For the 90s kids in India, cross-dressing was a concept that came to light because of movies like Chachi 420. Today, we still see characters like Gutthi on Kapil Sharma's Comedy Nights with Kapil where men play a woman, all in fun.
But life is not fun and comedic all the time. Life is not perfect, and our society's dysfunctional way of living and restricting beliefs often control people's choices. Many times, survival instinct forces people to live inauthentic lives.
Here are 5 times people cross-dressed in reality to get through real life:
1. PETCHIAMMAL TO MUTHU
Petchiammal, a 57-year-old woman in Thoothukudi, Tamil Nadu, India has spent more than half her life living in disguise. Though she is a woman, she has lived most of her life under the name of Muthu.
Photo: S Petchiammal
As per the New Indian Express, when Petchiammal lost her husband, she was just 15 days into her marriage. When she gave birth to her daughter, she was just a 20-year-old. She tried to work to support herself and her daughter, but was constantly harassed. So, she changed her attire to a shirt and lungi and decided to shift her identity by renaming herself ''Muthu''. Since the last 36 years, only her close relatives and her daughter have known of her true identity. Until now.
Though Petchiammal changed her appearance to 'raise her lone daughter safely in a patriarchal society', she does not want to change her attire back to that of a woman. Why? The identity of Muthu ensured a safe life for Petchiammal's daughter. Thus, she wants to live her life as Muthu until she dies. Also, it might be difficult to live with an identity as a woman since all her documents (Aadhaar card, ration card, and voter ID) show that she is ''a male''.
2. SURVIVAL OF THE FITTEST
Nadia Ghulam was born in Kabul, Afghanistan in 1985 and like many other Afghan women, her life was negatively influenced by the cruel civil war. But she had to feed her family and could not let the Taliban's rules affect her life. So Nadia disguised herself as a man for 10 years to survive the torturous life.
Hi Rishi,Yes, through women's eyes, but in so doing richly encompassing the long sad Afghan story. I grabbed this iconic still of Nadia Ghulum. See she has written, The Secret of My Turban, which looks mighty like its a movie in the offing... pic.twitter.com/ulcgDR7doJ

— A. Dan Fero (@excogitare) August 29, 2021
During those years, Nadia used to dress like a man and posed as her dead brother every time she stepped out for work. But once she suffered some serious wounds because of an explosion, which she used as a chance to leave the country for treatment. However, her family members still live in Afghanistan, which is now under the control of Taliban.
After Nadia settled as an Afghan refugee in Barcelona, Spain, she collaborated with journalist Agnes Rotger Nadia and explained her story in the novel The Secret of My Turban. The book won the prestigious prize Prudenci Bertrana Prize, 2010 and achieved international critical acclaim.
I was touched by her story.Nadia Ghulam is an Afghan who spent ten years posing as her dead brother to evade the Taliban's strictures against women and she has told her story in this book: The Secret of my turban. ? #goodbook #BookWorm pic.twitter.com/Sl3AoshHU3

— mary (@maryazizi1) July 29, 2019
3. CRICKET LOVE
Shafali Verma was just 14 when she cut off her hair to play cricket with the boys. Just like in the movie Dil Bole Hadippa.
At 12, Shafali's family discovered her natural talent as a cricketer. Her talent was pretty obvious when she fielded during her brother's cricket training sessions. But when she expressed her desire to play cricket publicly, no cricket institutes from her town of Rohtak, Haryana, was ready to let her in. The excuse was that the boys felt that she would be ''hurt by the ball'' if she played with it.
As angry as one could be, she told her father that she wanted to cut her hair and play. Her father agreed. The next day, she cut her hair and ventured into the same academy that had declined to take her in the previous day. Ironically, no one recognised the girl with the boy cut. Considering her to be a boy, they played for an entire year before recognising that she was a girl.
Soon after, her high school decided to develop a women's cricket team. This began Shafali's cricket journey. Shafali's journey closely resembles the movie Dil Bolle Hadippa.
So, where is she now? (Hint: on your TV)
View this post on Instagram
Shafali became the youngest cricketer to play in a women's Twenty20 international match for India at 15 before playing in the T20 World Cup at 16.
In 2019, Verma became the youngest Indian cricketer – male or female – to play all three international formats of cricket.
In January 2020, she was named in India's squad for the 2020 ICC Women's T20 World Cup in Australia.
In January 2022, she was announced as a part of the Indian team to play for the 2022 Women's Cricket World Cup in New Zealand.
And yes, she still has short hair.
4. FAKE IT TILL YOU MAKE IT (ie. A MILLION EUROS)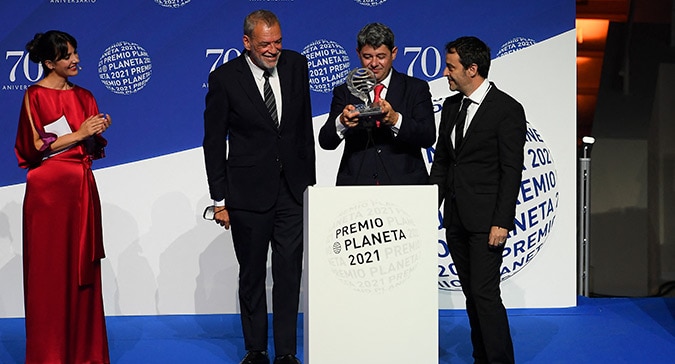 Spanish writers Jorge Diaz (left), Agustin Martinez (center), and Antonio Mercero (right) pose with the Planeta literary award. Photo: AFP
You might think that nothing beats the thrill of reading a juicy plot in a thriller novel. But when Spain's ''The Beast - by Carmen Mola'' was declared to have won the Planeta prize (a Spanish literary award for unpublished novels) in October 2021, the author's reveal turned out to be even more surprising than the plot of the thriller book.
The Planeta prize is one of the world's richest literary awards and gives a cash prize of one million euros (about Rs 8.1 crore) to the winner. This event in October 2021 was a big deal and attended by prominent guests like Spain's King and Queen.
But when the book won the Planeta prize, three men went on the stage to receive the award instead of Carmen Mola, who was the so-called author of the book.
? - Three Spanish men have been revealed as being behind an award-winning crime thriller penned under the name Carmen Mola. The three TV screenwriters collected one million Euros in prize money at the Planeta awards recently. pic.twitter.com/AFBJcVoXWm

— UNILAD (@UNILAD) October 19, 2021
It was later revealed on stage that these three men were the actual writers and had published the book together under the female pseudonym ''Carmen Mola''. The reveal shocked the attendees as everyone expected a lady to walk up the stage.
What surprised and shocked people is the way they managed to keep this anonymous over the years. All interviews for all four books by Carmen Nola were signed in her name and it seemed ridiculous to people that a million euros in prize would be the reason for this reveal.
5. PASSING THE LOVE TEST
What will you do to help your girlfriend if you know she is going through a tough time? A guy would normally step in her shoes, evaluate the situation and help her with possible action steps right?
Photo: Khadim Mboup.
But Khadim Mboup from Senegal became the ultimate 22-year-old boyfriend when he decided to step in his lover's shoes, literally, and take her exam... and bear the consequences.
Khadim's girlfriend Gangue Dioum, 19, was about to take her high school graduation exams. But she was worried that she might flunk her English tests. Khadim, a college student from the Gaston Berger University, Africa and her boyfriend, decided to help his lover by sitting for the exams on her behalf.
Khadim and his girlfriend made elaborate plans for him to impersonate his girlfriend. On the days of the exam, Khadim wore a wig, headscarf, dress, bra, earrings, and makeup to look like his girlfriend and sat for three days to take her English exams.
However, on the fourth day, the invigilator noticed something suspicious about his appearance.
22-year-old Khadim Mboup from Senegal has been arrested, after posing as a woman to help his girlfriend write an exam. pic.twitter.com/HSFQWOJ1Yg

— Africa story Live (@AfricaStoryLive) August 9, 2021
When the local police arrested Khadim, he told the police that he "acted out of love" as his girlfriend had "serious difficulties" with English. The couple has been charged with examination fraud and forgery. They face being banned from taking part in any national exams for up to five years.
(Also, do you know of more guys like Khadim? Asking for a friend.)
The views and opinions expressed in this article are those of the authors and do not necessarily reflect the official policy or position of DailyO.in or the India Today Group. The writers are solely responsible for any claims arising out of the contents of this article.