India needs a sexual revolution, and fast!
I cannot write this article and share it with my family because the reaction invariably would be, "Tauba! How can you talk about sex so openly?" That is how sexually screwed up we have become.
While travelling to work every day, I often cross a park that is 'infamous' for all the love-struck, privacy-deprived couples who haunt it. While they are busy staring into each other's eyes and getting intimate, an audience of sex-starved middle-aged men, auto drivers and daily labourers enjoys the show. The same people who will go home later in the evening and likely masturbate thinking about what they saw, maybe rape their wives, perhaps watch a little porn. Maybe call and harass that girl from the next gali that they like. Ask for 'Bob and Vagene' pictures on Facebook.
To think that even in this day and age — in what we proudly refer to as the 'fastest developing country in the world' (all puffed chests) — we still see sex as this morally degrading thing that is meant to be spoken about in hushed tones and behind closed doors.
To think that I cannot write this article and share it with my family because "Tauba! How can you talk about sex so openly?"
And that is precisely where the problem lies.
How did we become so morally tilted as a society? How did we start getting offended by PDA — and not by molestation and open harassment on the streets?
Why should we judge these couples in the parks for wanting some intimate moments because they dare not take their partner home (the girl's father would probably skin the guy alive, and besides, it is not a part of our sanskriti), and not comment on the lecherous perverts who feed off this display?
A young couple cosying up to each other in the metro is asked to 'get a room' because this is 'not what our culture dictates' — but we stand by and let creepy men catcall women because "itne chotte kapde pehen ke niklegi to yahi hoga na!'. (This is bound to happen if she steps out wearing such revealing clothes!)"
The writing is clear on the wall: sexual repression in women, due to established moral and social standards. (Representational image: Reuters)
Why are love and sex crimes in this country? Why should saying 'sex' out loud be such a hauwwa? Why can't we still discuss it with our parents, talk about it in public?
I recently watched a show called 'Four More Shots Please!' on Amazon Prime and I was left quite disturbed. To think that saying "vagina" out loud is now considered a sign of liberation! Vagina! There! I said it! Sorry! Didn't do much for my… ermmm… sense of freedom. No, one doesn't become a feminist just by screaming all the colloquial names of the vagina from Marine Drive. Somebody got the memo wrong. We are talking about the human body, for God's sake! Vagina, penis, it's all the same. And I did not turn red or start looking over my shoulder while writing this. So, why the hullabaloo, guys? Why the applause at this supposedly rare show of bravado?
Sex is the most basic and essential need for any human being — why do we shy away from addressing it?
Our moms expect us to be chaste, our dads expect us to marry 'well-settled guys' and reproduce. "Respectable living" — or so they say. Sex before marriage? You could get killed for merely suggesting it — because apparently, it is morally degrading to explore your desire before you have added a man's surname to yours. It is criminal to choose a partner based on your compatibility in bed.
You're watching a movie with your family and there comes an intimate scene. Channels are quickly changed. Kids are sent off on errands. Adults suddenly find their phones very interesting. But hey, isn't that a natural process? How our bodies have been programmed to function? So why are we — from the very beginning — conditioned into thinking that it is a sin? Gunaah! You could even be branded a whore for discussing sex openly. "Pata nahin ma baap ne kya sikhaya hai! Bade sheher mein aa ke dimag kharab ho jaate hain inn ladkiyo ke! (God knows what values the parents have inculcated in the girl! These girls step out into big cities and lose their heads completely!)"
People often call India 'the land of Kamasutra'. My friend calls that bullshit! She says the Kamasutra is all about pleasuring the man. Traditionally, the woman is supposed to be the able sexual slave, faking orgasms, 'ooh-aahing' at the right moments, boosting the male ego and making do with just that.
Dare she expect the sex — or for the sake of being poetic: the lovemaking — be all about her!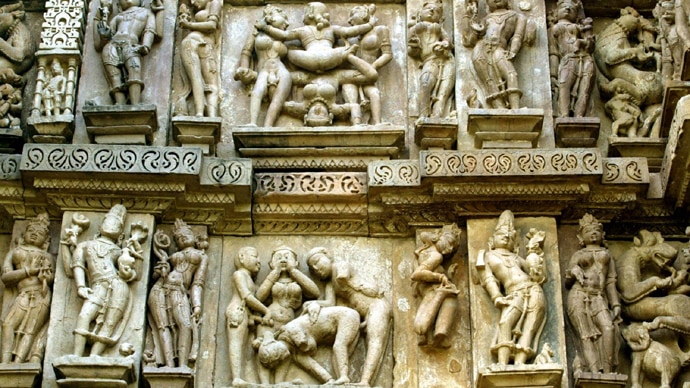 The Kamasutra for pleasure? It's all about pleasuring the man, ladies! (Representational image of a sculpture from Khajuraho temple: Reuters)
It is a fact that sexual repression in women, due to established moral and social standards, has been known to lead to female sexual desire disorder, feelings of low self-esteem, depression, guilt and shame — even affecting the mental health of women. No, they won't come out and talk about it. Don't expect that, please. That's how deep the conditioning goes.
The only thing that can fix the status quo is a sexual revolution. And no, I don't mean getting naked on the streets and making out right there!
We have come to a point when Article 377 has been finally abolished, and adultery is not a criminal act anymore. We have started accepting that love comes in different forms. Now's the time to take one more step ahead — make talking about sex mainstream. Maybe then, sexual crimes would go down, people would get married for love and not just for sex (and these marriages might actually last!), and women would not feel so sexually oppressed and repressed.
And maybe then, while a woman (that too, a Muslim!) is writing about this topic, she would not have a nagging thought in her head that people — on reading the article — would consider her 'frustrated' — and blame her for spreading moral bankruptcy by propagating besharmi.
Also read: My Note to Madhu Kishwar: Why not 'free sex' for every adult 'female' for a certain number of days every year?
The views and opinions expressed in this article are those of the authors and do not necessarily reflect the official policy or position of DailyO.in or the India Today Group. The writers are solely responsible for any claims arising out of the contents of this article.