Our netas are a slap in the face of Indian women
It's criminal to allow leaders who dare disrespect women with abhorrent remarks to govern us.
Not-so-honourable netaji,
I happen to be an Indian woman and I won't change that for the world. But I am sick of the stereotyping that the better half of the Indian population is subjected to by the likes of you.
It's criminal to allow leaders like you - who dare disrespect women with abhorrent remarks and get away with it - to govern us.
The moment we let you go unpunished, we make way for a fresh breed of netas, just like you, who think they have the moral authority to insult, shame and demean women.
Coming from the veteran leader of a party that is in power in Bihar, your statement speaks volumes about how deep-rooted such a regressive mindset is. Photo: PTI
India is one of the most unsafe places for women, so much so that foreign countries issue safety advisories to their women citizens travelling to India.
In such a perilous environment, your statement Sharad Yadav that "Vote ki ijjat aapki beti ki ijjat se jyada badi hoti hai... Agar beti ki ijjat gayi to sirf gaon aur muhalle ki ijjat jayegi, lekin agar vote ek baar bik jaye, ek baar gadbad ho jaye to desh aur subki ijjat chali jayegi" is a great dishonour to the Indian women.
This conforms to the notion that we live in a barbaric society where "beti ki izzat" is negotiable, the "beti" is weak and it's left to men to guard and protect her "izzat".
It couldn't be more outrageous. Coming from the veteran leader of a party that is in power in Bihar, the Janata Dal United (JDU), your statement speaks volumes about how deep-rooted such a regressive mindset is.
Alas! It was left to you, Vinay Katiyar, to validate this archaic, medieval notion.
We understand that you have been left in the cold storage by the BJP, so you need to make the nastiest remark possible to avenge your party in the poll season.
So you chose to shame a VVIP to earn mileage among your voters. Voicing your opinion on the impact Priyanka Gandhi Vadra would have on the Congress' prospects, you said, "Priyanka koi kalakaar nahin, vo itni khoobsurat bhi nahin, jitna log pracharit karte hai. Inse bhi Zyaada khoobsurat mahilayen humaare yahaan hain, jo unse zyaada vote juta sakti hain..."
Thank you. For belittling the bharatiya naari by weighing her on the scale of nothing else but "khoobsurati (beauty)".
So you feel free to comment on a woman as if she were an object awaiting your certification.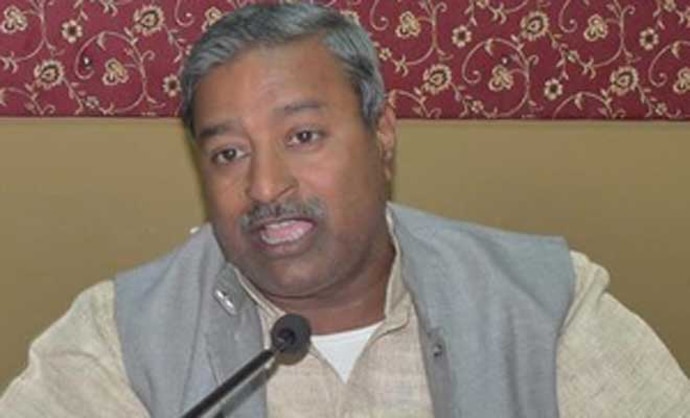 What could be more damaging to the reputation of Uttar Pradesh than you representing it? Photo: PTI
In doing so you have abused the faith the ordinary citizen has placed in you - and every woman who has voted to repeatedly send you to Parliament.
What could be more damaging to the reputation of Uttar Pradesh than you representing it?
A patriarchal state that fairs the worst in the country as far as rapes, murders, kidnapping and other violent crimes against women are concerned.
Your disgusting remarks take me back to one of my earliest memories.
In the peak of winters in 1986, I woke up to the merry sounds of the trumpet and drums. In the verandah of our old house in Lucknow, I saw my older sisters and house help celebrating.
Not fully wake, I started to cry looking at them. It was only after they broke the news of my brother's birth that I smiled.
As I grew older, my mother would talk about how she had become a subject of ridicule and sarcasm because she had given birth to girls one after another.
My younger sister - the fifth daughter of the house - was adopted by our uncle who lived in Germany. Then, at long last, my parents had a son. It was Christmas - and the village had run out of laddus and firecrackers. There had never been such a celebration.
My parents doted on their daughters, who they believed were their inspiration and strength.
Yet, they were pressured by the society to take the then dangerous road journey to Badarinath to pray for a son, who would be the heir apparent of the riyasat.
My mother was expecting my brother then and into her seventh month when she undertook the pilgrimage.
As a daughter, sister, wife, mother and even grandmother, women are subjected to constant scrutiny in whatever we do. Our decisions, unless validated by men, have no merit.
It's time to break the vicious cycle of years of oppression, subjugation and less-than-human treatment. Women have learnt to script their future.
The outfits you represent refuse to condemn you, let alone sack you from the life-altering positions you hold in public life.
But let me tell you netaji, you lived up to the expectations of your hopeless, male chauvinist cult.
Deepest condolences for your mental bankruptcy,
The Indian woman.
Alsdo read: Mohammad Shami trolled - Learn to respect women's autonomy and freedom
The views and opinions expressed in this article are those of the authors and do not necessarily reflect the official policy or position of DailyO.in or the India Today Group. The writers are solely responsible for any claims arising out of the contents of this article.