Kurukshetra battle. Economic disaster. Gossip wars. We've seen it all!
And flooded with such pictures, what are we supposed to do with it?
Because, "apne bhai jaisa koi hard-ich nai hai".
Why Shashi Tharoor is the 'love guru' we always deserved and finally got in 2019.
Called Tudder, the application is essentially Tinder for cows, promising them virtually unlimited partners to breed (read: hook up). Culture police says, not cool.
We can't 'rap' our heads around Rajnath Singh's rapping. Can you?
Doesn't Priyanka Gandhi like tea? Rahul Gandhi likes.
Taimur looks more Kapoor than Pataudi — we know it, we believe it and we have adequate proof of it.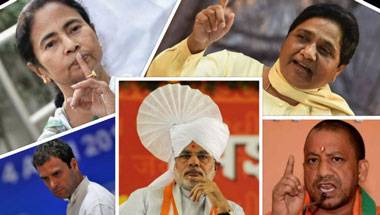 What if we tell you there is but one thing common between Narendra Modi, Rahul Gandhi, Mamata Banerjee, Mayawati and Yogi Adityanath? And what if we tell you THAT is the secret to success?
Who says only Donald Trump can do it? Clearly, our very own Yogiji can make a covefe of another level!