|
Breaking Views
| 6-minute read
Breaking Views
It's not just the Pakistan army that's to blame for terrorism on Indian soil. The government is yours — so is the responsibility to act.
India has for far too long been timorous in its response to Pakistani terrorism. It's time we change our peace-at-all-costs mindset.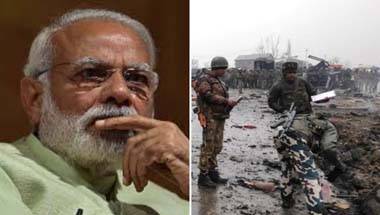 With the Lok Sabha elections around the corner, the Prime Minister has to demonstrate that he runs a strong government. And the NDA has a plan.
|
Aage Se Right
| 7-minute read
Aage Se Right
Let's not help Pakistan establish a narrative that helps them escape criticism at international forums. It's time to shame Pakistan, rather than share our poetry, literature of cinema with them.
Severe repression is not the answer to violence. The Valley needs trust-building measures.
The Pakistani Army still calls the shots in Pakistan and in the strategies of terror being used. The only naya change is the growing use of Jaish-e-Mohammed over Lashkar.
When the entire nation in is collective mourning, why isolate fellow citizens and target them?
Attempted terror strikes of the most craven kind will only grow now, in Kashmir and elsewhere. This is when our leaders must rise to the occasion as one.
Following serial blasts in Gujarat, tough efforts ensured India saw no major terror strikes in the past nine years. Kashmir remained an exception to that. Now, the Pulwama outrage presents a similar challenge.
Sections of the media are always quick to defend the rights of those mouthing anti-national statements. Why then are these sections apparently fearful of calling Pulwama a terror attack?