BJP chief Amit Shah is busy addressing party workers in various states. While he recently blamed Nehru for Kashmir, even he has not been able to visit the martyrs' homes.
He's maintained a respectful silence over the appalling Pulwama attack, but it's time the Congress leader asked PM Modi some uncomfortable questions.
Army operations can't be allowed to degenerate into political theatre. But equally, we can't watch hand-tied as atrocities are perpetrated on us. What then is the solution?
Armchair war-mongers, opportunist nationalists, seditionists — India must win several mini-battles to win the final war.
Commenting on a female politician's gender, looks or attire reflects the misogynistic mindset of our politicians. This is seen across the political spectrum, from the 'traditional' BJP to 'new-age' neta Rahul Gandhi.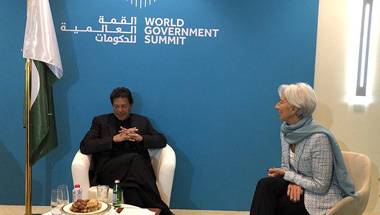 Imran Khan needs to understand the good sense behind the reforms the IMF wants Pakistan to undertake before a bail-out. But it looks like Imran's govt will rely on friends with benefits.
Beyond our immediate neighbours, the Asian continent is home to many countries, each with their own international conflicts and issues. Saudi Arabia and Iran are two such nations, both crucial for India as well.
|
Right foot forward
| 7-minute read
Right foot forward
With Modi, Nepal's leadership has struck an underlying rapport, built on healthy mutual respect that should work to the advantage of both countries, if it continues uninterrupted.
As TV studios drum up hysteria today, a look-back at how a decisive victory was executed in saner times by a PM who exemplified calm under fire.
Losing the IMF bailout battle might just be the opportunity a beleaguered Pakistan needs to get closer to Chinese and Saudi support.