AAP vs BJP: Decoding the conspiracy theories on the obscene letter targeting AAP's Atishi
The Internet is dark, and full of conspiracies: AAP's press conference has online rumour mills working overtime on the origins of the obscene pamphlet.
If you thought PM Modi's 'Bhrashtachari No 1' remark was the lowest Indian political discourse could get, you're in for a surprise. In a shocking press conference held by the Aam Aadmi Party (AAP) on Thursday, party leaders Atishi Marlena and Manish Sisodia read out an obscene pamphlet — which they alleged the BJP was distributing in East Delhi.
The pamphlet contains derogatory remarks about several leaders of the Aam Aadmi Party. It also had deeply misogynistic and sexist comments about Atishi Marlena, AAP's candidate from East Delhi. Almost everyone, irrespective of their political inclinations, has been shocked by the disturbing contents of the pamphlet. AAP leaders at the conference repeatedly alleged that Gautam Gambhir and the BJP were behind the letter.
Vulgarity galore: Atishi tears up as she reads the obscene remarks written on the pamphlet (Source: India Today)
Once the conference ended, social media was flooded with reactions. While some supported Gautum Gambhir, others accused BJP of deep bigotry.
That was when I decided to put my tin foil hat on, and explore the various conspiracy theories surrounding the obscene letter.
To start, the letter looks highly suspicious. In the letter, several objectionable insults have already been highlighted and underlined — as if the person who drafted this letter wanted to draw attention to the most outrageous parts of the writing. The way phrases like (and please excuse us for quoting) 'kutta Kejriwal', 'kanjar Sisodia' and 'prostitute' have been highlighted seems fishy, to say the least.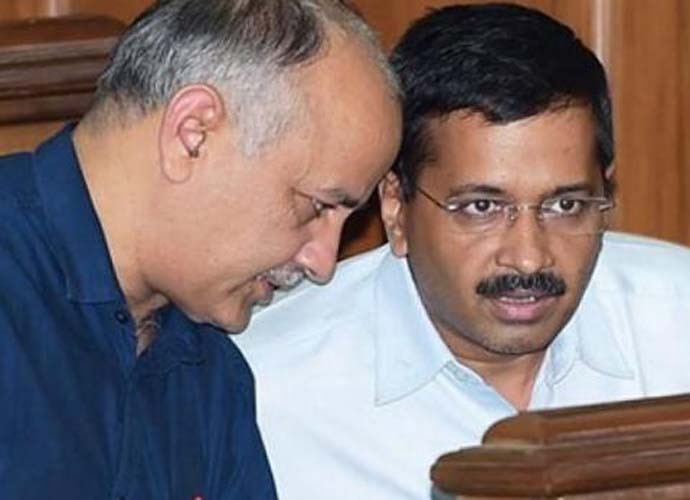 A pamphlet full of expletives it's hard to even repeat: Is this what our political discourse has fallen to? (Source: India Today)
Another line that raised eyebrows and made readers question the authenticity of the letter was one which calls Manish Sisodia 'a handsome man'. 'He is a handsome man, but a S/C (scheduled caste) cannot be handsome'. The casteist remark-cum-back-handed compliment seems extremely poorly crafted, almost as if the one who drafted the letter wanted to sound thoroughly casteist, but failed miserably.
However, there is evidence that outrageous notices have been in circulation for some time already. Some netizens took to Facebook to share how they had seen several such pamphlets and notices in Delhi that made outrageous claims about several politicians and expressed bigoted opinions. They felt certain that Atishi being a woman would only spur further hate and prejudice spread via such letters.
Bizzare notices Delhiites read everyday. (Source: Facebook)
In addition, adding to the general discomfort, some supporters of the BJP have apparently actually endorsed the letter on social media, which is a rather alarming reflection of where our ethical depths have plummeted.
As of the time of writing this article, #IStandWithGambhir is trending on Twitter and people are now standing in firm solidarity with the cricketer-turned-politician. Gautam Gambhir has also sent a defamation notice to several AAP leaders post-the press conference. He said, 'I didn't know Arvind Kejriwal would stoop so low'. Cricketers VVS Lakshman and Harbhajan Singh also took to Twitter to express their support for Gambhir.
Shocked to hear about yesterday's developments. Having known @GautamGambhir for nearly 2 decades, I can vouch for his integrity, character and the respect he has for women.

— VVS Laxman (@VVSLaxman281) May 10, 2019
I am shocked to note yesterday's events involving @GautamGambhir. I know him well and he can never talk ill for any woman. Whether he wins or loses is another matter but the man is above all this

— Harbhajan Turbanator (@harbhajan_singh) May 10, 2019
However, several Twitter users also uninanimously slammed the letter for its misogynistic contents — and stood in solidarity with Atishi.
Only women are subjected to crap about husbands, lovers, imagined moral violation & sexual judgement/ innuendos.I would never take a political side as a journalist but for utter misogyny @AtishiAAP has been through, if nothing else, she should be in Parliament. #IStandWithAtishi

— barkha dutt (@BDUTT) May 9, 2019
In a recent development, AAP too is apparently sending a defamation notice to Gautam Gambhir.
'How is he filing a defamation case? We are the ones being defamed, we will file a defamation case against him. We will try to send a defamation notice to him today. His party has endorsed the pamphlets and he has not questioned that', Manish Sisodia said. It is interesting to note how the war over outraging the modesty of a woman, a war against predatory remarks and a war on massive sexism has turned into a defamation v/s defamation conundrum too.
It will be interesting to see what turn this case will take next.
Also Read: Manish Sisodia: Congress is tired, no one trusts it. Its thinking, like Sheila Dikshit on Nirbhaya, made Delhi turn away.
The views and opinions expressed in this article are those of the authors and do not necessarily reflect the official policy or position of DailyO.in or the India Today Group. The writers are solely responsible for any claims arising out of the contents of this article.