Svetlana Naudiyal is the Programming Director of MUBI Asia, yes the same MUBI which some in India might use as "posh Netflix", thanks to its globally curated collection of films that cinephiles would love rating on Letterboxd. On January 4, 2023, Naudiyal uploaded a photo on her Twitter account with the caption reading, "Just Bombay things." 
Below was a man wearing a collared shirt of a purplish shade with a bag strapped on his back. The picture's focus was on the poster in his hands, a call for production for a feature film titled The Tree Man. Also printed on the poster was the screenwriter's name and phone number. 
Upon dialling the phone number, The Tree Man's writer Sonu Kumar Banjare picked up. The 30-year-old mentioned that he was currently standing outside Akshay Kumar's house and would be free sometime later in the day. A second phone call proved to be more fruitful as he began speaking about his journey from Chhattisgarh's Bilaspur to Mumbai.
The Tree Man, he claims, has been written with an environmentalist message in mind. Sunderlal Bahuguna, the Uttarakhand native who started the "tree-hugging'' Chipko Movement to preserve the Himalayan forests in the 1970s, serves as a major inspiration.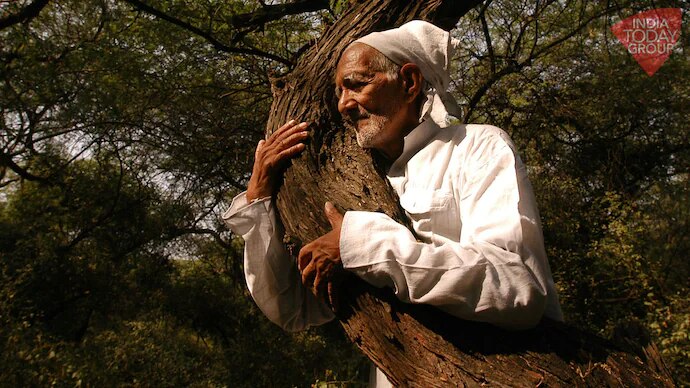 Currently, The Tree Man is just a screenplay that Sonu came up with. He hopes to gain enough funding in Mumbai to turn it into a full feature. Sonu would definitely need financing given the stars that he has in mind. 
"There will be two heroes in the film. One will be the tree man; the other will be a police official who helps him." Sonu told DailyO over the phone. "Akshay Kumar is the first choice. If not him, I would want Kartik Aaryan in the cast." 
The fact that Aaryan replaced Kumar for Bhool Bhulaiya 2 and his casting in Hera Pheri 3 made many on social media to speculate that he is the new Akshay Kumar. A similar case can be made for The Tree Man. 
Along with Kumar (or Aaryan), Sonu also wishes for the other protagonist to be played by Karan Deol, Sunny Deol's son who started his career with the 2019 flop Pal Pal Dil Ke Paas. When asked who he will choose to play the parts of the environmentalist and the khaki-wearing personnel, Sonu remained tight-lipped as he doesn't wish to spill too many spoilers from his script. 
Between the time of interviewing him and the present day, Sonu has been holding The Tree Man's poster outside Akshay Kumar's Juhu bungalow for over 10 days now. "He [Kumar] has seen me and the issue of the poster and my script might have gone to him, I am sure." Sonu said, even though Kumar has never exchanged any words with him so far.
Not just Kumar's residence, Sonu has also stood outside Amitabh Bachchan's Pratiksha House in Juhu and Shah Rukh Khan's Mannat in Bandra, the usual stops that a Bollywood fanatic would tick off their Mumbai trip list. Even Hrithik Roshan passed near him once, an actor that Sonu himself is fond of. 
Apart from visiting the houses of B-Town stars, Sonu has also tried pitching his screenplay and creative ideas to several production houses in Mumbai but to no avail. The reactions to his requests ranged from "We have no requirements for new scripts" to "We don't accept external scripts to" to "Meet us in 3 days" (with 3 days turning into 10 or 15 or 20). 
Contact with his namesake Sonu Sood still seemed to offer some hope.
"I told him about my story and he gave me his assistant's number. He said that if his assistant likes the story, he would send it to me. I contacted the assistant and he liked the story, asking me to wait for 2 to 4 days for narration. But that call never came. No call backs, no replies from Sonu Sood. I think I even got a scam call later from someone claiming to be Sonu Sood's manager!"
While The Tree Man is still a work in progress, Sonu seems to imbibe a never-give-up attitude. Hailing from Bilaspur in the central Indian state of Chhattisgarh, Sonu comes from humble origins. His parents, both of whom are vegetable-sellers, wished for their child to enroll in an MBBS course and join the medical field. 
However, Sonu has always harboured more creative dreams. Initially dabbling in poetry, he even published a Hindi poetry collection aptly titled Sangharsh (which roughly translates to "conflict" or "struggle"). He even migrated to Bhopal for a while, signing up for an acting course which he had to eventually let go when he was low on money. 
The period from 2015 to 2016 can be considered quite crucial for Sonu's creative process given that this is when he started taking screenwriting tips and lessons from YouTube. The Tree Man and his two other scripts are a direct result of his self-taught methods. 
Like every cliched dreamer who wishes to make it to Bollywood, Sonu eventually packed his bags and moved to Mumbai.
"I moved to Mumbai during the second lockdown in 2021 with three scripts," Sonu said, with a particular emphasis on the last three words. 
Sharing a flat in MHADA Colony at Four Bungalows (locally known as Chaar Bangla) with four other men, living in Mumbai is unsurprisingly expensive. To make ends meet, Sonu approached the Kokilaben Dhirubhai Ambani Hospital for a potential job as a pharmacist. While he told his family in Chhattisgarh that he had been working at this super-speciality hospital in the very same job role, the truth remains that he was assigned a housekeeping job.
"Around two or three days were left for the lockdown. So, I had to accept the housekeeping job out of desperation. I did not tell this at home that I wasn't working at Kokilaben as a pharmacist but was cleaning bathrooms over there. The reason was that I had to follow my dreams." 
Sonu's stint at Kokilaben lasted for over a year with his family never coming to know the true nature of his job. Neither are his parents aware of him wandering the urban jungle of Mumbai with a banner reading "The Tree Man". Even though he tried going against the norm in his family, he still cares for his people back home. 
"The condition of my house over there [Bilaspur] is really bad. I must send back enough money for repairs before the rains start or the house might break. But even if I do a job here, I won't be able to earn enough." 
After his housekeeping job, he managed to temporarily serve as an assistant director for a local production house called Wavez Entertainment, working on a web series called Destiny which is yet to be released on an OTT platform. 
It has been a few weeks now since Sonu has been standing with his banner, coming as one of Mumbai's many peculiar characters. More than two weeks have been spent outside Akshay Kumar's house alone. 
Perhaps his filmmaking inspiration might explain his attitude. Apart from venerating the work of Rajkumar Hirani (3 Idiots, PK, Munnabhai series) and SS Rajamouli (RRR, Baahubali), Sonu is also an ardent fan of Sylvester Stallone, the action star-screenwriter-director who blew up first with the 1976 Oscar Best Picture winner Rocky. A huge reason behind his love for Stallone is the Hollywood titan's own underdog story. 
"Stallone's struggle inspires me. Whatever he did, he never gave up. His story inspired my own writing process."
When asked if people mock him for his lofty ambitions, Sonu does add that he has received hatred and judgment not just behind his back but also in front of his face. To put it in his own words, 
"They look at my banner, then my face. And then, they mock me. They demotivate me. Someone even told me to go back home on the same train that brought me to Mumbai."
Still stationed at Akshay Kumar's house every morning, Sonu has become more adamant than ever. Strongly believing that his presence outside Kumar's bungalow will help him bag a producer, he says that he will continue doing so until someone decides to fund The Tree Man. 
Imagining a future where The Tree Man and other films "written by Sonu Kumar Banjare" actually get released, Sonu adds, 
"I want to offer something new to people through my films so that I can always entertain them. The Tree Man should inspire people to save trees. And then I have another two-part movie in mind, The Lobster Man."
While we don't know much about The Lobster Man, DailyO will keep you updated if Akshay Kumar actually gets moved by Sonu's efforts. Till then, the man and his banner continue adorning Khiladi Kumar's front porch.