Dubbed as the "Queen of Rock N' Roll", Tina Turner has been a musical icon since the 1980s with her trademark single "What's Love Got to Do With It?" and many other iconic tracks. With 83-year-old Turner passing away on May 24 (Wednesday) due to a prolonged illness, it is worth revisiting her eventful life. 
Indian fans, specifically, would be intrigued to know that Turner was actually supposed to play a Hindu goddess in a film by legendary Indian producer Ismail Merchant (Shakespeare Wallah, A Room with a View). The film never came to fruition but it left a lasting memory on Turner. 
2004: Tina comes to India to play a goddess 
Apart from her musical career, Turner was also an occasional actress playing the glamorous Aunty Entity in Mad Max Beyond Thunderdome, the third film to feature Mel Gibson's dystopian drifter Max.
In the 1990s, she also sang the title song of the James Bond film Golden Eye and saw her life get dramatised for the acclaimed biopic What's Love Got to Do With It (with Black Panther star Angela Bassett earning her first Oscar nomination as Turner). 
By the 2000s, the eight-time Grammy winner was already a musical icon. However, she decided to venture into acting again albeit with a somewhat challenging role. It was in 2004 when Ismail Merchant and his personal/creative partner James Ivory announced that their joint production house Merchant-Ivory Productions were eyeing Turner for a lead role in their next venture, The Goddess.
Awestruck by a Tina Turner concert at New York's Radio City Music Hall, Merchant was convinced that the charismatic artist would be a perfect fit for playing the Goddess Shakti (although some sources suggest that she was in talks to play Kali). 
To prepare for her role, Turner did visit India and claimed to have found spiritual solace in South Indian Hindu temples and the banks of the river Ganga. As she can be quoted from an interview in The Tina Turner Blog, 
"Now that I am here [India] I have to come up with another concept. India is giving me another perception. To step into the role, to prepare the self for which I need stronger, focused meditation."
Turner, who was a practicing Buddhist at that time, was on board to play a Hindu goddess but The Goddess was eventually scrapped and never entered production.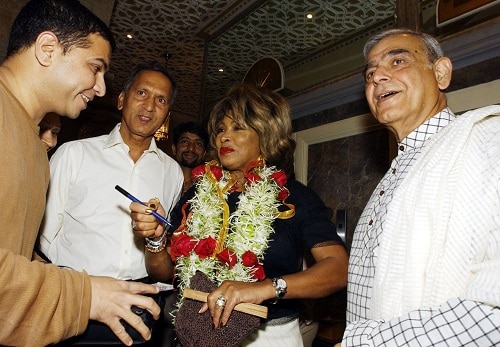 Not much is known about the film's premise but Matthew Modine (whom Stranger Things fans will remember as Eleven's father Dr. Brenner) was also set to star alongside Turner. Considering the era, it's also highly possible that The Goddess might have ended up becoming a controversial or rather stereotypical look at India or Hinduism (the flashbacks of Amrish Puri in Indiana Jones and the Temple of Doom still haunt Indians). 
In fact, a collective of Hindu organisations based in the UK criticised the casting citing that because of Turner's reputation as a "sex icon", it would be improper to cast her as a goddess!
Merchant, however, was adamant to defend her. As he said in a statement by Merchant Ivory Productions, "She has thrown herself whole-heartedly into the project. In her recent trip to India, she said that she felt she had come home. An artist of such international stature should be welcomed coming to India..."
2015: Tina comes to Goa (almost)
While Tina Turner never got to perform in India, tribute artist Luisa Marshall definitely tried aping the rockstar out here. Marshall has built her career looking and singing like Turner, emerging as one of the most popular musical tribute acts. 
Marshall traveled to Goa way back in February 2015 for a Tina Turner tribute show, a delightful experience that she talked about on her blog. Even RRR star Ram Charan and his wife Upasana Kamineni were spotted at the show and even clicked a photo with the Tina Turner look alike.