From the titular character EO in Poland's official submission at this year's Academy Awards to The Banshees of Inisherin star Jenny - donkeys are having their moment in the spotlight and we can't get enough of it.
In a recent interview with ETalk, actor Eddie Murphy opened up about a potential reprisal of his character in the Shrek franchise,
"Oh, I'd absolutely be open. If they ever came with another Shrek, I'd do it in two seconds. I love Donkey. I wish they would...they did the Puss in Boots movies, I was like 'They should've done a Donkey movie, Donkey is funnier than Puss in Boots!' I mean, I love Puss in Boots, but he ain't funny as a Donkey!"
Make way for the donkeys: Donkeys have played a significant role in the film industry, both on and off-screen. They have been featured in many classic films and television shows and though they may not have gotten enough screen time as their better-looking horse cousins, they have become animals synonymous with the Western genre.
From the silent era: One of the earliest uses of donkeys in film was in the silent era, where they were used to transport equipment and actors. They were also used as props in scenes that involved riding or herding. In many Western films, donkeys were portrayed as hardworking, reliable animals that were essential for life on the frontier. They were often shown carrying heavy loads, pulling carts, and helping cowboys round up cattle.
Off-screen, donkeys also play a crucial role in the care and training of other animal actors. They are often used as companion animals to help calm nervous horses or other animals on set. 
Donkeys are known for their calm demeanour and ability to form strong bonds with other animals, making them ideal for this role. They are also used in the training of young or inexperienced animals, helping teach them how to behave on set.
Another important role for donkeys in film has been as comic relief. Films often played off the stereotype of donkeys being stubborn, while also showcasing their intelligence and loyalty.
They have been featured in numerous cartoons and comedies, where their tenacious personalities provide lighthearted moments. The character of Eeyore in Winnie the Pooh, exemplifies this adamance as one of the most well-known donkey characters in popular culture. 
Eddie Murphy as Donkey in the Shrek franchise is a standout performance in the world of animated film. Murphy's unique vocal style, humor, and improvisational skills bring Donkey to life in a way that has made the character one of the most beloved in the franchise.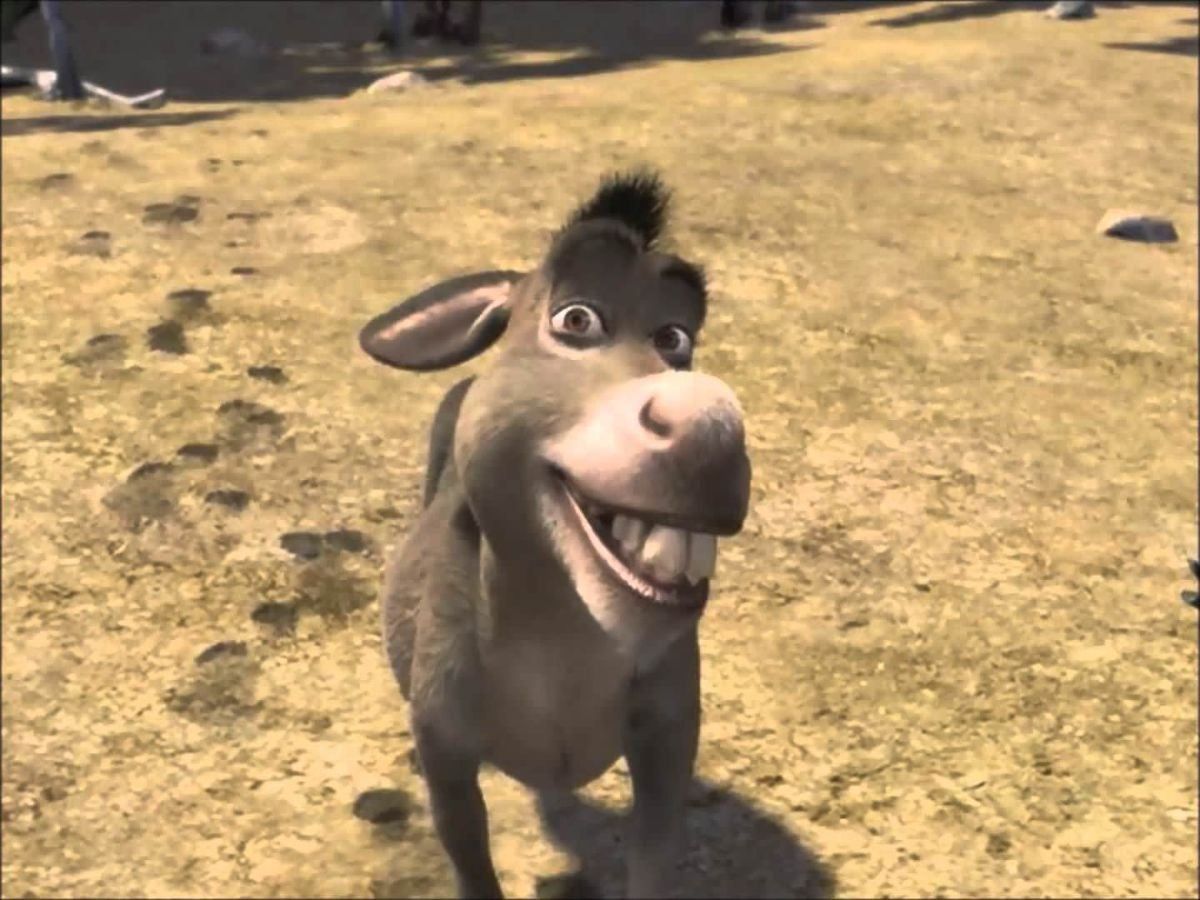 Shrek and Donkey: Donkey first appeared in the first Shrek film in 2001 and has been a staple in the franchise ever since. He is a sidekick to the main character Shrek and serves as the comic relief. Donkey is initially introduced as a talking donkey who is lost and seeking help, and Shrek takes him in as a temporary companion on his journey.
Throughout the film, Donkey provides humorous commentary and is often the source of lighthearted moments that balance out the more serious elements of the story.
Murphy's performance as Donkey is notable for a whole bunch of reasons. His vocal work is impeccable. He brings a unique energy and rhythm to the character that is both lively and memorable. His comedic timing and delivery are also noteworthy, as he is able to bring humour to even the most mundane lines. And his ability to improvise and ad-lib lines on the fly have resulted in some of the most hilarious moments in the franchise.
With Murphy's contributions, the Shrek films have been cherished for generations to come. But more importantly, Donkey inadvertently set the ball rolling for donkey representation in the film industry that we see today.
To the Oscars then: With Oscar season off to a splendid start, this awards race marks a landmark year for films featuring donkey's making it to the Oscars. 
Nominated under multiple categories including Best Picture is Martin McDonagh's The Banshees of Inisherin, which featured the lively Jenny, who dutifully followed Colin Farrell's Padraic around and served as his closest friend and confidante.
"She [Jenny] was amazing. There's a scene where she comes in and starts nudging the box on the table with her nose — and there was nothing in the box to entice her. That was pure instinct. I was a big fan of some of her acting choices."
- Colin Farrell comments on his The Banshees of Inisherin co-star Jenny
Another Academy Award nominee is Poland's official submission under the International Feature Film category - Jerzy Skolimowski's EO, featuring the story of life through the eyes of its eponymous lead star. The titular Eo is portrayed by six donkeys: Ettore, Hola, Marietta, Mela, Rocco, and Tako. 
Polish cinematographer Michal Dymek's stunning lens captures Eo's journey as an ex-circus donkey as he traverses the cruel landscapes of modern-day Europe and encounters the very best and worst of humankind.
Not a rosy path: Despite their importance in the film industry, donkeys are often overlooked and undervalued. They are often subjected to harsh training methods and poor living conditions, and many are retired from the industry when they are no longer needed. 
Donkeys have played a significant role in the film industry, both on and off-screen. Here's hoping that this surge in donkey appreciation manifests itself in all the more donkey cinema looking forward.