It is Dussehra today, just two days after the makers of Adipurush decided to debut the Rs 500 crore adaptation of Ramayana with a teaser that has become instant meme fodder. With the laughably bad VFX, 2000s kids are now rushing back to the anime Ramayana that many might have amusingly watched back when it used to regularly air on kids' channels like Cartoon Network and Pogo.
While Valmiki's epic poem has been adapted in multiple Indian animated films, the aesthetics of Yugo Sako's 1993 film remain unparalleled even for today's times. In fact, for many Indian kids, Ramayana: The Legend of Prince Rama might have been their introduction to anime in the first place! 
The adaptation had some big names like Amrish Puri and Bryan Cranston: With most of the Indian reruns airing the Hindi dub, Amrish Puri was the most popular name in the voice cast (followed by Shatrugan Sinha who serves as the narrator). Puri's distinctly deep baritone voice was the perfect fit for the antagonistic Ravana and one can argue that it might be one of his best villain roles (sorry, Mogambo).  
As for the Ayodhya Crown Prince Ram, the protagonist was voiced by Arun Govil whom Doordarshan audiences would remember as playing the character first in Ramanand Sagar's influential Ramayan series (that aired between 1987 and 1988). Sita was played by Namrata Sawhney who went on to continue her Hindi dubbing career, doubling for Kate Winslet's character in Titanic, Aladin's Princess Jasmine, and The Little Mermaid's Ariel. 
The other dubbing artists had similarly diverse backgrounds. The king of the vanars (monkeys), Sugreev, was voiced by Raj Joshi Tilak, a sprinter who competed at the 1960 Rome Olympics! Two BJP MLAs, Umesh Sharma and Pradeep Shukla essayed the roles of the bear Jambavan and Ravana's sleepy brother Kumbhkaran respectively. 
However, Sako's original version was in English with a cast of Indian and NRI actors voicing the epic's characters. This was subsequently followed by an American dub that starred a then-relatively unknown Bryan Cranston as the voice of Ram. Basically, we live in a world where Breaking Bad's Walter White and Ram were played by the same man!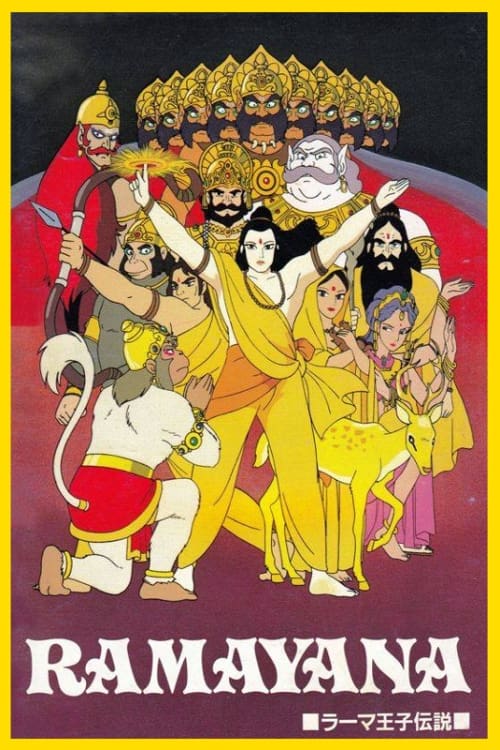 While the rest of the ensemble includes voice actors specialising in English anime dubs, this version also had a Star Wars connection. An epic like Ramayana needs the rich voice of a fine orator and this was where James Earl Jones stepped in. Even though Jones has had his fair share of live-action roles, his most iconic credits include providing the voice for Darth Vader in multiple Star Wars properties and Mufasa in The Lion King. 
Hence, with such a talented voice cast, the anime adaptation was destined to succeed but this begs the question: 
Why did the Japanese even make a Ramayana anime in the first place? It all started when the film's director Yugo Sako chanced upon a documentary called The Ramayana Relics in 1983. The documentary about recovering relics related to the mythological characters from the epic was directed by the controversial archaeologist Dr BB Lal.
A former director of the Archaeological Survey of India, Lal's polarising revisionist history methods drove him to conclude that there were remains of a Hindu temple buried under the Babri Masjid. The claim was crucial in driving the eventual Ayodhya dispute and the rest is history. 
Sako's curiousity  eventually led him to read Valmiki's original followed by ten different versions of Ramayana in Japanese translations. 
In Ram's conquest against Ravana, Sako saw a familiar fantasy trope of "the chosen one" finding his purpose.  
"In general, Indian mythology is like a treasure box for movie makers. So if George Lucas knows India, I am sure he was influenced."
Sako was quoted in a 2001 piece for the religious website Beliefnet, explaining how he saw commonalities between Ramayan and fantasy films such as Lucas's Star Wars and even other shonen (young hero) manga and anime series in his native country. 
But Sako's research and interest wasn't enough as he had to face a bigger challenge before production commenced. 
How the director interacted with Hindu groups and the Indian government: When word broke around an anime adaptation of Ramayana, Hindus and Hindu-led groups such as Vishwa Hindu Parishad were unsurprisingly angered. 
The first misconception was that Sako is attempting to create a new Ramayana altogether. A letter by VHP was written on the same and submitted to the Japanese Embassy in Delhi. Sako clarified that he aimed to helm a faithful adaptation and his attempts wouldn't reduce the epic to just a cartoon as anime was and always has been a serious artform in Japan. Obviously, the current breed of Indian "otakus" and "weebs" wasn't birthed back then in the 1990s. 
Even when the Hindu factions were convinced of Sako's good intentions, the production process couldn't have happened in India given how the era started brewing the early chaos of the Babri Masjid row. So, Sako had no option but to go back to Japan and develop his $18 million project over there. 
The making of the film: There are chances that most of what Sako read and intended to present was Tulsidas's Awadhi version (Ramcharitmanas) that notably emits the aftermath of Ram banishing Sita to the forest.
Ramcharitmanas, much like most of the pop culture adaptations, depicts a story of "good vs evil'', ending at Ram slaying Ravana, and coming back to his rightful throne in Ayodhya. According to Valmiki's original, it was only after this homecoming that a washerman's assumption of Sita being held hostage in another man's kingdom makes Ram question his honour, ultimately banishing Sita to the forest. The Ayodhyan king doesn't know that his wife is pregnant with his twin sons Luv and Kush. Eventually, the twins are taken back by their father while Sita is swallowed back by the earth (a poetic ending given how Sita was also born out of the earth). And with this somewhat bittersweet conclusion, the epic finally ends. 
But the anime film decides to go down the route of Tulsidas's version which paints Ram as the righteous king returning to Ayodhya, dismissing the entire Luv-Kush angle. 
Once Sako had finalised on his story (a largely faithful adaptation), he went on to collaborate with Indian animator Ram Mohan to design the key art designs. In 1990, he started work on the principal animation, relying on over 450 artists in Japan. Still, Indian creatives were relied on especially in the music department with the film even boasting some songs in Sanskrit. 
By 1993, the animation and voice acting had been wrapped up and Ramayana: The Legend of Prince Rama (also released as Prince of Light in America) was ready for critics and audiences. 
TV reruns and a 2022 remastered version: The anime film's initial screenings included a 1993 debut at the 24th India International Film Festival in New Delhi, followed by a screening at Canada's Vancouver International Film Festival in the same year. Critical acclaim was mostly positive and no Indian viewers were offended either. 
Since then, Ramayana: The Legend of Prince Rama has gone on to become a cult favourite in its own right. In the early 2000s, when Cartoon Network and Pogo dominated Indian kids' television, the film became a regular weekend affair especially during the Dussehra and Diwali seasons. 
Sako turned out to be a one-hit wonder in his anime career, given how he could never direct anything notable after his magnum opus. Later on, he wished to work on an adaptation of Krishna's story this time but his dream was cut short when he passed away in 2012 due to aspiration pneumonia. He was 84. 
But Sako's legacy lives on given how his work found a new lease of life in 2022. With this year being the 70th year of India-Japan relations, a 4K remaster of the film (titled Anniversary Edition) was screened at the Japanese Film Festival in Delhi this February. 
While Ramayana: The Legend of Prince Rama is not officially out on streaming services, the 2-hour-long feature gets uploaded on YouTube every once in a while. With all the memes on Adipurush, it seems like a wide re-release of the anime would make for a better watch than the Prabhas-starrer!