The first teaser of Christopher Nolan's highly anticipated biopic Oppenheimer dropped yesterday and the Internet is obviously abuzz with all sorts of reactions. Set for a 2023 release date, Oppenheimer would obviously satisfy the director's loyal bhakts while probably reinforcing some of his common tropes. 
So, what essentially makes a Christopher Nolan movie? The recipe is as follows. 
Just like how you moisten flour and knead it, Christopher Nolan treats time like his own ball of aata. He can roll it, cut it, reverse it, make multiple copies of it and what not. Be it Memento's reverse storytelling, Inception's dreamy dimensions, or Tenet's time-reversal mechanism, Nolan's favourite plaything is the concept of time. 
While the complexities that go beyond his timebending storylines is commendable, Nolan can sometimes overcook the concept. At least, that's the view shared by several viewers who didn't like Tenet. Yes, the physics around time is cool but sometimes, Nolan's HC Verma science might be just too unnecessarily complicated for audiences. 
Step 2: Simmer with Zimmer 
A good movie needs a good score and for that chef Nolan makes use of his kitchen assistant Hans Zimmer. The visionary composer has masterminded some of the most rousing music for Nolan's hits like The Dark Knight, Inception, Interstellar, and Dunkirk.
For Tenet, Ludwig Gorranson replaced Zimmer as the latter was busy adding 'spice' to Dune. But even in that case, Gorranson's loud, fast-paced, (and rather anxiety-inducing) score did have some of Zimmer's undertones from Inception. 
Step 3: Sprinkle a bit of Michael Caine
Christopher Nolan is unabashedly a "Michael Caine simp" as the veteran British actor serves as the Stan Lee of the Nolan Cinematic Universe. While he had major roles in The Dark Knight trilogy, The Prestige and Interstellar, he cameos randomly as the "most British guy ever" in Tenet. And in Dunkirk, even his voice gets a cameo in Tom Hardy's aircraft.
So, yes, needless to say, Michael Caine is like salt in the Nolan dish. Be it in large or miniscule amounts, you do need a bit of Caine every now and then. 
Step 4: Add women for flavour…and then drain them out
Barring a few exceptions like Interstellar, Nolan is criticised for the way his screenplays treat the female characters. Most of Nolan's heroines are damsels in distress. And while a hypermasculine narrative might end with the hero saving the heroine, Nolan's heroines don't even make it to the end. Most of the women are just killed off to further the plot. Cases in point would be Memento, Inception, and The Dark Knight.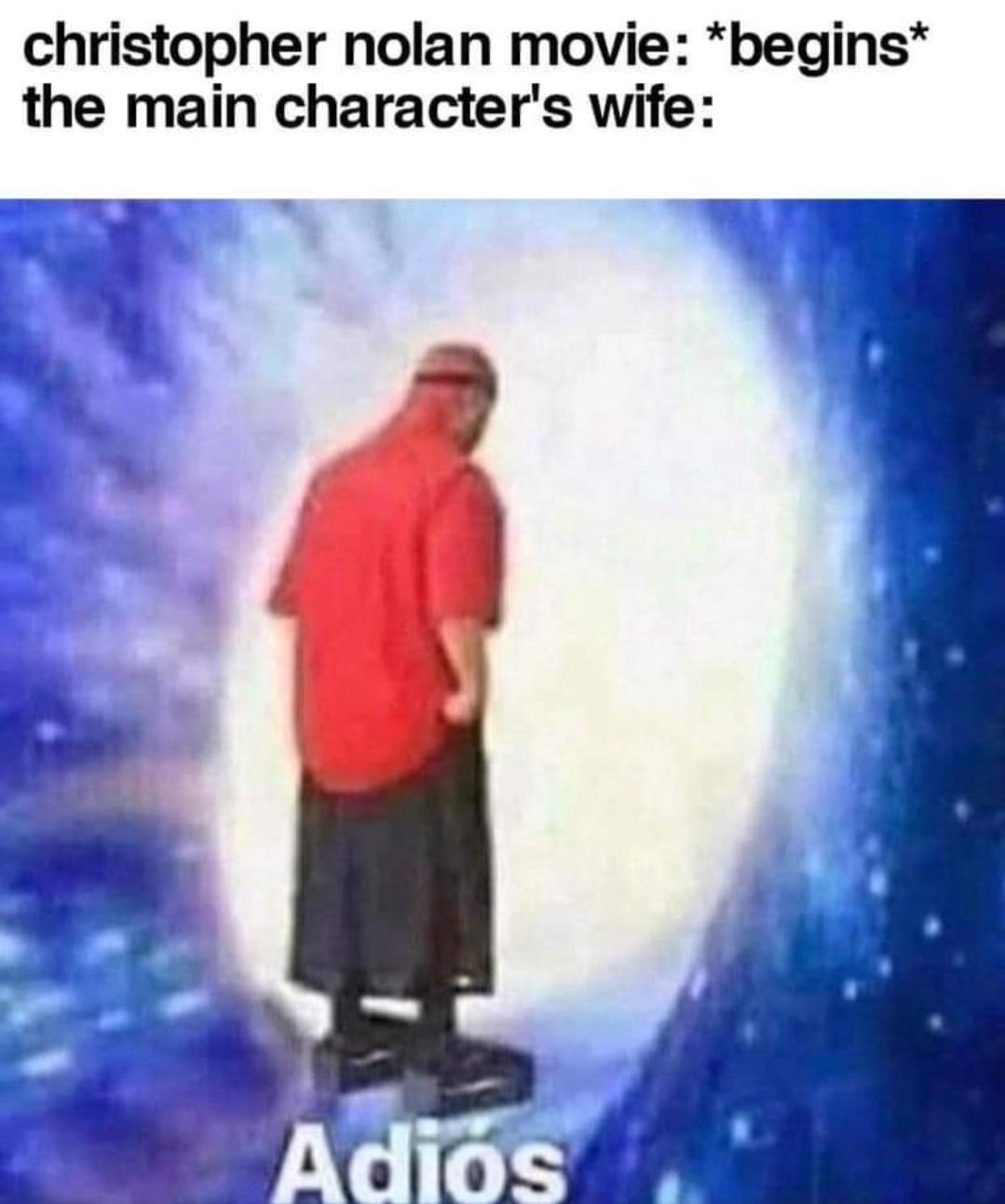 In Tenet, most of Elizabeth Debicki's role is literally limited to being a plaything between the protagonist and antagonist. In a display of some embarrassingly questionable screenwriting, the villain even goes on to shout at her, "If I can't have you, then noone can!".
Would Nolan even kill off Oppenheimer's wife in an atomic bomb explosion? That is yet to be seen. But yes, the quintessential Nolan movie would require a female sacrifice. 
Step 5: Serve it to a group of starving "Nolan bhakts"
In a country like India, Nolan is one of those directors who has a huge following of loyalists. These are the bhakts who might get triggered and bury you if you say something like "I couldn't understand Interstellar" or "Maybe, Nolan is a little overrated". Instead of fostering a space where everyone can like whatever cinema they want to, these elite cinephiles might act like Nolan's personal bodyguards and assassinate anyone and everyone who goes against their Supreme Timelord. 
So, in the end, when you do end up making your very own Nolan movie, the dish undoubtedly needs to be served to these bhakts. Even if they might not understand the recipe, they will just hog it down without a complaint and would then end up basing their entire personality on that dish. 
Anyway, I am Michael Caine and thank you for reading so far.