This July, Netflix debuted its Indian true-crime documentary series Indian Predator, the first part of which delved into the crimes of Chandrakant Jha, or the Butcher of Delhi. The sophomore season debuts on September 7, with India Today TV's digital vertical India Today Originals serving as producer of Indian Predator: Diary of a Serial Killer.
This season would focus on Raja Kolander, an alleged cannibal with a kill count of over 15 people. It was when he killed a journalist that his diary came to the forefront, revealing his previous crimes in shocking detail. 
How a journalist's death led to the killer's arrest: The story starts in Uttar Pradesh's Prayagraj (then known as Allahabad). Dhirendra Singh, a journalist working for a local Hindi daily called Aaj, went missing on December 14, 2001. When the scribe didn't return home for two days; SN Tripathi, the then Station House Officer (SHO) of the Kydganj township, got involved. 
Even though phone surveillance techniques were obviously not that advanced 20 years ago, Tripathi's team went on to track down Singh's mobile phone, from which a call was made to a landline on the night of December 16. This call was made to a household in Prayagraj's Chheoki neighbourhood, the landline being owned by a woman interestingly named 'Phoolan Devi' and her husband Raja Kolander. Chheoki was in Naini, a local industrial area that is regarded as Prayagraj's twin city.
While Phoolan Devi was a member of the local panchayat, Kolander used to work as an ad-hoc employee and a driver at a government ordinance factory. 
Eventually, Singh's investigation and the police interrogations led his team to a farmhouse in Naini. What the police found in the farmhouse and its vicinity were shocking to say the least. 
This is when Kolander made it to the headlines as he confessed to killing the journalist. But the media would continue to be obsessed with Kolander for what the police discovered later. 
Stealing and killing drivers was the first step before the murders: Apparently when the police raided the farmhouse, Kolander was running from the authorities in a Tata Sumo. His tryst with cars wasn't new as he used to run a gang involved in looting vehicles, with even the Sumo being one of his steals. 
But while the people under him might have assisted him for the money, Kolander's intentions were homicidal right from the start as he shot most of the drivers of these stolen vehicles.
Cannibalistic habits: Shooting in the back was the first step. Kolander's modus operandi included shooting and then cutting the victim's bodies into several pieces, much like Indian Predator Season 1's Chandrakant Jha. But while Jha used to dump the butchered remains outside Tihar Jail, Kolander preferred cooking some of the body parts. 
The diary recovered from his Naini farmhouse, the site of most of the killings, offers more graphic details of his cannibalistic tendencies. 
He apparently liked cooking and eating the brains of his victims. Once the juice was out of the skull, Kolander would then proceed to talk to the skulls, which he would later keep as trophies. 
Did Kolander eat brains to get smarter? Cannibalism has puzzled psychologists for a long time. While patterns of humans eating humans have been recorded for centuries, an underlying theme of sexual cannibalism can be noticed in the case of several serial killers. The notorious cannibal/serial killer Jeffrey Dahmer displayed tendencies of necrophilia with the bodies of his victims. Even the incriminating texts by actor Armie Hammer evoke cannibalistic desires from an erotic perspective. 
As for Kolander, his cannibalism was quite eccentric. Most of the body parts of his victims were dumped in the farmhouse and nearby water bodies. It's mostly the skull that fascinated him. Just take the case of his first victim Kalicharan Srivastava, a fellow worker at the ordinance factory. 
Srivastava fascinated Kolander, for he identified with the kayastha caste. The upper-caste, urban-oriented kayasthas have historically had the benefit of access to formal education and held administrative positions such as accountants, record-keepers, and scribes. For Kolander, a kayastha man would have immense grey matter. And that is why Kolander feasted on the 'brain soup' of Srivastava. 
Or was Kolander into cannibalistic rituals? While there is no clear evidence if Kolander indulged in any cult-like rituals, he clearly had a strange obsession with the skulls of his victims. The killer used to surround himself with these skulls and hold an adalaat (court hearing) of his own. A god complex is quite common in the behaviour of serial killers, and maybe Raja Kolander felt a similar high looking down on his cranial trophies.
In fact, his birth name was Ram Niranjan and he rechristened himself Raja (king). Similarly, Phoolan Devi was originally known as Gomati.
If the personal conversations with skulls weren't enough, Kolander would later paint the skulls and hang them by a thread on the branches of a tree outside his Naini farmhouse. His obssession with his victims' caste is evident from how each victim's caste or surname was written in the back of the skull, ranging from 'Srivastava' to 'Pandit' to 'Muslim'. 
Was this a part of a twisted human sacrifice ritual or just another display of Raja Kolander's apparent god complex? The answer remains unclear. 
But why did Kolander kill the journalist? According to Kolander's confession to the police, he claimed that Dhirendra Singh had caught a hunch of his illegal car trade and eventual killings. Before Singh could investigate any further, Kolander decided to get done with him for good.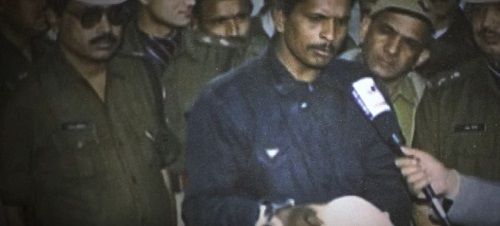 The killing of Dhirendra Singh was a collaborative attempt with his brother-in-law Vakshraj Kol. Kolander lured Singh into his farmhouse on that December night, with the two talking around a fire. Soon, Kol arrived at the scene and shot the journalist in the back with a desi katta (gun). 
Singh's body was disposed off by the duo as they dumped the remains at Rewa, Madhya Pradesh; some 130 kms from Kolander's Naini farmhouse. The aforementioned Tata Sumo (stolen from a murdered youth in Rae Bareily) was the getaway vehicle. 
What is Kolander doing right now? Even though Kolander was arrested in 2001, it took more than a decade for him to be charged with the murder of Dhirendra Singh. Even though skulls and bones were recovered from his farmhouse, he could never be charged with the killings despite the confessional narratives in his diary. 
On November 30, 2012, Raj Kolander along with Vakshraj Kol were sentenced for life with Dhirendra Singh's murder being classified as a 'rarest of rare' case. They were initially jailed in Naini jail, followed by a stint in Lucknow. Currently, the two are serving their sentence in a jail in Unnao. 
From the Indian Predator trailer, it is indicative that the documentary crew have got exclusive access to the killer, as the footage features a visibly-aged Kolander. 
Chunky Pandey's connection with the killer: Before the India Today Originals documentary streams on Netflix, the haunting lore of Raja Kolander was depicted in the Zee5 web series Abhay 2. The crime show starring Kunal Kemmu as a cop investigating heinous killings featured Chunky Panday as an antagonist in the second season. 
A shopkeeper by day and a serial killer by night, Panday's Harsh skillfully scalps the skulls of his victims and proceeds to eat their 'bheja soup'. The character is a clear reference to Kolander's culinary preferences. 
While these are the general facts of the whole Kolander saga, it will be interesting to see what new revelations Indian Predator: Diary of a Serial Killer will bring to the table. The documentary streams on Netflix on September 7.