It has been over two months since the jury ruled in favour of Johnny Depp but interest in the Amber Heard vs Depp trial is far from over. Some recently-unsealed pretrial court documents have made shocking revelations. Depp editing his own photos with injuries, Heard indeed cutting his finger, Depp submitting Heard's nude photos as evidence, and so on, are among the big revelations. 
In investigations and tweets shared by The Daily Beast and Marca, it is alleged that Johnny Depp's fans had apparently paid over 3,000 dollars to disclose the documents, hoping to get some dirt on Amber Heard. However, the tables turned as these papers reveal information that Depp would have most likely wished to keep private!
We look at 10 of the unbelievable revelations from the court documents.
Trigger warning: Mentions of sexual assault. 
1. Depp tried to use Heard's nude photos as evidence
In what seemed like a case of judicial revenge porn, Depp was ready to submit Heard's nude photographs as evidence in court. Depp even tried to expose photos from her brief stint as an exotic dancer before her acting career, with the hopes of implying that "Ms Heard was at one time an escort". The court eventually referred to Depp's attempts as "Irrelevant Personal Matters". 
2. Photographs were manipulated to show Depp's injuries
Even though Depp's legal team had alleged Heard to have reddened her face in photos to show abuse, the former seemed to have resorted to similar tactics. According to the court documents, "Mr Depp's produced photographs evidence the same issues. For example, Mr Depp's declaration relies on photographs of supposed scratches and bruises caused by Ms Heard. For one picture, the metadata has a Create and Modified Date of 7/24/2019, and the other picture has no Create Date and a Modified Date of 7/4/2020 which makes no sense if Ms Heard supposedly caused these marks." 
3. Marilyn Manson sought help from Depp
Singer Marilyn Manson has been accused by multiple women on grounds of being abusive, including his ex-fiancee and actress Evan Rachel Wood. Currently, Manson is seeking a jury trial alleging the same woman for defamation. But the aforementioned documents might be against his favour as they reveal his texts with Depp.
The texts include Manson referring to a partner called Lindsay as "I got an amber 2.0" and "I got a serious police amber type scenario with L's family. I'm f****** stressing. I don't know if you are back but I need asylum somewhere because I think the cops are headed my way (sic)." In another text, Manson even told Depp that he needs to meet his "new fan", an 18-year-old "meet and greet girl". 
4. Depp's lawyer tried to shush a witness
Laura Divenere was a witness on the case, who declared that she had indeed seen injuries on Heard's body. As this could have gone against Depp, one of his lawyers, Adam Waldman, allegedly intimidated Diverne into signing a declaration taking back her claim. A footnote from the leaked documents reveal, "These declarations were often obtained through threat and deception. Laura Divenere testified that she only provided a declaration after Mr Waldman threatened her with negative consequences if she did not cooperate with him, including perjury if she did not sign..."
5. Heard indeed cut Depp's finger 
The documents also include a deposition from Jenniffer Howell, an ex-friend and boss of Whitney Henriquez, Amber Heard's sister. Howell told the court that it was Henriquez herself who told her about Heard injuring Depp's finger, a longstanding matter of debate in the trial. To quote Howell from the documents, "...she [Henriquez] goes, 'She cut off his finger. She cut off his finger.' And then she bolted out the door and was like, 'I got to call somebody. I got to call somebody.'" 
6. A bottle as a weapon and Depp's erectile dysfunction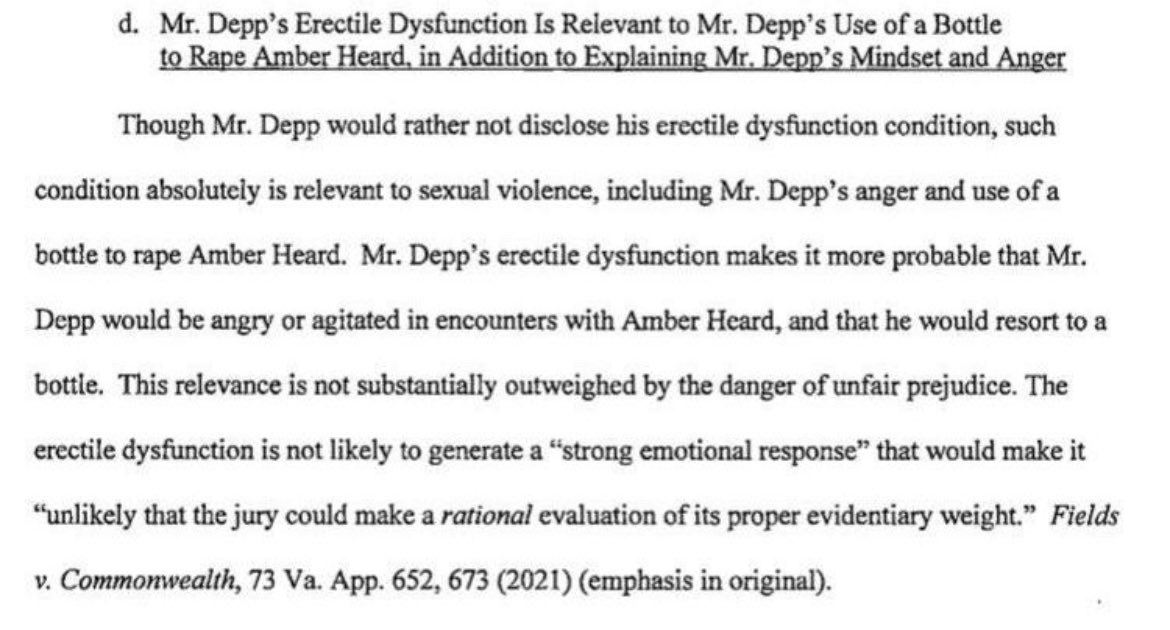 Claims of Depp's erectile dysfunction were also relevant in the trial given that there was an apparent attempt to engage in sexual violence with Heard with a bottle. "Mr Depp's erectile dysfunction makes it more probable that Mr Depp would be angry or agitated in encounters with Amber Heard, and that he would resort to a bottle," the documents read. 
7. Depp once claimed that Heard's actions didn't cause him emotional distress
The biggest argument that Depp's team and supporters made was that Heard's violent actions like cutting off his finger caused him psychological and emotional stress. However, it seems that at the start of the trial, Depp himself denied such claims. Initially, the documents even went on to add that "Depp is not alleging harm based on a specific physical or mental injury". Given that Depp's side changed the narrative later, why exactly would Depp be covering up at this moment? That is a question that remains unanswered. 
8. Heard's suspended license was discussed
In his efforts to show that Heard had a violent past, Depp tried using her suspended license as a case in point. He claimed that her license got suspended in her teenage years by weaving a narrative of vehicular manslaughter (as one of Heard's friends was killed in a car accident at that time). A ground check by the court proved that her license was actually suspended because of speeding tickets. 
9. Depp's team manipulated the audio conversations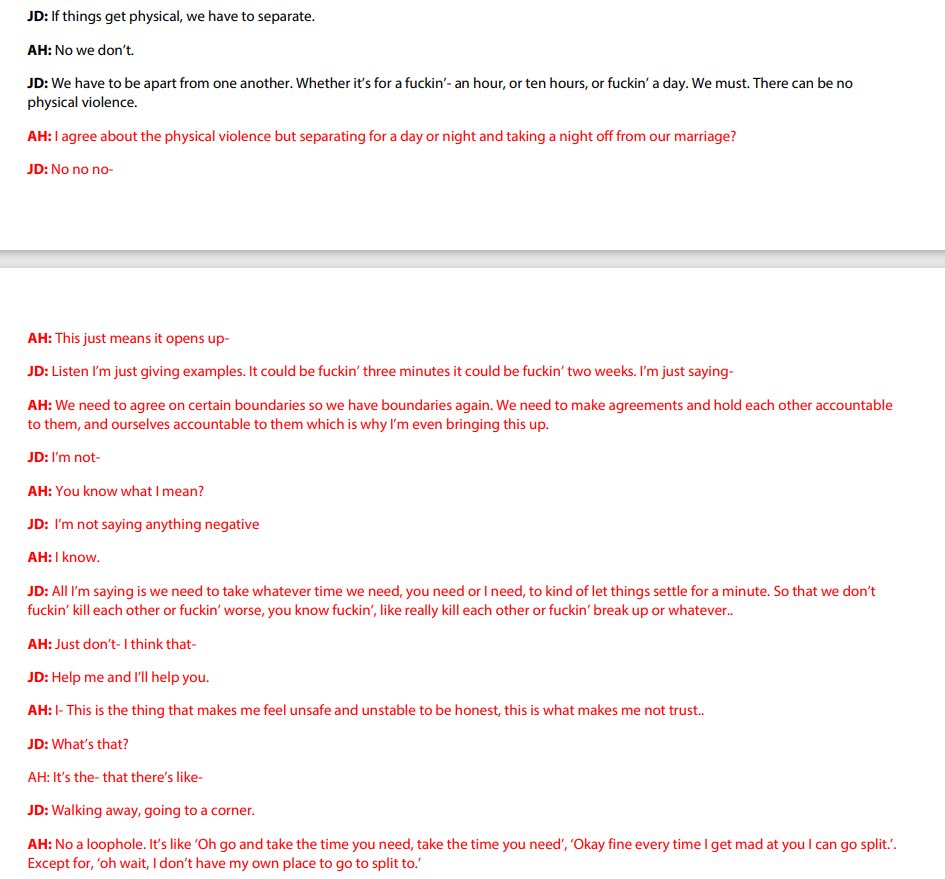 Be it in the US or the UK, both courts required Depp to produce audio and video evidence that included his arguments with Heard. While Depp did comply, the audio evidence seems to have been intentionally manipulated with some portions abruptly cut off. Most likely to have exposed Depp's own alleged abusive behaviour, these unedited recordings were still not provided to the court.
10. Paul Bettany's texts with Depp reveal homicidal intentions
Actor Paul Bettany and Depp apparently used to go on drug benders, which Heard opposed given Depp's struggles with sobriety. The texts between the two friends reveal their disdain for Heard with Bettany even calling her the "lesbian camp counsellor" to monitor Depp. More texts also revealed Bettany saying "Let's drown her before we burn her!'' following which Depp replied with the infamous text message, "I will f*** her burnt corpse afterwards to make sure she is dead".
As of now, the legal teams of both Heard and Depp have stayed silent with these exposed documents. But given the public access to this leaked information, this development can add a new direction to the trial.