Our worst nightmares have come true. Mindhunter is officially no more.
In an interview with French publication Le Journal du Dimanche, David Fincher announced the official end of his Netflix series, Mindhunter. The acclaimed director discussed the show which followed FBI agents profiling serial killers. Mindhunter premiered in 2017 and enjoyed two successful seasons. 
Despite years of speculation about a potential third season, Fincher had remained tight-lipped until now. It appears that he has definitively put an end to any hopes for the continuation of Mindhunter, much to fans' dismay.
"I'm very proud of the first two seasons. But it's a very expensive show and, in the eyes of Netflix, we didn't attract enough of an audience to justify such an investment [for season three]." 
- David Fincher in an interview with Le Journal du Dimanche
It's over
Netflix's Mindhunter was a gripping and intellectually stimulating television series that stood out for its exceptional writing, masterful direction, and superb performances. The psychological thriller, created by Joe Penhall and produced by David Fincher, explored the early days of criminal profiling in the FBI in the late 1970s and early 1980s and was based on the book Mind Hunter: Inside the FBI's Elite Serial Crime Unit written by John Douglas and Mark Olshaker. 
One of the key strengths of Mindhunter was its meticulous attention to detail. From the authentic set design to the period-accurate costumes, the show transported viewers back in time, immersing them in the world of the late 1970s.
The show's writers and directors went to great lengths to accurately depict the FBI's investigative methods and techniques, including the development of criminal profiling. This attention to detail created a palpable sense of realism that enhanced the show's suspense and drama.
Nuanced character development was another hallmark of Mindhunter's greatness. The show's main characters, FBI agents Holden Ford (played by Jonathan Groff) and Bill Tench (played by Holt McCallany), were complex and multi-dimensional.
A show to remember
Over the course of the series, viewers witnessed their personal and professional struggles, as well as their growth and evolution. The show's supporting cast was also richly drawn, with each character having their own unique personality and backstory. This attention to character development made the show's emotional beats more impactful and created a greater investment in the show's narrative.
Perhaps the most significant factor contributing to Mindhunter's exceptional storytelling was its profound exploration of human psychology. The show delved deep into the minds of some of history's most notorious serial killers, including Ed Kemper, Jerry Brudos, and Richard Speck.
Through interviews with these killers, Holden and Bill attempted to understand their motivations and thought processes, and in doing so, the show offered a chilling and thought-provoking commentary on the nature of evil.
The show's exploration of psychology was not limited to the killers, however. The main characters themselves were complex and flawed individuals, with their own psychological hang-ups and vulnerabilities. This focus on human psychology made Mindhunter a show that is both intellectually stimulating and emotionally resonant.
Mindhunter was truly great television. With its intelligent storytelling and unparalleled attention to detail, the series had most certainly earned its place as one of the best on television.
Internet reacts
It comes as no surprise that the Internet's response to its axing has been one of disappointment and frustration. Fans of the show have grown to love the show's intricate storytelling and character development, and have been left with unresolved feelings upon its abrupt ending.
Many fans have pointed out that the show's cancellation is a grave mistake on Netflix's behalf, as it has gained a dedicated following and critical acclaim. Mindhunter's complex exploration of psychology and criminal profiling has been lauded by audiences and critics alike, and has helped to redefine the crime drama genre. Many viewers have argued that the cancelling of such a unique and well-crafted show is a disservice to the art of storytelling.
Although the show's high production costs or comparatively low viewership numbers have been cited as potential reasons for pulling the plug, a petition has already surfaced online, calling for the show's renewal.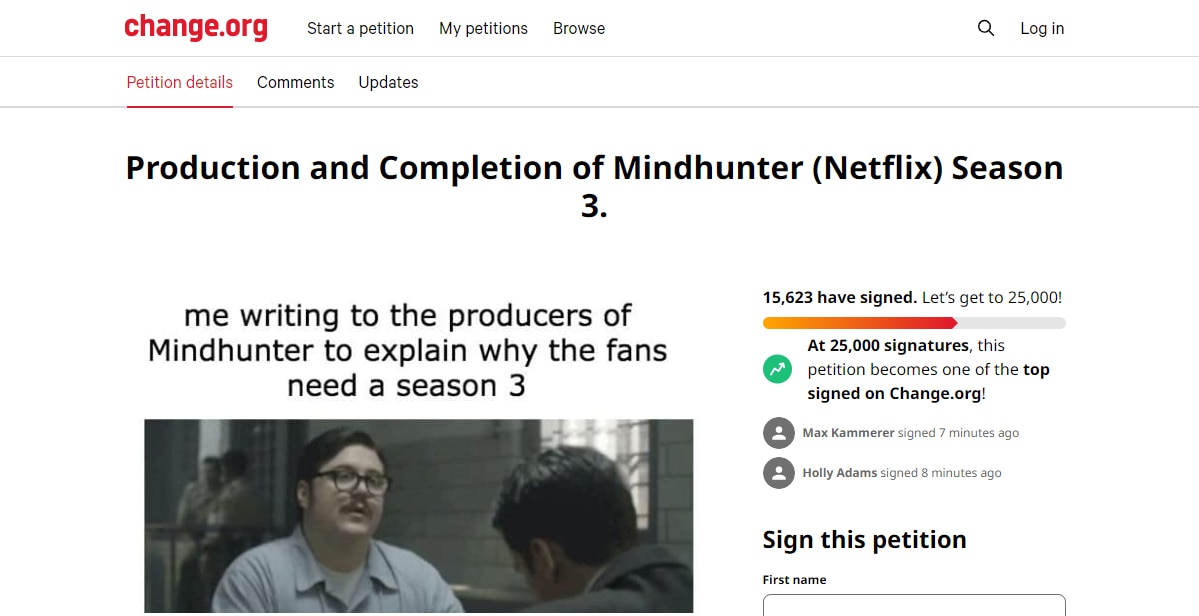 Though these continued attempts and pleas are starting to feel like efforts in futility. Perhaps one day, should we be so lucky, Mindhunter shall grace our screens once more.