The Legend is a Tamil film that has been trending on the Internet for all the meme-able reasons, joining the leagues of the worst movies of all time. Starring the owner of Tamil Nadu's popular shopping outlet Saravana Stores, the so-bad-that-it-is-good film proves that money can truly get you anything...such as your very own movie.
Who the hell is The Legend? Saravanan Arul was a rich kid who inherited his "daddy's business" of retail stores to get richer. The people of Tamil Nadu didn't complain as they got access to Saravana Stores, one of the state's highest-earning homegrown brands. With seven stores in Tamil Nadu, the family-owned business also plans to expand in Delhi, Mumbai and Bengaluru. 
However, for now, Saravanan has other plans. Christening himself as "The Legend Sarvanan", he has produced and starred in a film titled…*drumroll* The Legend! 
Even though he has earlier cast popular Tamil actresses like Tamannah Bhatia and Hansika Motwani for his store's commercials, he has now finally decided to step in front of the camera himself, at the age of 52. Caking himself with a layer of bronzer and dying his hair jet-black, Saravanan invited trolls right from the launch of the trailer. 
But trolls would obviously not deter a millionaire who has set out to achieve his dreams of being a movie star. So, what if he's 52? It is never too late to follow your dreams (only if you have a net worth of Rs 150-200 crore, or more, idk). 
Why is this different from the other superb "worst movies"? The over-the-top premise, the hammy acting, and just the sheer ridiculousness of it all easily makes it one of those bad films that you would want to watch with friends for movie night. When it comes to such flicks, there are certain levels of categorisation.
There are flops like Jaani Dushman and Himmatwala that have been made on a good-enough budget for a theatrical release. But as they bomb and generate negative reviews, they end up spawning a cult fanbase of their own. And there are the low-budget ones like KRK's infamous Deshdrohi (which he wrote, directed, starred, and produced in, and never stopped talking about, threatening people with even a sequel) and Ed Wood's Hollywood B-grade filmography that included some classic sci-fi and horror flicks from the 1950s and 1960s. 
A notable case in point is The Room, the romantic drama that unintentionally plays out as an absurd comedy. Immortalised recently with The Disaster Artist, the mysterious talent behind The Room was Tommy Wiseau who in the same manner as KRK, donned multiple hats of actor, director, writer, and producer. 
Even though The Room had the look and feel of a low-budget amateur production, the film was actually made on a surprising budget of 6 million dollars. The same can be said for The Legend, which has had shooting schedules in the Himalayas, flashy set pieces, a score by regular Tamil music composer Harris Jayaraj, and the appearances of some established South Indian actors like Nasser and Yogi Babu. 
But the final product? That seems straight out of an eighth-grader's fantasy.
So, what is The Legend about? The titular legend in The Legend is Saravanan unsurprisingly playing a man called Saravanan. But this time, the millionaire isn't a business mogul but the world's greatest scientist who is on his way to cure diabetes. But when his diabetic friend dies and a global pharmaceutical mafia strikes, Dr Saravanan seeks violent revenge and becomes The Legend.
He can fight in slo-mo, charm multiple heroines, and turn into a one-man army. Just look at the poster as a case in point. Instead of wearing a stereotypical labcoat or stethoscope, this doctor is wielding a sword like he's a Baahubali extra. 
Urvashi Rautela is in it too! Saravanan romances several women throughout the movie and Urvashi Rautela is one of them as she makes her Tamil debut. The model and actress's casting adds to the pan-Indian element as The Legend is also released in a Hindi dub. But her inclusion in this production is a cherry on the top as she seems to be the perfect fit. 
After an unimpressive career of Hindi flops, Urvashi Rautela's social media presence has still been on the rise. And her social media thoughts of narcissism seem to be a perfect match for her equally self-obsessed co-star Saravanan. 
The model who was crowned Miss Diva Universe 2015 (a contest by Femina India that selects candidates for Miss Universe) represented India at the Miss Universe pageant in 2015, unabashedly refers to herself as "Miss Universe x2" and "Maximum Beauty Titles Winner Record Holder" on her Instagram bio (no prizes for guessing that no one has - or has anyone? - counted the number of beauty titles to her account). 
Her posts are equally entertaining to browse through such as the hullabaloo she created for obtaining the Golden Visa. This long-term residence visa allows foreign talents or students to stay in the UAE while enjoying certain benefits. How does Rautela celebrate her Golden Visa? "FIRST INDIAN ACTRESS & YOUNGEST INDIAN TO RECEIVE 10 YEAR UAE'S GOLDEN VISA WITHIN 12 HOURS. AN ABSOLUTE HONOUR I FEEL SO GRATEFUL FOR THIS AMAZING RECOGNITION..."
Obviously, the legendary Rautela had to be the heroine of The Legend. 
Why can the movie be truly "legendary" for the future? But it is this bizarreness that is bound to make The Legend a cult hit for the future generations. There might be bad movies with bad actors but with future classics like The Legend, the confidence with which the makers execute their vision is worth noting. With every passing scene, the film's "cool" aspects turn into some fine displays of (unintentional) surrealistic comedy.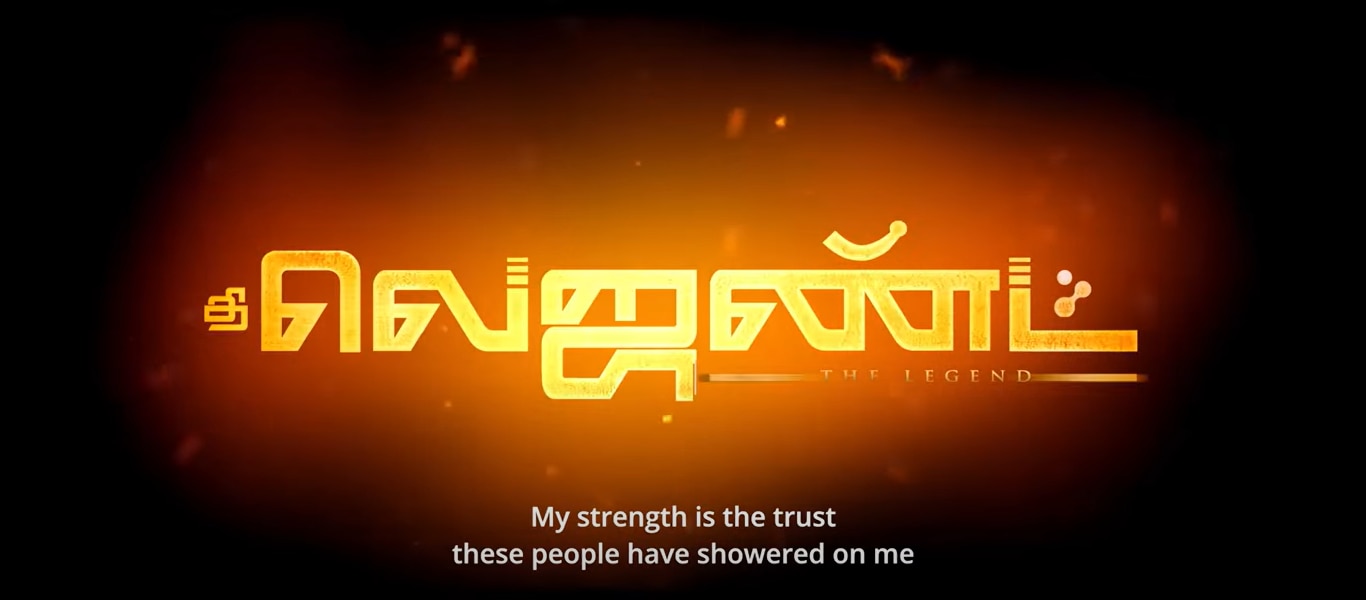 Dr Saravanan can turn the blackboard sketch of a woman into Mahatma Gandhi in one scene and then randomly ask a girl "What is trigonometry?" in the other. The film truly lives up to its name. In an era of Tamil and Telugu hits dominating the Indian box office with the 'pan-Indian' label, The Legend would be an interesting case study. 
As for Saravanan, he needs to be among some of the most interesting specimens of narcissism. Rich people like Jeff Bezos and Elon Musk might exploit their employees and go to space but they still can't be as cool as starring in your own film and becoming a legend!