Taika Waititi's Thor: Love and Thunder is earning big bucks across global theatres. The fourth installment in Marvel's Thor series stars Chris Hemsworth, Natalie Portman, Tessa Thompson and Christian Bale in the lead roles.
As of July 10, the movie has earned US $302 million (Rs 2,400 crore) worldwide, with Indian theatres contributing US $10.3 million (over Rs 81 crore) to the movie's earnings.
Based on its opening weekend collection, Thor: Love and Thunder has become the 11th best Marvel debut across the globe and has surpassed its predecessor, Thor: Ragnarok by 19%. Thor: Ragnarok's opening weekend earning was US $
The movie has had the 5th biggest opening day ever for a Hollywood movie in India. Other than in India, Thor: Love and Thunder has earned;
Korea: US $15.3 million (over Rs 121 crore)
United Kingdom: US $ 14.8 million (over Rs 117 crore)
Australia: US $13.8 million (over Rs 109 crore)
Mexico: US $11.8 million (over Rs 93 crore)
One of the reasons why the movie has earned over US $300 million is because of Bale's portrayal of Gorr, the villain of the movie. Many have been praising his facial expressions and calling him a better villain than Marvel's Thanos.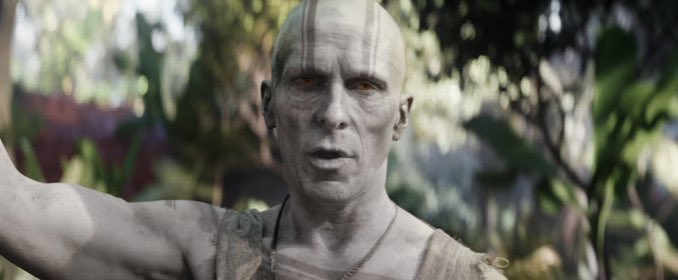 The movie also features Hemsworth reprising his role as Avenger Thor, Portman as Mighty Thor, Thompson as King Valkyrie and Russell Crowe as Zeus.
Thor: Love and Thunder released in India on July 7 in 6 languages; English, Hindi, Tamil, Telugu, Malayalam and Kannada. The story focuses on Avenger Thor's journey to inner peace, King Valkyrie's new role as the ruler of Asgard, the creation of Mighty Thor and Gorr, the God Butcher's introduction into the Marvel Cinematic Universe.