An upcoming superhero film on Batgirl was in the final stages of completion with a budget of over 90 million dollars, and what did DC do at the last moment?
Much like the controversies around Zack Snyder's Justice League and several other productions, the Warner Bros division devoted to producing stories from DC comics is in quite a mess to say the least. 
Batgirl's sudden cancellation: In an unpredictable slate of new releases, Batgirl was up for a 2022 release. The movie was set to introduce the titular superheroine formally in the DC Extended Universe (DCEU) with singer and actress Leslie Grace as the suited crimefighter of Gotham City. The high-profile cast would have included Brendan Fraser as the villain while Michael Keaton reprising his role as an aged Batman. In the director's chair was the duo Adil & Billal who were recently garnering acclaim for their work on the Marvel series Ms Marvel. 
Much like the four-hour-long original cut of Justice League and the comedy series Peacemaker, the American OTT platform HBO Max has been the home of several DCEU exclusives with even Batgirl planned for a Max release. And right when August started, production studio Warner Bros announced that the movie is to be totally scrapped off from HBO Max.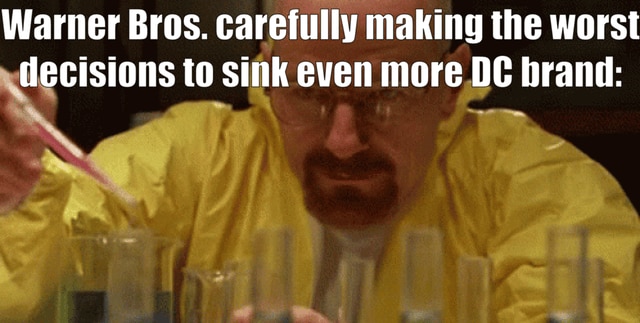 Why was Batgirl cancelled: This sudden announcement is connected to the merger that took place between Warner Media and Discovery, Inc (home of the Discovery Channel and other services) in April 2022. With Discovery's involvement, the multinational media conglomerate has been trying to cut down costs as is evident from the cancellation of not just Batgirl, but even other projects under Warner Bros Pictures such as Scoob! Holiday Haunt, the sequel to the animated Scooby-Doo movie Scoob.
The company's official announcement states that Warner-Discovery feels that the Batgirl movie would simply not work within the new trajectory the company is aiming for with its DC properties. CEO David Zaslav added that the company is now solely dedicated to making DC films as "big theatrical event films". Mixed to poor reactions from test screenings of the early versions seem to be another major factor behind the cancellation.
Competition from Marvel: Since the early 20th century, DC and Marvel have been the titans of comic book publishing. Even though DC's original characters broke out early, Marvel was quick to imitate several of these heroes and villains to make their own characters. Comic book purists might give DC the upper hand but it is obvious that in terms of films, Marvel has had a more planned and successful approach. 
Even with Disney acquiring Marvel Entertainment in 2009, Marvel president Kevin Fiege's vision of creating an interconnected Marvel Cinematic Universe (MCU) has broken box-office records and spawned new fandoms. With a slew of announcements regarding theatrical films and Disney+ shows at this year's San Diego Comic Con, Marvel shows no signs of stopping at all. 
DC, in comparison, could only give a few updates over two upcoming theatrical releases, Black Adam and Aquaman: The Lost Kingdom. The two films would still do good at the box office and might possibly earn positive reviews but DCEU clearly has a longer way to go than the MCU. The latter also has been receiving flak for stretching storylines and adding multiversal concepts in everything, but Marvel still has its set of loyal fans and appreciative critics. 
On the other hand, DCEU has had a rocky start. Man of Steel polarised fans and critics but Henry Cavill's take on Superman was still praised. Unfortunately, Cavill couldn't appear in any more standalone Superman movies due to failed contractual obligations and creative differences with Warner Bros execs. Barring the likes of Wonder Woman (and Aquaman to an extent), Batman v Superman: Dawn of Justice, Suicide Squad, Justice League and Wonder Woman 1984, were critical disappointments and paled in comparison to their MCU counterparts.
Injustice to Justice League: The Justice League was supposed to usher in the 'Avengers' moment for DC but all it did was bring a whole lot of controversy. Director Zack Snyder's original vision was considered to be too ambitious for WB with principal photography commencing from 2016. However, WB was disappointed with the early versions leading to creative clashes. With Snyder's daughter dying by suicide mid-shooting, the director completely left the project with Avengers filmmaker Joss Whedon filling in for him. 
However, the re-shoots under Whedon proved to be a hellish experience for the cast-members who had a soft spot for Snyder. Gal Gadot and Ray Fisher both alleged Whedon as well as DC executives like Geoff Johns for racist behaviour on set. Such factors lead to a very substandard finished product that dropped in theatres and added to DCEU's notoriety. 
It was only after constant fan petitions that Snyder's original version of Justice League was released as a separate movie on HBO Max last year, opening to more positive reviews. But by this time, it was too late for the DCEU to continue according to Snyder's vision. Zack Snyder's Justice League ended with a scope for more MCU-like stories and alternate realities to be explored only for WB to axe all of these ideas as they wished to pursue a new creative direction.
And all of this chaos happened in 2021, back when Warner and Discovery hadn't even merged! 
Even more cancelled projects: Other similar projects within Snyder's universe included New Gods, a prequel delving into the origins of extraterrestrial antagonists from Justice League. What was exciting was that Ava DuVernay was slated to direct the film, quite a bold choice for the studio to fight its previous allegations of racism. Directing movies like Selma and shows like When They See Us, DuVernay has been vocal about her socio-political leanings in her work and it would have been interesting to see her experimenting with comic book cinema. 
Similarly, Batgirl would have given DC more brownie points when it comes to diversity -- with a Dominican-origin heroine and two Muslim directors. Meanwhile, tokenistic diversity or not, Marvel is amping up its diversity game, drawing positive reactions for Ms Marvel that focuses on a Pakistani-American superheroine.
At the same time, it is interesting to see the new creative directions that Warner-Discovery will try taking when it comes to DC films. Black Adam and the sequels to Aquaman and Shazam seem to be quite formulaic as of now, while The Flash (which is expected for a 2023 release) has its own fair share of controversies. With The Flash lead actor Ezra Miller being accused of grooming and endangering the lives of minors, it is a surprise how the movie hasn't already been cancelled yet!
In the end, if DC is to battle Marvel's hegemony in the superhero genre, the parent company must sort out its internal conflicts and start on a new slate. Otherwise, what fans would get is just a long line of unremarkable releases and cancelled projects.