For every cricketer, representing their country in the World Cup is a dream. Nothing could be more aspirational for a young cricketer than showcasing their talent on this global platform.
The mega event not only propels a cricketer into the spotlight but also cements their position in the team. In the recently concluded World Cup, several young cricketers showcased breakthrough performances, leaving an indelible mark with their contributions to their respective sides.
Here are 5 players who surprised everyone with their exceptional performances in the World Cup:
Gerald Coetzee (South Africa)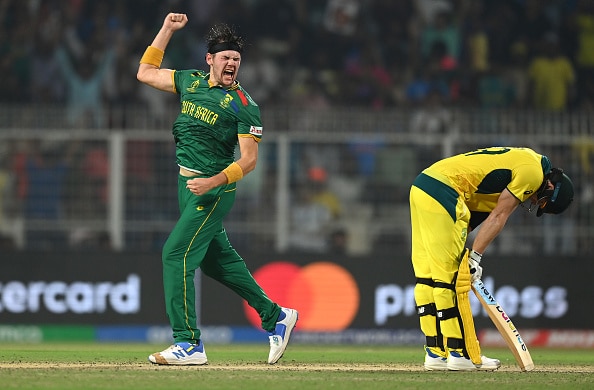 The 23-year-old right-arm pacer, who debuted in ODIs just eight months ago, concluded his World Cup campaign with 20 wickets in 10 matches.
Despite South Africa's World Cup exit after losing the semi-finals to Australia, Coetzee's impactful spell in the crucial match will be remembered.
Coetzee's remarkable performance, with a total of 31 scalps in 14 ODIs, ensures his probable long-term presence in the team.
Rachin Ravindra (New Zealand)
New Zealand's new sensation, 23-year-old right-handed batter Rachin Ravindra, ended the World Cup with 578 runs in 10 matches, boasting an impressive average of 57.8.
Ravindra's exceptional performance, including three centuries and two half-centuries, established him as the highest run-scorer for New Zealand in the tournament.
With Indian origins, Ravindra has gained recognition in India due to his parents' roots in Bengaluru.
Dilshan Madhushanka (Sri Lanka)
Despite Sri Lanka's challenging World Cup run, left-arm pacer Dilshan Madhushanka shone brightly, claiming 21 wickets in 9 matches, securing the position of the third highest wicket-taker in the tournament.
Madhushanka's standout performance, including a five-wicket haul against India, drew comparisons to veteran Sri Lankan pacer Chaminda Vaas.
With 31 wickets in 15 matches since his ODI debut in January 2023, Madhushanka is poised to be a cornerstone of Sri Lanka's bowling attack.
Azmatullah Omerzai (Afghanistan)
Afghanistan's Azmatullah Omerzai emerged as a prominent figure in the team, contributing significantly with both bat and ball, scoring 353 runs in 8 innings at an average of 44.12 and claiming 7 wickets.
Omerzai's multi-dimensional abilities have placed him among the key players for Afghanistan's performance turnaround in the World Cup.
His impressive performance is likely to attract attention in the upcoming IPL auctions, given Afghanistan's limited exposure to international cricket.
Abdullah Shafique (Pakistan)
A positive highlight from Pakistan's World Cup journey, Abdullah Shafique, the charismatic right-handed batter, made a noteworthy start by scoring a century (113) in his debut match against Sri Lanka.
Despite a few stumbles, Shafique concluded with 336 runs in 8 matches, exhibiting promise in Pakistan's batting lineup, primarily led by Babar Azam and Mohammed Rizwan.
If nurtured by the PCB, Shafique holds the potential to become a pivotal figure in Pakistan's batting arsenal, addressing the team's long-standing need for consistent batters.