The controversies around the Qatar World Cup are so widely covered these days that even the official anthem this year went under the radar. Featuring the vocals of American rapper Nicki Minaj, Colombian reggaeton artist Maluma, and Lebanese singer Myriam Fayes, Tukoh Taka is an upbeat pop number that was released on November 18 as the World Cup anthem.
What's Tukoh Taka about? The trilingual track (English, Spanish, and Arabic) features the phrase Tukoh Taka repeating in its chorus, an Arabic equivalent of "knock knock" or "click clack". Some observers on the Internet are also comparing the title to the football technique of Tiki-Taka that's characterised by high-intensity short passes, working the ball through various channels. The move was popularised by the Spanish football team and FC Barcelona. 
As for the music video, the celebration takes place in an arid landscape, showcasing the Qatari environment. In fact, the video's setting might be all too familiar for Nicki Minaj who shot a similar video in a Mad Max-like environment for her 2014 hit Hey Mama. 
Fayes, who is often compared to Shakira for her dance moves and appearance, gyrates her hips throughout the video in a slightly-revealing outfit; an ironic contrast for the host country issuing stadium guidelines like "avoiding excessively revealing clothes in public. It is generally recommended for men and women to ensure their shoulders and knees are covered" (as per a statement by Qatar Tourism). 
Twitterati are comparing it with Waka Waka and Wavin' Flag:  For the generation that grew up with Waka Waka, Tukoh Taka is quite a letdown.  Depending upon the listener, Myriam Fayes's chorus of "tukoh, tukoh taka, tukoh tuh, ta-ta, Tukoh tuh, ta-ta, tukoh tuh, ta-ta'' would come across as catchy or merely annoying.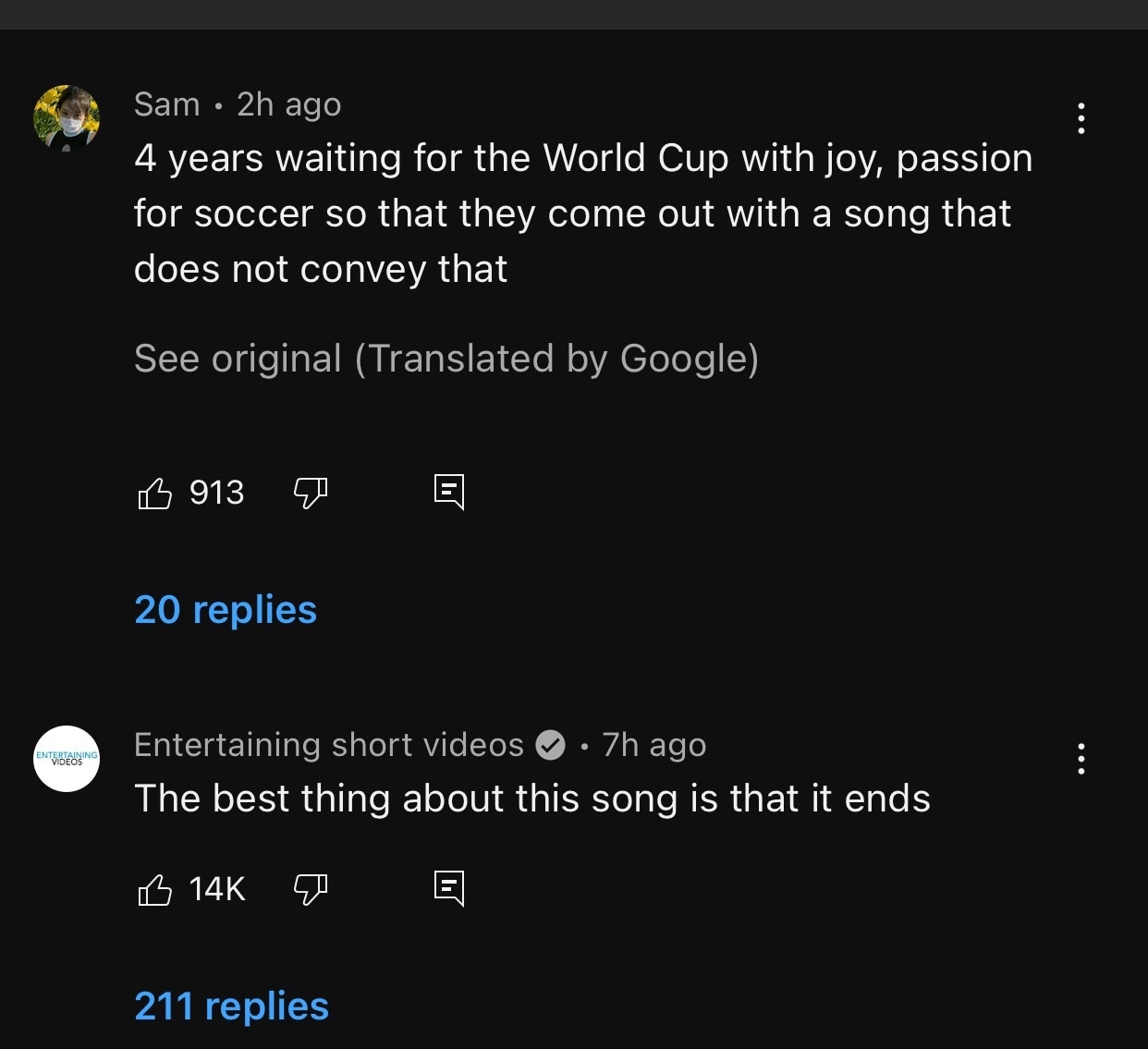 Even Nicki Minaj who once dominated charts with Starships, Super Bass, and the controversial Anaconda can't make much of a mark with her verse that includes lines like, "Some say football some say soccer".
While Nicki Minaj "fan armies" are celebrating the track, some of the FIFA fans who are still stuck in the past are eagerly defending Waka Waka as the best FIFA song. And with the Shakira song turning into a cultural phenomenon, this claim might be arguably true 12 years after the song debuted for the 2010 FIFA World Cup in South Africa. 
Just to clarify some matters, every World Cup usually releases an official anthem and an official song (while there are no strict guidelines around this). So, while Waka Waka is often regarded as the anthem of 2010 World Cup, it actually was the official song with the anthem being Sign of a Victory by R Kelly (yes, the singer-turned-pedophile who we better not talk about). However, if there was another song that could rival Waka Waka, it would be that year's Wavin' Flag by Somali rapper K'Naan. The ones hating on Tukoh Taka are also crowing K'Naan's track as the best FIFA song now. 
So, it is not surprising to find that both Waka Waka and Wavin' Flag have been trending on Twitter since the past few days. So, even though Tukoh Taka currently boasts 14 million views on YouTube right now, the love for the 2010 songs still reign strong.
But, then again, Waka Waka wasn't entirely original: The ones defending Tukoh Taka are claiming that idolising Shakira for Waka Waka is unjust given how the song itself took uncredited inspiration from the Cameroonian song Zangalewa by the band Golden Voices (who also renamed themselves to Zangalewa later). 
You can read more on a more detailed story we did back in September that breaks down the controversy. To put it in a nutshell, the entire chorus of Waka Waka was taken from Zangalewa without crediting the original artists. It was an online campaign that finally forced FIFA to settle the matter out of court with the band in 2010, releasing a statement that reads, 
"The song was written by Shakira, the world-famous singer from Latin America…The chorus is similar to that of a popular Cameroon song made famous by Golden Voices in particular."
A look at FIFA songs after 2010: Even though the 2014 Brazil World Cup assembled artists like Pitbull, Jennifer Lopez, and Shakira (yet again), none of the songs could equate the replay value of the 2010 singles. In fact, when Pitbull and JLo dropped Ole Ola (We Are One), the official World Cup Song for the tournament, Brazilians themselves seemed to complain that the song lacked a "Brazilian feeling''. 
A better alternative from that year would be the relatively underrated World Cup Anthem from that year- Darum Jeito (We Will Find A Way), a Latin rock and electronic collaboration between the late Swedish producer Avicii, legendary American guitarist Carlos Santana, and Haitian singer Wycleaf Jean (who mainstream audiences would recognise from Hips Don't Lie).
Russia's 2018 World Cup toned down the celebration with just one official song, the forgettable and generic We Are One by Nicky Jam, Era Istrefi, and out of all people, Will Smith who raps out the same, old, cliched lyrics on the world coming as one for football. 
To quote some of Smith's lines, "One truth, no fears. One flag, oh yeah. We've been waiting for this all year. Where y'all at? We're right here!"
While K'Naan evoked similar themes of global unity in Wavin' Flag, Live It Up just faded into obscurity once the tournament ended. The only other major song to come out of the World Cup in Russia was Colors by Jason Derulo, marketed as the Coca-Cola promotional anthem. 
What are the other songs from the Qatar soundtrack? Coming back to the present, Tukoh Taka was preceded by several other songs the most major of which would be the highly-anticipated Dreamers by Jungkook of BTS. 
The K-Pop star's appearance at the opening ceremony itself garnered much controversy (especially in the wake of artists like Dua Lipa cancelling the ceremony for Qatar's human rights violations) but his song for the tournament, Dreamers, obviously managed to satisfy most of the BTS "Army" members with some even finding it much better than Tukoh Taka. 
Other entries on the tracklist include Hayya Hayya (Better Together), Arhbo, and Light the Sky (that features Nora Fatehi for some reason alongside multinational singers from Morocco, Iraq, and Dubai).