The Ashes, one of the most prestigious tournaments in the cricket world, has captivated fans for nearly 140 years with its fierce rivalry between England and Australia. However, the origin of the tournament's name, which refers to the residual remains of something burnt, may leave one wondering.
The birth of the Ashes
The term 'Ashes' can be traced back to England's historic defeat at the Oval in London in 1882, marking Australia's first-ever victory over England in a cricket match. England was bowled out for a mere 77 runs, and Australia triumphed by a narrow four-run margin.
The humiliating loss brought immense criticism upon the English cricket team, and it was figuratively deemed 'dead.'
In response, 'The Sporting Times,' a newspaper at the time, published a mock obituary for the 'dead' English team, humorously declaring that the ashes of the team would be taken to Australia for cremation.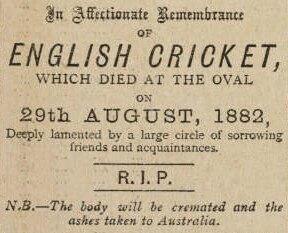 Consequently, the subsequent Test series between the two sides came to be known as the "quest to regain the ashes."
A few weeks later, during England's tour of Australia, English captain Ivo Bligh was presented with a small terracotta urn as a symbol of the Ashes he had vowed to reclaim. This presentation took place after a social match near Melbourne on the eve of the cricketing events in 1882.
Following England's victory in two out of the three Tests, a small urn was bestowed upon Bligh by a group of Melbourne women, including Floren Murphy, whom Bligh would marry within a year. Humorously, the contents of the urn were said to be the ashes of an Australian cricket bail, symbolizing 'the ashes of Australian Cricket.'
The original Ashes urn is now housed at the Marylebone Cricket Club, located at the iconic Lord's ground in London. The victorious team in the Ashes series receives a replica urn as a symbol of their triumph.
A storied rivalry
To date, there have been 72 Ashes series. Out of these, Australia has emerged victorious in 34, England in 32, and six series have ended in a draw.
The Ashes of 2023: Who will prevail?
In the current Ashes series, England and Australia have engaged in a closely contested battle. England, having been bowled out for 273 runs, set a target of 281 runs for Australia.
As the match enters its final day, Australia is aggressively pursuing the target, having reached 107 runs with the loss of three wickets. However, play has been halted due to rain.
The cricketing world eagerly awaits the outcome of this thrilling contest to determine the winner of the Ashes in 2023.