15 years of Aishwarya at Cannes and we get purple lips?
She's no Rihanna or Lady Gaga, so why try to be one suddenly?
When you're considered as the world's most beautiful woman, you have two options - to either let that stop you from being yourself and succumb to everyone's idea of how you ought to be, or go out and show everyone how you march on your beat alone.
Aishwarya Rai Bachchan doesn't do either.
While her past two trysts at Cannes Film Festival - the world renowned film festival that's somehow more popular for its red carpet sashays than the various movie screenings - showed Aishwarya finally finding her inner fashion voice, this year she was back to doing what she unfortunately does best, or rather worst.
Her fans and PR machinery may like to think she "slayed" or "rocked" the red carpet this year but it wasn't a pleasant sight seeing such a gorgeous woman so obviously not herself.
Aishwarya Rai in Cannes 2014.
For those who don't know, this year marked Aishwarya's fifteenth consecutive appearance at Cannes as the global brand ambassador for a cosmetic giant. Through the years, we've seen her struggle through many fashion faux pas; yet she's been brave enough to never give up or stop experimenting.
You may not agree with her sartorial choices but you have to laud her spirit - even if she isn't being herself, she's on the red carpet trying to prove otherwise. Sadly for her though, it doesn't work as often as she'd like it to.
And this year's stint was again one of those unfortunate ones. Boring colour choices, horrible fits and overtly experimental eye make-up, there was a whole lot of wrong with Aishwarya's looks.
I've always wondered just how difficult can it be to make that stunning face look good?
Take the case of Blake Lively, for instance. Pregnant and beautiful, she too sashayed at this year's Cannes with multiple looks in her closet. And not once did she err. In fact, she was easily one of the best dressed celebrities. That's simply because she chose to be herself, keeping in mind her personality and not try to prove a point.
All Aishwarya had to do was to be true to herself like she was, say, back in 2014 in those fantastic Roberto Cavalli gowns. But alas, she fell prey to crazy experimentation that is just not her style. Better luck next year, Ash?
Let's take a look at Ash's looks this year:
1. For her first walk down the red carpet this year, she chose an embellished Ali Younes Couture golden outfit with an attached cape. The outfit per se wasn't so bad; it was the fit that was a problem.
The outfit was alright but the fit was a problem.
When something makes you look bigger in size and hugs your curves in a not-so flattering way, it's always a problem. Neither did the cape fall on her shoulders like it should have. Plus, the blue eye make-up was so not needed - it wasn't Aishwarya's comfort zone and it was so obvious!
2. Her next outing in a red Naeem Khan gown with a fringed top half and ruffled lower one was not too bad to be honest.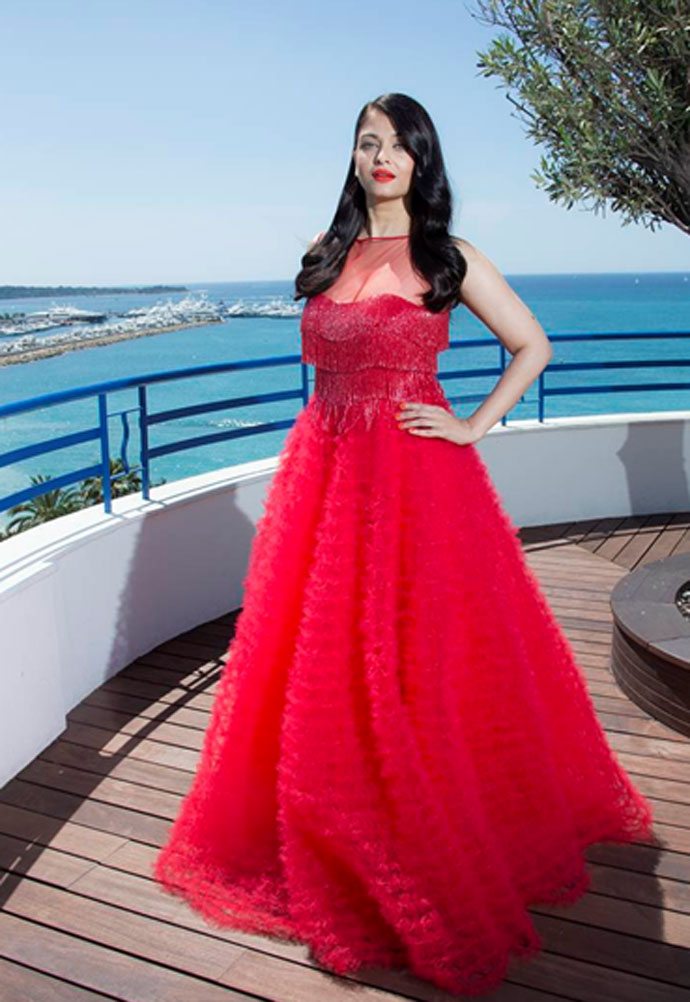 In a red Naeem Khan gown.
Just that the colour red is way too safe and never looks striking. Remember Katrina Kaif's overdose of red last year?
3. Her second walk on the red carpet was in another shimmery gown, this time from Elie Saab Couture. It would've been interesting had Aishwarya not been going the shimmer way for the past couple of years.
While the gown was pretty, yes, and I especially love the lip shade, it didn't look anything particularly remarkable. This one at least fit her well though.
Aishwariya Rain wearing Elie Saab Couture.
4. Her latest movie Sarbjit premiered at Cannes this year and to talk about it to the press, Aishwarya arrived in a Rohit Bal anarkali with a embellished jacket on top with some truly intricate and marvellous detailing. She also wore a fantastic neckpiece and everything together looked fantastic. This one, I have to admit, was a winner.
This one was a winner.
5. Lastly, we're on her third walk down the red carpet. Yes, it's the one with the purple lips that have got Ash a whole lot of flak online and a major amount of trolls. Some even said she looked like she kissed some hobbit before arriving on the red carpet. Ouch!
Aishwarya just does not have the personality to pull it off.
The problem here is not the floral Rami Kadi gown - it's boring, yes, but certainly not bad. The big err here are the lips - Aishwarya just does not have the personality to pull it off.
She's the classic beauty, one who's demure, pristine and elegance personified. She's no Rihanna or Lady Gaga, so why try to be one suddenly?
The views and opinions expressed in this article are those of the authors and do not necessarily reflect the official policy or position of DailyO.in or the India Today Group. The writers are solely responsible for any claims arising out of the contents of this article.