As teenagers, we'd invariably be linked to someone of the opposite sex.
Sheepish giggles and conversations via one's eyes would be read as a crush. The last pages of notebooks would be pulled out to put a seal of approval over the alleged 'relationship' over a game of FLAMES — like a friendly version of kundalis being matched.
We've come a long way since, however. We now know and accept (if we don't yet, then we most definitely should) same-sex relationships with as much respect as a traditional heterosexual relationship that culminates in marriage. LGBTQIA is not a jumble of letters from the English alphabet — it is life and a life choice.
But when it comes to the expression of one's sexuality, now having both means and general awareness could be a double-edged sword. One example of such a sword is the term 'autosexual' — a person who is in love with themselves, both sexually and platonically, which is beyond just narcissism or self-love or a loner who will always excuse themselves out of that weekend party citing a headache.
Picture Geet from Jab We Met and add a generous dose of Poo from Kabhi Khushi Kabhie Gham. Now stop picturing Kareena Kapoor Khan and understand the character concoction that this comingling results in — a person who is not only 'her favourite' but who also genuinely admits that she is drop-dead gorgeous — 'tumhe koi haq nahin banta ki tum itni khoobsurat lago!'
What's wrong with that?

Aren't we all autosexuals by that logic?
"Yes," admits Dr Rajan Bhonsle, consultant in sexual medicine and counsellor. "In fact, we are all born autosexuals and most of us remain so, even through supposedly normal heterosexual relationships like marriage — where our personal sexual gratification is more important than our partner's pleasures, where we simply use each other's bodies to masturbate through intercourse, because climaxing is what we're aiming at."
"I am in love with the shape of me!" (Source: A still from Padmaavat/Instagram/Ranveer Singh)
That, right there, explains tones about most of our exes. But more on that later.
So, bottom line, we are all narcissists — err... autosexuals? Well, yes and no.
Both terms have their roots in mythology — Greek and Indian, respectively. According to Dr Rajan Bhonsle, Vigyan BhairavTantra, a discourse between Shiva and Parvati, broadly about Tantric meditation methods or centring techniques, first talks about autosexuality as a human trait we are all born with.
But that's where the similarity ends.
While narcissism has a negative connotation — and a more disastrous end — autosexuality doesn't necessarily need to be that. If it is healthy, it's great — it is only when self-love metaphorically pushes you off the edge and into a pond, that you know it's water above your head.
Love thyself. But in moderation. (Source: Narcissus/Wikimedia Commons)
Dr Minnu Bhonsle, consulting psychotherapist and relationship counsellor, has a simple explanation.
"In an aeroplane, the cabin crew will always tell you to wear the oxygen mask yourself, and then offer help to others. It is not a selfish act. It is just equipping yourself to be there for others."
In bed, unless you know what works for you, sexual dissatisfaction will only lead to frustration.
And that is a critical juncture. Knowing what you want and going for it, without taking the pleasure of your partner into consideration, is the very definition of being selfish in bed.
The opposite end of the spectrum is what autosexuality is erroneously interpreted as in today's 'Instant' generation — a ticket to stay away from commitment, and just people in general.
Both of these may pose a threat to our mental, physical and sexual wellbeing in the long run.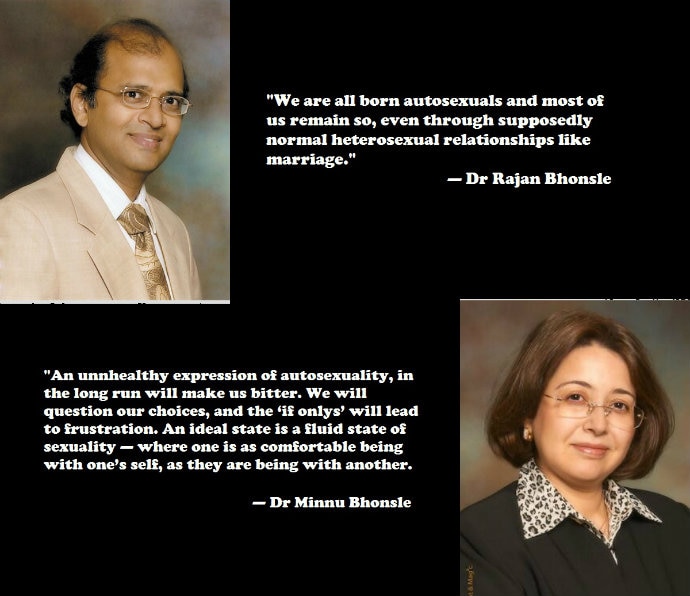 And the experts speak. (Source: DailyO)
The impetus behind autosexuality needs to be questioned — if it is a result of a series of failed relationships and just built-up stress in one's personal life, it is unhealthy. "In the long run we will become bitter, we will question our choices, and the 'if onlys' will lead to frustration," explains Dr Minnu Bhonsle.
Alright. I've cancelled my plans of turning autosexual. There.
An ideal state is a fluid state of sexuality — where one is as comfortable being with one's self, as they are being with another.
For that, one needs to be aware, understand and analyse their sexual predicament, even if that means seeking counselling.
But there are individuals who have gotten engaged to themselves. They're planning to get married to themselves — that's how much in love they are with themselves.
"That is a bit excessive," Dr Rajan Bhonsle scoffs, "Doesn't that reinforce the idea that marriage is the obvious direction a happy relationship should head to?"
Now, that is fair. If autosexuality, and various other expressions of sexuality, stem from a very modern and more accepting, understanding school of thought, putting a stamp of 'marriage' as the ultimate goal for any relationship — hetero, homo or auto — seems to be defeating the purpose.
So being in an autosexual relationship with yourself is a fine idea — as long as you're not using it as an excuse to not meeting people, or because it sounds cool and woke, or because your ex was, well, like everyone's ex.
If Dr Minnu Bhonsle can cite the oxygen mask as a metaphor, dare we add our own?
It's like drinking — to drown your sorrows vs to enjoy the highs.
The former leads to an illness called alcoholism — the latter means you have a buzzing social life!