India is set to witness the swearing-in ceremony of Prime Minister Narendra Modi and his council of ministers today, along with a highest-ever 8,000-strong gathering of guests for the function.
But all everyone can talk about is 'Dal Raisina' — the signature dish to be served at the dinner tonight, hosted by President Ram Nath Kovind after the ceremony.
"I never thought this Dal Raisina would become the signature cuisine of Rashtrapati Bhavan! I always assumed it would be one of the non-vegetarian creations such as Raan-e-Ali Shaan, fish tikkas or galouti kebabs because people usually go for meat dishes," says Chef Machindra Kasture, National Tourism Award winner and Executive Chef of The Ashok.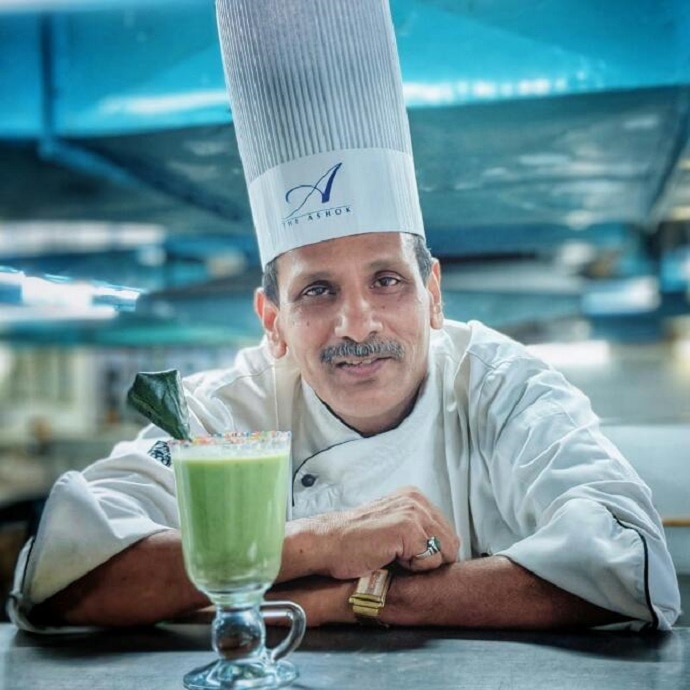 Chef Kasture created the Dal Raisina when he was working as First Resident Chef under President Pratibha Patil. (Photo: DailyO)
Kasture whipped up this delicacy almost a decade ago, when he was First Resident Chef of Rashtrapati Bhavan. He created Dal Raisina in fact at the behest of former President Pratibha Patil.
"I think it was in 2010. We used to do a lot of innovation in the kitchen then — Madame President used to encourage it. I wanted Rashtrapati Bhavan to have a speciality. Each hotel has its own signature dish. So we also wanted something that would be specially served only here," he says, reminiscing today.
The chef, who has been a part of the Presidential kitchen for eight years, spanning the tenure of President Pratibha Patil as well as President Pranab Mukherjee, also shared how the dal he created was conceived of as a wholesome meal for guests. "I used to think about what could be a universal food that is eaten by everybody? So, I thought that since dal is a high protein source and served with rice that is carbohydrates, it would be a perfect meal because in India, all our ministers and dignitaries eat it, it is a dish familiar to all — and it is healthy too."
Remarkably then, daal, which is known across this huge nation, loved by diners across all classes of society and religious groups in the country, became the star dish at Rashtrapati Bhavan on Raisina Hill, the magnificent home to India's first citizen. Perhaps nothing could be a greater tribute to the simplicity of millions of Indians, whose taste reflects today even in the imperial grandeur on Raisina Hill.
Often described as a variant of the Punjabi favourite Maa Ki Daal, Chef Kasture says that Dal Raisina is actually different because 'Maa ki Dal is made with maa ka pyaar!' But, jokes aside, Dal Raisina actually has the seriousness of government interactions itself. It has a distinctive, profound preparation style — one that seems to have caused a fair flurry recently when present Executive Chef to the President of India, Montu Saini, reportedly revealed that the dal would take 48 hours to prepare.
"Cooking time differs from chef to chef. Everyone has their own cooking style — and for this dal, it's true, the cooking process is time-consuming. He is making the dal and everything is the same, only the style of cooking is different on a low flame," explains Chef Kasture. It's still relatively easy to make, and Chef Kasture explains later how you can savour the Presidential dal in your own home.
With such a simple origin, it is easy to understand Chef Kasture's continuing surprise that this dal has become the favourite in India's Presidential menus.
He mentioned that former President of America, Barrack Obama, sampled Dal Raisina twice, once in 2010 and then again in 2015, as well as savouring his non-vegetarian creation, Raan-e-Ali Shaan. Any compliments? The chef smiles gently and says, "We don't really get compliments or such because working in a sensitive place such as the Rashtrapati Bhavan, if everything goes well, that in itself is a great compliment."
He is a member of Le Club des Chefs — an exclusive circle of culinarians employed by leaders around the world.
And despite the demands of convention and official-dom placed upon such kitchens and creations, Chef Kasture has quite a few signature dishes to his credit. Our former presidents have sampled delicacies such as apple jalebi, sitaphal halwa, beetroot kebabs, dahi-daniya ke vadi and various types of koftas, like anjeer and khubani, made by him.
Which dish would he have called his most exciting? The chef says, "The Patrani Machchi is a very nice preparation that is made with green chutney, cashew nut paste, wrapped in banana leaves and then steamed. There is no oil. It was an awesome item — and it was always liked by most of the ministers."
It's light and oil-free: Little wonder Patrani Machchi was a favourite dish of many Indian ministers. (Photo: Saffron Fix/Facebook)
But the buzz remains over Dal Raisina. Even though he still can't believe it, the constant congratulatory phone calls and interview requests have forced Chef Kasture to accept that he has indeed made a masterpiece in a country of passionate foodies.
Dal Raisina is made in the President's kitchen. It can be, in yours too! (Photo: Spice Cravings/Facebook)
Soak un-split, whole Urad dal and Rajma for around 8-10 hours overnight. Then, wash it 3-4 times and put it on flame after adding a sufficient quantity of water. Let it boil for 30 minutes and then add ginger-garlic paste to it.
On a slow flame, keep cooking, stirring and then at regular intervals, add butter, fresh cream, garam masala and tomato puree to it. Finally, give a kasturi methi flavour and continue to cook for a few hours till the dal gets a semi-liquid, velvety consistency.