Eid ul adha: No sugar but spice and everything nice, 'salty Eid' is all about food and more
Eid ul zuha or Bakr Eid is a day marked with slow-cooked savoury meat dishes and fluffy naan, rotis.

DailyBite
Food is the backbone of most Indian festivals and Eid ul adha is no different. For a festival commemorating sacrifice, Bakr Eid, also known as 'salty Eid' is not one about celebrating at the cost of your appetite.
Eid-al-fitr maybe is this festival's sweeter counterpart but Bakr Eid honours Prophet Ibrahim and his willingness to obey God's command, so much so that he was ready to sacrifice his own son on his command. However, as the legend says, before Ibrahim could do so, God offered a lamb up for sacrifice instead. Keeping with the tradition of lamb meat is the mainstay of Bakr Eid menus.
No feast is complete without biryani but this Eid try some of the staple Bakr Eid meat cuisines. (Photo: Reuters)
Kebabs, biryanis, korma and haleem are the usual mainstay delicacies on this day, you must try out these iconic cuisines to truly experience Eid ul zuha:
Nalli nihari with khameeri roti
Slow-cooked lamb or mutton stew with khameeri roti is the ideal breakfast on Eid ul adha. (Photo: Zomato)
While naan and tandoori rotis are a staple accompaniment for most meat dishes, you must try the khameeri roti to experience true bliss. This Mughal bread is often paired with nalli nihari, a slow-cooked stew prepared with lamb/goat/beef shank and bone marrow. Historically served for breakfast, now, you can have this dish any time of the day and even return for second helpings!
Roast lamb
Roasted lamb shank is a Middle Eastern delicacy served on the 'salty Eid'. (Photo: Meat and Livestock Australia)
Roasted lamb is a dry cuisine often prepared with a yoghurt-based marinade. Often served with sides such as samosa, roasted lamb is mainly eaten with steamed rice or naan.
Kaleji masala (Liver fry)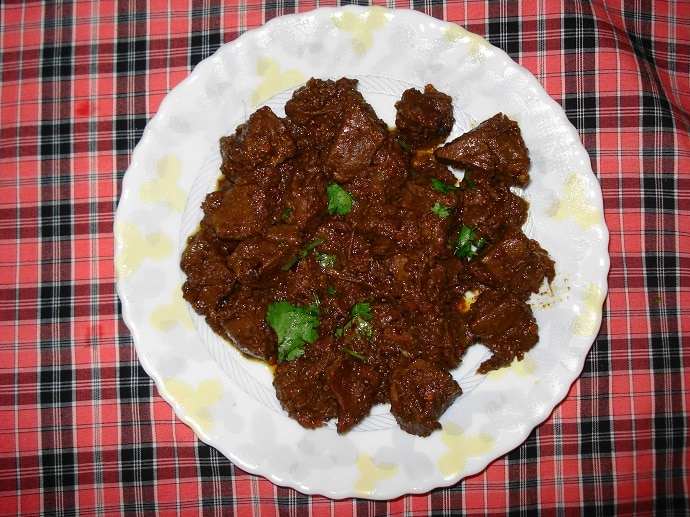 A healthy and delicious cuisine, kaleji masala can be served as a curry too. (Photo: Wikimedia Commons)
Fried liver or kaleji is usually eaten in the morning with rice or baked bread such as naan, paratha or roti but can also be served for lunch. It is a spicy, flavourful semi-curry cuisine made with mutton liver.
Mundi ka saalan (Goat head curry)
Adventurous foodies can try out the traditional goat head curry. (Photo: Wikimedia Commons)
Not for the faint-hearted foodies, mundi ka saalan is a curry, sometimes semi-dry, prepared with goat, cow or lamb head. It is a special Eid ul adha recipe keeping with the tradition of utilizing every part of the sacrificial animal.
Sheer khurma
You can end your meaty feast on a sweet note with sheer khurma. (Photo: Wikimedia Commons)
Even though 'salty Eid' is all about savoury dishes, no feat is complete with a sweet closure. Sheer khurma is a richer variation of the popular seviyan dessert using vermicelli, milk, sugar and even dates as well as dry fruits.
Also read: Sacrifice doesn't only mean killing an animal: Why I'm vegan on Eid and every other day