Golden sands, magical sunsets, delicious local food, laidback locals. A few minutes in Goa are all it takes to transport city-weary tourists to their happy place.
But all the same reasons that make it the ideal getaway also make it the ideal hideaway. Not just for those looking to escape the prison that is daily life, but also for those looking to escape real, actual prison - the kinds with cages.
Scratch beneath the surface and it doesn't take a detective to tell you that something is rotten in the state of Goa. It has become difficult to ignore. Just last week, Arvind Kejriwal, campaigning for AAP in the state, held forth about the nexus between politicians, drugs, and police corruption, decrying Goa's status as hub for sex tourism.
When people ask why I set my latest book, Goa Undercover, a murder mystery, in Goa, I reply, 'Why not?'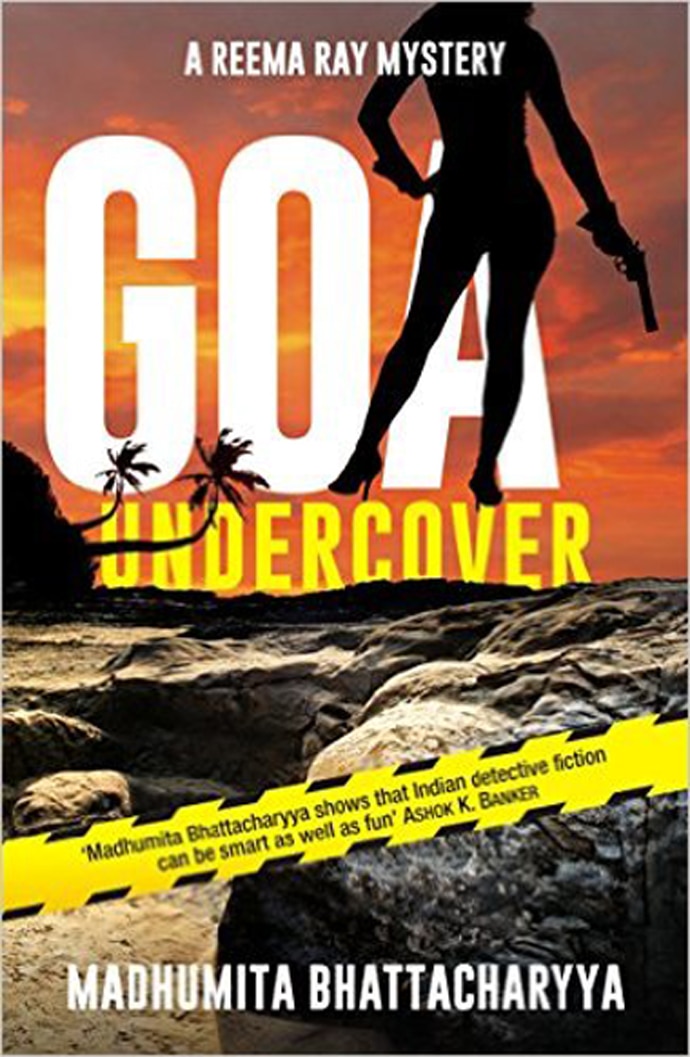 Goa Undercover; Pan Macmillan; Rs 194 (Paperback)
Those with a closer relationship with Goa know that the seamy side has been on show all too frequently of late. Which is bad news for those of us who love the place, but it also makes it a ripe source for inspiration.
Where else in India do you have large tracts of sparsely populated land where everyone appears to be foreign and almost no one mingles with the locals? Where else is anonymity almost guaranteed?
Goa, with a resident population of less than 2 million, had a total traveler count of over 5 million last year, of which over 500,000 were foreign, mainly Russian and British. Amidst this mass of strangers, how hard could it be to melt away?
And then there is the demand side, because, let's face it: not everyone wants to go to Goa to kick back, dress down and laze on the beach. It is also a place to get high, party till the sun rises, have a little fun on the side. No one needs to know about it.
After all, what happens in Goa stays in Goa.
Such desires never go unfulfilled. The ready market, and the casual complicity of everyone in the system make Goa the perfect place for criminals to not only hide, but also thrive.
If you follow Goan news, accounts of Nigerian gangs having run-ins with local law enforcement have become a regular feature. There was blood in the streets in 2013, when a Nigerian was killed over alleged turf wars.
Much bigger, though perhaps more discreet, are the Russian and Israeli 'gangs'. Russians stay out of the headlines by only selling amongst themselves, living in 'Little Moscow'- the Morjim, Ashvem, Arambol stretch, and by keeping the local powers-that-be, allegedly, in the loop.
In 2014, Goa recorded the highest number of crimes against foreigners - and also by foreigners in India.
That is 73 crimes against, and 27 foreign nationals arrested under - you guessed it - the Narcotics and Psychotropic Substances Act.
While high in absolute terms, given how many visitors stream into sunny Goa every winter, it is still a remarkably safe place to holiday.
It's not just now. Something about Goa's expansive, open arms has always drawn criminals to it.
O'Coqueiro now has a plaster statue of Sobhraj, sitting at a table, reading a book, with chains.
It was at O'Coqueiro, in Porvorim, that serial killer Charles Sobhraj was believed to have orchestrated his own capture. He escaped from Tihar jail in 1986 after a 10-year stint inside, landed up in Goa and sat at the restaurant, apparently calmly eating Chicken Cafreal, waiting for the cops to come and get him. It is believed by some that this was his way of extending his stay in Indian jail, where he lived a VIP lifestyle, rather than risk extradition to Thailand, where he would have almost surely been executed.
If Goa is welcoming to criminals in the flesh, it isn't ashamed of cashing in on them either. O'Coqueiro now has a plaster statue of Sobhraj, sitting at a table, reading a book, with chains around his ankles.
Such adulation, perhaps, has prompted other criminals to follow in his sizeable footsteps.
Ajay Kaushal, on the UK's most wanted list, was charged to 15 years for assault and kidnapping. He fled to Goa, where he was, quite by accident, discovered in 2009 when his roommate died under strange circumstances. He was arrested and, the year after, died in lock-up.
Though the fugitive lifestyle ended badly for Kaushal, for others, getting caught has been less deadly. 'Notorious history-sheeter' Michael Fernandes escaped from Aguada Jail in 2013, his sixth escape from custody in Goa.
In an unrelated incident, three prisoners, including one named Hitler, who, it just makes good sense to keep a close eye on, escaped from a jail bathroom. Some Israeli drug dealers got away during an arrest by pepper spraying their police escort.
The message is clear: commit the crime today; if you happen to be caught, tread lightly, with an open hand and pockets filled with cash, and, chances are, you will be out tomorrow and free to do as you choose once more.
If things go south, at least you can expect a statue to be erected for your troubles.
Beach paradise, criminal paradise. Who says one place can't be both?