Yes, Gujaratis are mostly vegetarian. But they have the best winter food
From NaMo to Isha Ambani, this winter is warmed by news of Gujaratis. But how do Gujaratis keep warm through the chill months? Through their delicious cuisine and their wise use of seasonal vegetables.
Winter has arrived — and with it comes a change in our diet. In India, we consume food according to the seasons and the availability of different vegetables, grains and cereals. In Gujarat, a large variety of winter foods form part of the diet mainly due to the plentiful availability of green vegetables during this season. Also, Gujarat is a state with 67% vegetarians, so there is a 'whole lot of variety of vegetarian winter foods being made in homes and in restaurants.
The most well-known and popular winter vegetarian dish is undhiyu — a special mixed vegetable preparation which is known across India, especially in Western India. Vegetables are plentiful here from November to February, so there are a lot of vegetarian dishes made throughout the whole winter season, like thotha, methi thepla, green tuvar or green pigeon peas with eggplant and papdi, green kachori and fresh turmeric among other things.
Undhiyu, the iconic vegetable dish that spells winter! (Photo courtesy: Rushabh Purohit)
Many Gujarati homes make special winter vegetable preparations daily, using green tuvar dana or pigeon peas and methi leaves or fenugreek leaves. Kalpana Purohit, who has been in the restaurant business for 22-plus years, along with her son Rushabh Purohit, spoke to me about winter foods in her house. She said, "From November to February we make green tuvar peas daily in some form or the other. Similarly, we consume methi leaves daily, either in thepla or in vegetable preparation. Till these foods are available in the market, we consume them daily to get lots of proteins and vitamins in our diet."
Kalpana Purohit's restaurant 'Purohit Thali' makes many winter vegetables and combo meals which they serve in their modest outlet. These include Tuvar Ringan nu Shak (pigeon peas and eggplant), Undhiyu, Methi Thepla, Baigan Bharta ane Bajra No Rotla, fresh turmeric and Amba turmeric preserve, Mula Dhokli, Vagharelo Rotlo and Sev Tameta Nu Saak (sev and tomato vegetable).
Apart from undhiyu, which originated in South Gujarat, the other dishes include various preparations using green tuvar peas in many different ways — there is, for instance, green kachori which has green tuvar stuffing in it. Also, a very popular dish made from green peas tuvar is thotha. This is a spicy preparation made out of green tuvar, which is eaten with bread after garnishing it with raw onions and some spicy green chutneys.
It is an extremely spicy preparation!
Thotha is green, lean and spicy mean! (Photo: Veg Indian Recipies)
In Ahmedabad and neighbouring districts, 'Thotha parties' are organised, where people participate with enthusiasm. Also, as soon as fresh turmeric is available, people eat finely cut fresh turmeric which comes in two varieties — mustard or orange-coloured turmeric, and Amba turmeric, which is lemon yellow in colour and has a slight mango-like taste. These are cut and preserved in salt and lemon juice and eaten daily. It's healthy and believed to ward off any cold and other diseases due to its antiseptic properties.
Another widely eaten preparation is made out of green garlic, which is cut and just fried in ghee with a little turmeric powder and salt. Again, it is very healthy.
Apart from methi theplas, Gujaratis make methi gota, (pakodas), methi tuvar and eggplant vegetable and it is also added in undhiyu as methi muthiyas. In winter, Gujaratis eat a vegetable called mogri — which looks like purple-coloured thick noodles. It's eaten after lightly frying it. Also, mogri raita can be made. This vegetable is also available only in winter.
The purple-coloured vegetable is available only in the winter. (Photo; Twitter/Bijal Shah)
From the various grains, bajra is said to build warmth in the body, so bajra rotlas are eaten in the winter season with various seasonal vegetables, along with ghee and jaggery — all of which add body warmth. Considering that it doesn't get very cold in Gujarat, barring the desert region of Kutch, there sure are many winter preparations to keep warm.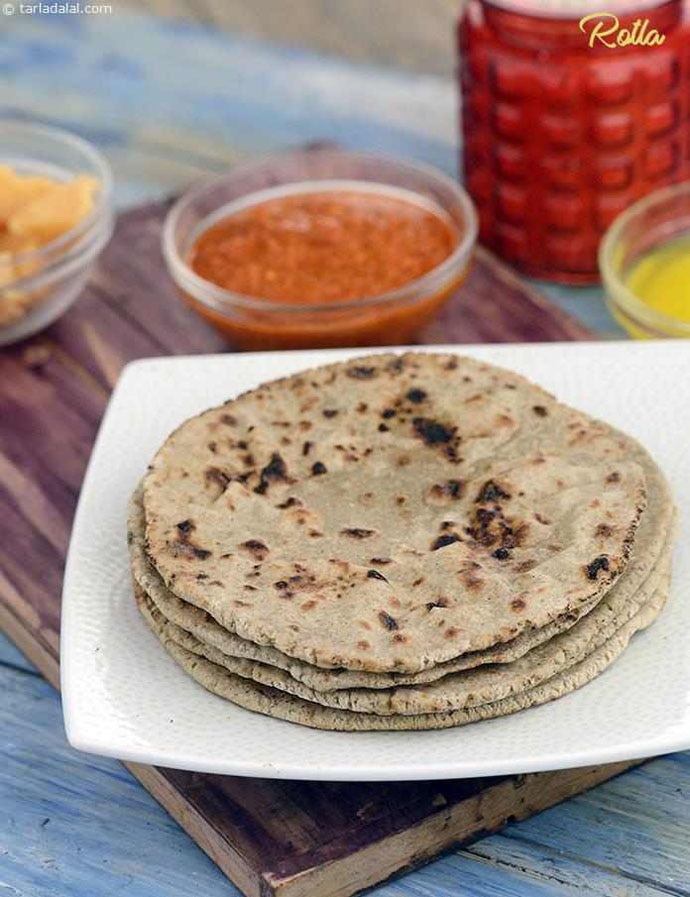 Eaten with ghee and jaggery, bajra rotlas add to body warmth in the winter. (Photo: www.tarladalal.com)
But the king of all winter foods in Gujarat is the undhiyu.
Since it originated in South Gujarat, the people there make the traditional undhiyu, but as one goes up north and in the Saurashtra region of Gujarat, one gets to see different variations of this delicacy — which traditionalists often frown on.
Restaurateur Himanshu Desai, who owns and runs Sandwichworkz in Ahmedabad, is from Navsari in South Gujarat. Mr Desai says, "Undhiyu is originally a dish from South Gujarat and we are very particular about the ingredients and the recipe. Also, all the vegetables used in undhiyu are grown in South Gujarat, where it rains heavily. In other parts of Gujarat, some of these vegetables are not found, like Surati papdi, which is best if procured from Katargam village near Surat."
Mr Desai explained that in Surat, people make undhiyu regularly in the winter months and share it with the neighbours, as it is impossible to make this dish in small quantities. Unlike in South Gujarat, in Ahmedabad and other some parts of North Gujarat and Saurashtra, undhiyu is consumed by almost all, during the very popular kite-flying festival Uttrayan that falls on January 14 each year.
In Ahmedabad, on Uttrayan, everyone is on their terrace flying kites, and then for lunch, they must eat undhiyu along with puri and jalebi, so one can see long lines outside eateries to buy undhiyu. Many families make undhiyu at their homes as well.
In Gujarat, kites, jalebis and undhiyo go together. (Photo: PTI/wikimedia Commons)
Another variation of undhiyu which is made in the tribal area is Ubadoyu, also called Matla Undhiyu. In this dish, all vegetables, root vegetables, bean and leaf vegetables are mixed with masala and oil and put in a terracotta pot and sealed up. This is then put upside-down in an open area and cooked with leaves, twigs and other wood. Mr Desai explained that Ubadoyu is a dish which needs to be cooked outdoors. This is then eaten with different types of chutneys mixed in it.
In Vadodara, one can also get a non-vegetarian undhiyu with chicken added to the dish — but that is strictly a variation which is made for meat lovers. It does not have wide acceptance.
Would you like to try an Undhiyu? Well, here's how you can!
Surati Undhiyu
Recipe (recipe by Kalpana Purohit)
Preparation time: 1 hour-1.15 hours
Cooking time: 40 minutes
Serves: 10-12 persons
Ingredients
Surati papadi (Flat beans) (best available from Katargam near Surat) - 500 gms
Green Tuvar dana- 250 gms
Green peas- 250 gms
Papdi Dana- 250 gms
Valor Dana- 100 gms
Ratalu (Purple Yam)- 500 gms
Sweet Potato-500 gms
Small baby potatoes- 250gms
Raw Bananas- 2 large ones
Egg Plant- 150 gms
Ripe Banana- 2 medium
Methi dumplings- 250 gms
Green garlic- 100 gms
Green chillies- 100 gms
Coriander – 100 gms
Fresh Coconut- 3 tbsps
Ginger- 25 gms
Lemon- 2 medium sized
Oil- 200 gms
Hing (Asafetida) - ½ tsp
Salt- to taste
Turmeric powder- 1 tsp
Dry Coriander seed powder- 2-3 tbsp
Sugar- 2 tbsps (or lesser if too much sweetness is not preferred in a savoury dish)
Ajwain (caraway seeds) - 1 tsp
Ingredients for Methi Muthiya
Methi leaves (Fenugreek leaves)- ¾ cup leaves
Wheat flour- 1 cup
Gram flour- ½ cup
Salt- ½ tsps (Or to taste)
Sugar- 1 tsp
Green chillies- 1 medium sized
Oil to fry
Method
To prepare the Muthiya:
Fine chop the washed Methi leaves. In a bowl put Methi leaves, wheat flour, gram flour, salt, sugar, green chillies. If necessary, add 1-2 tablespoons of water to bind all this into firm dough. Be careful to add little water to ensure you have firm dough.
Rub your palms with a little oil and make small cylindrical shaped muthiyas about 1-1.50 inch long.
Heat oil and fry them all, 8-10 at a time. Keep aside for later.
For the Undhiyu preparation:
Split the Surati Papdi into two.
Shell all the beans - Peas, Tuvar, Valor, Surati Papdi beans. (If shelled beans are available, use 100 gms of each bean except Valor, which you need 50 gms of)
Cut Sweet Potato, Yam and Banana into one inch squares.
If the baby potatoes are too big, cut into half.
Cut the eggplant vertically in two deep cuts at right angles so that it can be stuffed with the green stuffing which will be made later.
Enjoy this tasty dish with puri or roti. One can also eat it by itself. (Photo courtesy: Rushabh Purohit)
Fry the Sweet Potatoes, Yam and Raw Banana till almost done but keep it firm. Set aside for later use.
For the stuffing and the green masala, grind all the green garlic, green chillies and ginger into a paste.
Add in a bowl fine cut coriander, grated fresh coconut, the ground green paste, 1 tsp turmeric powder, 2-3 tablespoon dhania powder, salt, sugar and lemon juice and mix this up.
Stuff the eggplant with the green stuffing.
Separate the remaining green masala into two portions.
Now to make the Undhiyu, take a large broad-based thick bottomed vessel and heat the oil on medium heat.
Add Hing and Ajwain seeds when the oil heats up.
Add half of the green masala when the Ajwain crackles and stir for one minute.
Add the Surati Papdi and all the beans in this mixture, mix well and add one glass of water.
Let it come to a boil, then lower the heat to simmer and cover a lid on top of the cooking vessel and let the Papdi and the beans cook for 10 minutes. Stir once or twice in between.
After ten minutes, add stuffed eggplants and stir gently.
Cook for 5 minutes, and then add the fried vegetables and the remaining green masala. Stir and let it cook for another 5 minutes.
Check to see if the egg plant is cooked well.
Once all the vegetables are cooked, add the fried Muthiyas. Push them inside so that they submerge in the vegetable gravy. Let it cook for two minutes and switch off the flame.
Remove the Undhiyu in a bowl. Cut the ripe bananas and add it on top. Stir the bananas into the Undhiyu before serving. (Ripe banana can be totally omitted from the cooking if one doesn't like a sweet fruit in a savory dish.)
Garnish with cut green coriander leaves before serving.
----------------------------
Enjoy this tasty dish with puri or roti. One can also eat it by itself.
Do note — Gujaratis like to have Jalebis as a sweet dish after Undhiyu!
Also read: Why an Amritsari is automatically a connoisseur of great food
The views and opinions expressed in this article are those of the authors and do not necessarily reflect the official policy or position of DailyO.in or the India Today Group. The writers are solely responsible for any claims arising out of the contents of this article.