Why I undertook the Kailash Mansarovar Yatra: And what I learnt on the journey of my soul
Seeking the Lord in His home in Mount Kailash is an experience that can only be felt and seldom described.
Breathtakingly spectacular sights, mystical mountains and lakes — and healing energies. The Kailash Mansarovar Yatra offers all of this in plenty.
I am blessed and humbled to have experienced this in my lifetime.
While writing this piece, words may not flow easily, but the love and reverence in my heart for Lord Shiva certainly flows.
Born in a family where religion took precedence over other things, spirituality and religiosity came easy to me. My grandmother, a deeply religious lady, was my first teacher of Hindu Gods and Holy Scriptures. As a five-year-old child, it was a routine for me to sit with her every day, early in the morning, while she recited the Ramacharitmanas to me, and the Sunderkaand recitation took place in the evenings. She ardently worshipped Lord Shiva and Lord Ram.
And I followed in her footsteps.
I can still recall the day when I first heard about Kailash. Over 35 years ago, it was my father's cousin who had gone for the pilgrimage. And it was then that I got to know about this incredible life-changing yatra.
Little did I know at that point that I was destined to undertake it decades later.
The more I identified myself with my faith, the more intrigued I became to learn about the Almighty. I once asked my grandmother, "Where does God reside?"
And her answer was "At Kailash Parvat."
Since then, it has been a dream, a deep desire to visit the Holy Mount Kailash.
Slowly, this dream gave way to an intense devotion for Lord Shiva.
Although in Hinduism, we worship many Gods and Goddesses, it is Shiva who has no Aadi (beginning) and no Anth (end). Yes, he is one amongst the Hindu trinity that includes Brahma and Vishnu. But he is the Supreme itself and Supreme of them all.
I worship all Gods. I worship Rama, I worship Krishna. But I see my Shiva even in them. That's how I relate to the divine. This connection that I had with him was the sole reason why I was coveting to visit the transformative folds of Kailash Parvat for as long as I can remember. The abode of my Shiva was miles and miles away from me.
But visiting it was always on my mind.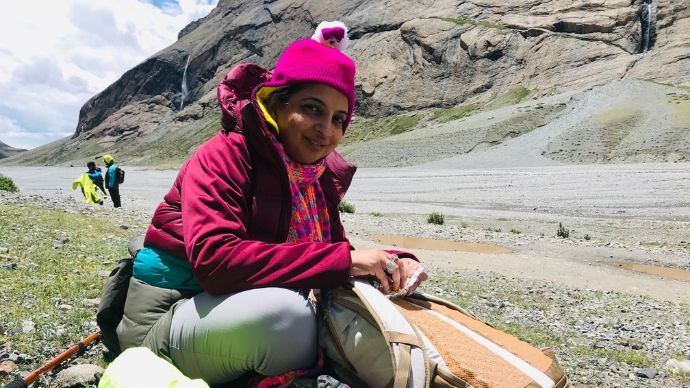 Not an easy task: I knew trekking over the demanding terrain,in extreme climatic conditions would be challenging. (Photo: Sadhavi Khosla)
However, I knew that trekking the demanding terrain of rocks and glaciers in extreme climatic conditions is no mean feat. So, to get accustomed to the high altitude, I undertook the Amarnath Yatra in 2013.
During the past decade, I did all my research on Kailash Mansarovar Yatra. I read several blogs of all those pilgrims who were fortunate enough to visit Mount Kailash and Lake Mansarovar and shared their experiences online. My research also made me contact various travel agencies that organise the Kailash Mansarovar Yatra. In fact, in the past five to six years, I talked to so many agencies that I wonder if I missed contacting even a single one. The urge to visit the pillar of the world was palpable. The only hitch was the lack of like-minded company.
No one from my family had that inclination or devotion to go on a pilgrimage that involved such an arduous journey. And to me as well, it was essential to find the right company as this sojourn to the roof of the world was one of the main motives of my life. I was, thus, seeking the same yearning.
This year, as I was turning 40, I committed myself that I will visit Kailash in 2019 — no matter whether I found the right companion or not. So, at the beginning of the year, I decided to sign up for the Yatra with one of the travel agencies. Later, I shared this decision with some friends whom I thought might be interested in undertaking the yatra. And three of my friends joined me on this pilgrimage.
The Journey That Changed My Life
The Kailash Mansarovar Yatra is a journey of your soul, not your body. Yes, you must have a fit body to survive the severe weather conditions, to trek at high altitudes and to do 52-km circumambulation in the wilderness.
But you need a much more powerful mind to undertake this pilgrimage. For, the 15-day yatra makes you live in harsh conditions which involve open defecation, tent accommodation, no proper food and no water for bathing for three or four days.
As someone who suffers from rheumatoid arthritis, I knew that my body might not assist me physically to negotiate the challenging areas that I needed to visit during the yatra. But my mind was prepared. I knew that this journey is more about my devotion and less about my body. I knew that I was going to my Lord Shiva's home. I felt that Kailash was magnetically pulling me to itself. After all, one in a million gets the calling from Kailash. And I am fortunate to be that one.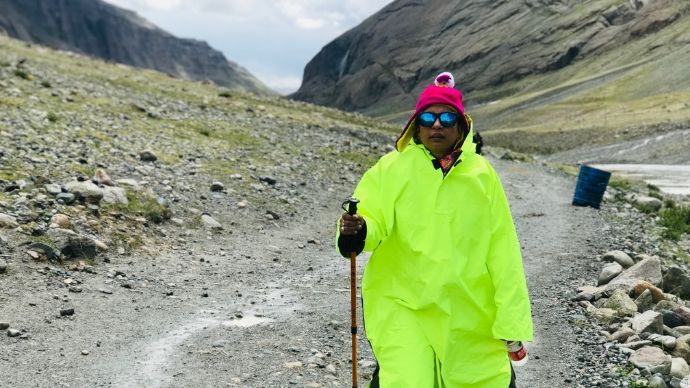 On the way: While my body was fighting its own limitations, my mind was prepared. (Photo: Sadhavi Khosla)
Since time immemorial, pilgrims have undertaken the Kailash Mansarovar yatra with passion in their heart. The passion for reaching where Shiva lives. The belief is that doing a Parikrama or circumambulation around Kailash Parvat and taking a dip in the Lake Mansarovar will cleanse all your sins.
In our yatra, we were a group of 54 people who came from different parts of the world for a single purpose. Yet, all 54 people had 54 different reasons to be there. Some were there for adventure, some for trekking, some to witness the beauty of Mother Nature and some just wanted to undertake this pilgrimage out of their bhakti (devotion) for Lord Shiva.
For me, this journey was only for Shiva.
Our trip started in Kathmandu. This was my first visit to Nepal. Predominantly a Hindu country, I observed piety all around in this Himalayan kingdom. I went to the Pashupatinath Temple, which was located on the eastern outskirts of Kathmandu. Dedicated to Lord Shiva — who is fondly called Pashupatinath here for his love for animals — it is the most sacred place in Nepal.
We took a special package to reach Kailash Parvat on a full moon night. But our travel agency encountered some last-minute difficulties with the Chinese embassy in procuring permits, which resulted in a four-day delay in the visa stamping. Later, when we reached Nepal, the flooding and landslides caused by torrential rains further slowed down our yatra. Eight days had passed before we reached the Mansarovar Lake.
While I was at Mansarovar, that night I had a dream: I was banging the doors of Kailash along with my friend (who is also an ardent devotee of Mahadev). The door opened, and Ganpati and Nandi came out. I asked them where Lord Shiva was. And they answered that He is sleeping right now, and I should come back tomorrow.
I knew that my God was testing my devotion. The dream was life-like. I felt as if I actually visited Kailash. I wanted to live my dream and reach Kailash.
But the days were passing slowly. Before reaching Mansarovar, one has to pass through the beautiful Lake Rakshastal. The access to the lake is prohibited for humans to touch as it has poisonous gases.
Euphoria: As I witnessed the holiest spot, I was overwhelmed with emotions. (Photo: Sadhavi Khosla)
According to mythology, Ravana created Lake Rakshastal to gain supernatural powers by meditating on its banks, in close proximity to Mount Kailash. Owing to the association with Ravana and its lifeless waters and gusting winds, the lake is given a wide berth by spiritual seekers, who have no desire to be drawn in by its negative energy. Yet the lake remains a spectacular natural wonder, despite its notorious image.
After all, this too is God's creation!
Finally, I caught the first glimpse of my Lord's home. As we travelled towards Darchen, the southern face of Mount Kailash became visible. At around 15000 ft., it was beauty all over. As I witnessed the holiest spot, I had goosebumps and teary eyes.
I was numb with emotions — a feeling that you can only know when you undergo it.
It was the gateway to heaven.
I was there, soaking in the unsullied purity of Kailash. And I needed nothing else in my life.
The journey introduced me to a whirlwind of emotions, leaving me more speechless than breathless. When I reached Mansarovar, I was overwhelmed with the beauty. It was beyond belief. Sitting at the height of 15,060 feet, the emerald green and blue lake is the highest freshwater body in the world. It derives its name from a combination of two Sanskrit words "Manas" (meaning mind) and "Sarovara" (meaning lake).
Only 20 km away from Kailash Parvat, the sacred lake is a symbol of purity.
All the hardships, delays, and hard living conditions (altitude sickness) that I had gone through in the past week seemed nothing once I stood on the banks of Mansarovar and beheld Kailash in its incredible form.
At times, I was teary-eyed, and at times, I was overjoyed and at times, I was cranky. Especially when I was at the shore of the lake, I wanted to be alone. Emotions got the best of me, and I became irritable, craving for isolation. I needed some space, which made my friends slightly uncomfortable. But I knew that this is the time I needed to be alone with my God. I just wanted to sit at the shore and talk to my Lord Shiva for hours.
A time for reflection: I justed want to sit at the shore and talk to my Lord Shiva for hours. (Photo: Sadhavi Khosla)
As they say, God tests the devotees who are the closest to Him, the most. There was a time when I had an emotional outburst as well, where I could feel some churning inside me. And I felt that once I go back from the Yatra, I won't be the same person. I sensed that I am replacing all my negativity with positivity.
And it was Lord Shiva who was doing this to me.
As we reached Dirapuk, we saw the northern face of Mount Kailash. The halt point — also called Charan Sparsha — was ethereal, to say the least. When I stood in front of the Kailash Parvat, I felt Shiva in every breath. Tears started rolling, and my love for my Lord knew no bounds.
People visit Kailash Parvat to attain Moksha. I went there to attain Shiva. People were praying for several things. All I prayed for was Shiva. I wanted just Him.
And I found Him there.
While my fellow pilgrims were trying to look for Om, Swastik, and Trishul markings on the Parvat, I was only able to see Lord Shiva wherever I laid my eyes. I didn't feel the need to search for any sign. The terrain was filled with divinity and high spiritual energies. And all I could feel everywhere was Shiva.
Kailash Mansarovar Yatra is like no other journey. You experience everything in the extreme. From acclimatising oneself to the extreme weather conditions and doing without the daily comforts that we often take for granted, to living through every kind of emotion — this pilgrimage gets etched in your heart for as long as you are alive.
Kailash — The Ultimate Truth
Standing tall at magnificent 21,778-feet, Mount Kailash is not just a mountain. It is the ultimate truth. The point where four sacred rivers originate — Ganga, Brahmaputra, Sutlej, and Indus, it is revered by millions of devotees across different religions. It is believed to be the earthly representation of Mount Meru and the Axis Mundi (the cosmic axis).
One of the highest points in the world, what intrigues many is the fact that Mount Kailash has been unscalable. No human has managed to scale it yet.
But a closer look at the Parvat, one can observe a staircase formed on it. Call it my devoutness or the reality, but the only inference I could draw is that Lord Shiva resides there with his wife Goddess Parvati and they both come down using these stairs every day and take a dip in the sacred Lake Mansarovar.
To see a true vision: At closer look, one can observe a staircase formed on the Parvat. (Photo: Sadhavi Khosla)
Kailash Mansarovar Yatra teaches you a lot of things. When you go there, you go on a journey that is both outwards as well as inwards. You introspect on your soul, your life's purpose, and once you return, you come back with Kailash within you.
Before I embarked on this life-changing journey, I had a lot of questions on my mind. I have returned with a calmer self and mental clarity that has pervaded over all my life's confusions. I could feel a transformation inside. And I hope that it lasts forever. One of the teachings which Lord Shiva gave me through this journey was how important it is for a human being to leave attachments, especially human and materialistic ones.
That's the only way to attain Shiva. Because the moment you have attachments, you have expectations, which in turn lead you to worries and hurt.
The rugged terrain of Kailash may leave you gasping for oxygen. But the spiritual awakening that it gives stays with you until the end of time. In a life filled with worldly pleasures, we tend to forget that the food for our soul is spirituality. This Kailash Mansarovar Yatra has been the awareness I needed to connect to my soul. The journey has been an epiphany. And I have promised Lord Shiva that I will come back to Kailash — at least once again in this lifetime.
Because no matter how many times you experience it, it is difficult to take the effulgence of Kailash away from you. The bliss that this magnetic place radiates will still attract you.
Om Namah Shivaya! Har Har Mahadev!
Also read: On dark nights, before the new moon: The restless dead seek peace. And Puri heals them
The views and opinions expressed in this article are those of the authors and do not necessarily reflect the official policy or position of DailyO.in or the India Today Group. The writers are solely responsible for any claims arising out of the contents of this article.