Life
[Photo essay] Rock climbing at Dhauj
There is a certain intimacy about caressing rocks as one tries to find handholds and in shifting one's feet nimbly and elegantly.
Eirliani Abdul Rahman
Our motley crew enjoying the early morning start to make the most of the good weather. Just a 45-minute car ride away from Delhi, Dhauj is part of the majestic Aravalli range, and is located in the district of Faridabad, Haryana, near Mangar village.
Composed of granite, the rocks at Dhauj make for great climbing. The Aravalli range, which runs through Rajasthan and Delhi National Capital Region (NCR), constitute one of the oldest mountain ranges in the world.
The views are stupendous. Hard to imagine that the bustling Delhi metropolis is just a short hop away!
Watching the local villagers set about their daily tasks.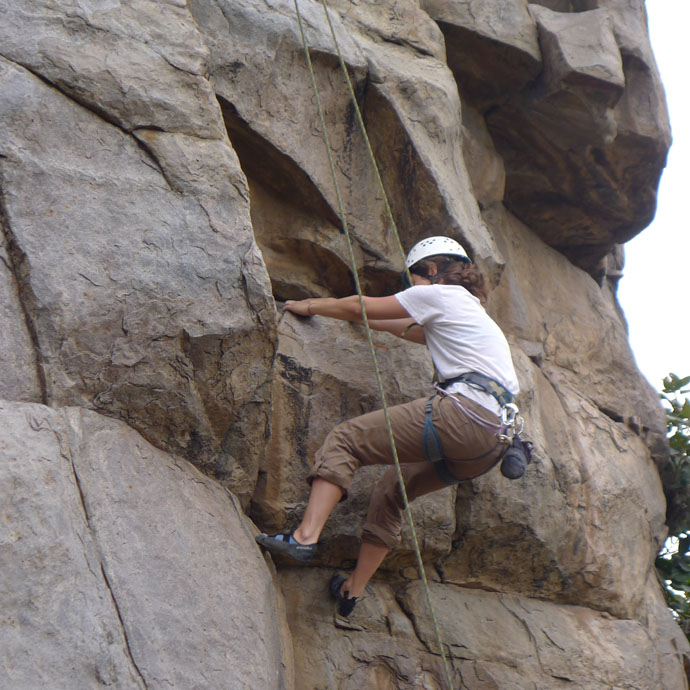 Climbing in action. An intellectually demanding sport, your only competitor is yourself. Or more accurately, your inner demons, if you will.
Hiten on the left is repelling down whilst Ragnhild on the right is climbing up. One must be committed mentally to follow through a move, balancing as optimally as one could, perched on rock ledges and holding onto tiny protusions. In the end, rock climbing is as much, if not more about one's resilience than just mere physical endurance and finesse.
Climbing runs in their blood: Stephanie's (on the right) parents met whilst rock climbing in Australia whilst several members of Ragnhild's extended family, from her granduncle downwards, rock climb.
Climbing is not all about reaching the top. The sport requires mental focus and good discipline. Unlike in the climbing gym, where the surface is even, varying only by the degree of inclination of the plane, outdoors, every square inch exhibits a startling array of nooks and crannies filled with grit, ants and even bats, ranging from crevices wide enough for only two fingers to sturdy rock protusions, wide enough for two hands to hold on at the same time.
Helmets, safety harnesses and climbing shoes: pre-requisites for climbing outdoors.
It's never too young to start: our youngest climber is just five years old!
There is a certain intimacy about caressing these rocks as one tries to find handholds, and in shifting one's feet nimbly and elegantly, as one grows familiar with the terrain.
Rock climbing requires flexibility - good climbers literally "dance" on the rock surface. We incorporate yoga into our training regime to improve our climbing.
A well-earned break. We returned to Delhi in the early afternoon. What an adrenaline-pumped start to the weekend!
The views and opinions expressed in this article are those of the authors and do not necessarily reflect the official policy or position of DailyO.in or the India Today Group. The writers are solely responsible for any claims arising out of the contents of this article.